HOHNER E major CROSS HARP HARMONICA 565/20 10 HOLE 20 REED
The gold plated plastic comb, black Greblon coated covers and extra thick 1.05 mm reed plates make the Cross Harp a stylish model with a big sound.
The Hohner Cross Harp is one of the new Hohner MS Diatonic Series. The initials MS stand for Modular System, an integral concept in harmonica design from Hohner. It consists of a coordinated system which allows for improved playing and handling and simplified maintenance. This modular concept also enables the player to customize the instrument to suit specific tonal or performance needs.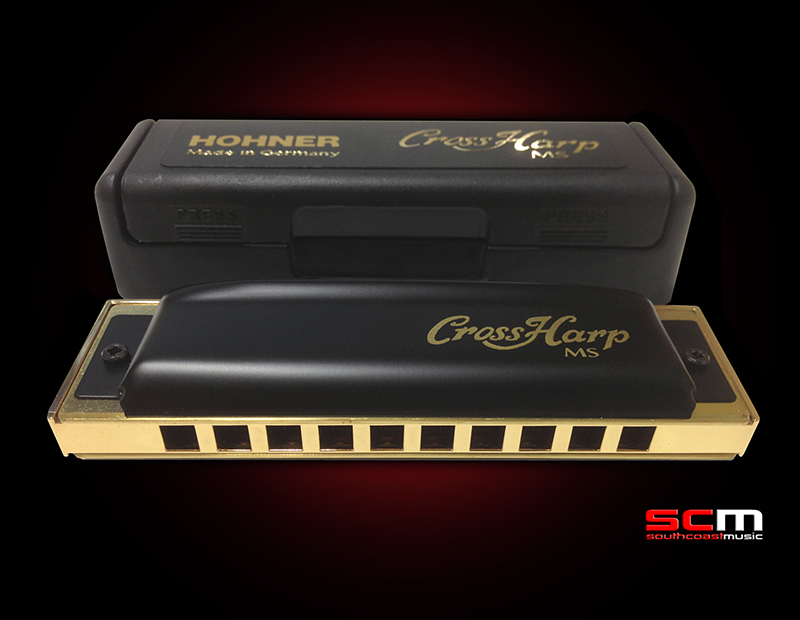 Hohner Diatonic Harmonica 565 20 Cross Harp
The new Hohner MS Cross Harps feature modular Construction. All components including the comb, reed plate and covers are assembled with screws and are interchangeable with all Hohner diatonic MS models. All components may be purchased individually – feel free to contact scm for details.
The new design, dimensions and cover design greatly improves the ergonomic handling, enhances the tonality and ensures the stability and integrity of the instrument.
Improved Reed Tolerance. Fully automated production has resulted in closer tolerances between the reed tongue and slot. The resulting increased compression guarantees improved response, higher volume and easier bending.
Optimal Tonality Brilliant tone, outstanding response and long life are assured through the development of a new reed series with optimal reed profile and dimension throughout.
New Harp Case. The sturdy new case fits easily in the pocket and provides good protection along with proper ventilation, allowing the instrument to dry out gradually after playing.
10 hole diatonic
Standard Richter tuning
20 Reeds
1.05 mm Brass Reed Plates
Plastic Comb
Length 10 cm
Improved reed profiles to increase reed life by over 200 per cent
Precision die punches to ensure reed plates with unparalleled air tightness
Improved tuning accuracy through investment in innovative new tools
Extremely stable stainless steel covers that wont tarnish and are easy to clean
Dynamic range and highest volume of most any commercially made harmonica
Super fast response at all volume levels
Easily adjustability for overblows