GLIGA II 1/2 SIZE VIOLIN OUTFIT
o Hand Crafted in Romania
o Dark Antique finish
o Pirastro Violino strings
o Oblong Case with Back Pack Straps
o FPS Brazilwood Horsehair Bow
o Professionally Setup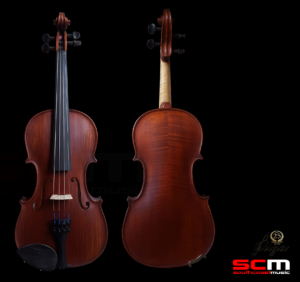 Vasile Gliga founded his Violin making company in Romania in 1991 and in 2016, Gliga celebrated its 25th anniversary. Gliga is not only one of the most successful family owned businesses in Romania, it is one of the most respected manufacturers of Orchestral String Instruments in the world today.
When Gliga began in 1991, every Violin was either built by Vasile Gliga or his wife Elena who had trained as Luthiers in the Romanian Government's Instrument Factory in Reghin. During those fledgling days it took around 300 hours to handcraft a Violin which meant that only two Violins could be produced every month – a stark contrast to today's output where 3,000 or more Orchestral String Instruments are built by Gliga's Luthiers every month!
Gliga make Violins, Violas, Cellos and Double Basses. Gliga's vision is to produce quality instruments at price that everyone can afford. As such, there are instruments available for players at different stages of their careers from beginners to advanced players to professionals.
Every Gliga Instrument that we sell has been professionally setup with quality strings and bridges.
GLIGA II 1/2 SIZE VIOLIN OUTFIT
o Top Material: Solid Carpathian Spruce
o Back, Neck & Side Materials: Solid Carpathian Maple
o Maple Grade: Lightly flamed
o Pattern: Stradivari
o Purfling: Inlaid
o Pegs: Ebony Swiss Style
o Fingerboard: Ebony
o Tailpiece: Wittner Ultralight with inbuilt adjusters
o String Adjusters: Yes – inbuilt into Tailpiece
o Chin Rest: Ebony Teka style
o Bridge: Aged Maple
o Strings: Pirastro Violino
o Varnish: Hand rubbed Oil – Antique finish
o Outfit: Oblong lightweight case with Back Pack Straps
o Bow: FPS Brazilwood Horsehair Bow with Ebony Frog
o Country of Origin: Romania
o Setup: Professionally Setup
o Strings: Pirastro Violino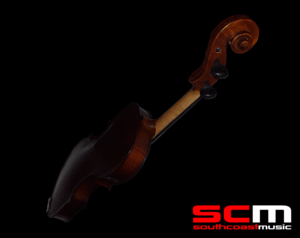 GLIGA II 1/2 Size Violin
The Gliga II Violin is a perfect choice for the intermediate level violin player or someone returning to the instrument. Handmade in the Romanian workshops of Vasile Gliga, this superb hand crafted violin represents wonderful value for money.
The Gliga II is constructed from the following materials:
Solid Carpathian Resonance Spruce is used for the top plate of the instrument, the bass bar, the blocks, the corner-blocks, the linings and the sound post.
Solid Carpathian Flamed Mountain Maple is used for the back plate of the instruments, the neck, the scroll, the peg box, the ribs and the bridge.
Ebony is used for the accessories: fingerboard, pegs, top nut, purfling, chinrest, tailpiece, the saddle and the end pin.
Your brand new Gliga II violin has been throughly checked and professionally setup with Pirastro Violino Strings. Violino strings are wonderful to play with a soft, gentle touch and fast response, allowing the strings to speak easily even at the lowest bow pressure. The setup includes shaping and positioning the bridge, cutting the nut slots to the correct depth for optimum playing comfort, correct positioning of the sound post and tailpiece as well as fitting the pegs to the peg box. This setup is worth at least $200 alone!
AUSTRALIA-WIDE SHIPPING IS INCLUDED!
FPS BRAZILWOOD HORSEHAIR 1/2 SIZE VIOLIN BOW
This FPS violin bow has been hand crafted from fine Brazilwood that has been selected for its excellent acoustic properties. This high grade Brazilwood offers more strength and durability than a standard Brazilwood bow and features a beautifully balanced Octagonal stick profile, a silver plated winding and bleached Mongolian horsehair. The full mounted Ebony Frog has a pearl slide and elegant three part button inlay.
This 1/2 size FPS Brazilwood Bow is the ideal choice for beginners and intermediate violin players alike.
FPS BRAZILWOOD HORSEHAIR 1/2 SIZE VIOLIN BOW SPECIFICATIONS:
o Fine Quality Brazilwood Stick
o Octagonal Stick Profile
o Full Mounted Ebony Frog with Pearl Slide
o Three part button inlay
o Silver plated winding
o Bleached Mongolian horsehair