FENDER SQUIER BADTZ-MARU SHORT SCALE BASS GUITAR
This is the limited edition Fender Squier Badtz-Maru Bronco Bass guitar. What's more it's brand new, elegantly stylish, great-sounding and in stock at southcoastmusic!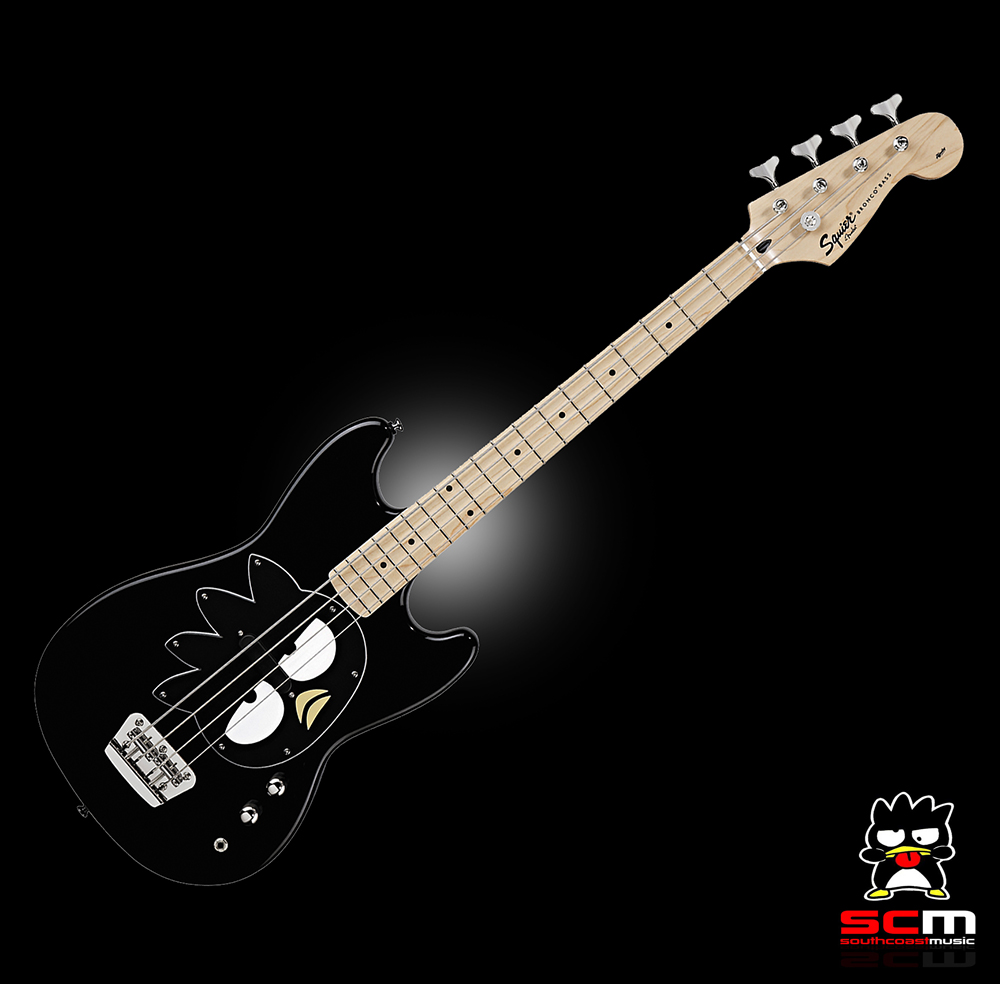 While the southcoastmusic VAULT contains some very special musical instruments, the fact is that they don't have to be expensive to be in there. Sometimes we'll put an instrument away simply because its interesting and unusual. We thought that Fender's Squier Badtz-Maru Bass Guitar was both interesting and unusual. It looked so Kool we put it away…until now.
All because of a little penguin with a serious attitude problem!
Direct from Gorgeoustown, Badtz-Maru has come to your bass guitar. This Fender Squier Bronco bass is perfect for the beginning bassist who wants to stand out from the crowd. Featuring a basswood body, 19-fret hard maple neck and a special-design single-coil pickup , the volume and tone controls keep you in the mix while the Badtz-Maru pickguard and graphic on the back inject a healthy dose of attitude.
FENDER SQUIER BADTZ-MARU FEATURES:
Short Scale Bass Guitar
Solid Basswood Body
Canadian Maple Neck and Fretboard
19 Frets
30″ Scale Length
Chrome Hardware
Bronco Bass Bridge
Special Design Single Coil Pickup
Volume and Tone Control
This Bass Guitar not only looks cool, it's ideal for younger (or smaller) players and perfect for those who are just starting to learn – the shorter scale length means that it's easier for small fingers to make the stretch between frets. This short scale length bass is also good enough to gig with!
Guitar players picking up a bass for the first time should also appreciate the shorter scale length as it won't seem like such a giant leap in size from their normal instrument. Playing Bass on your Home Recordings just got easier!
The Fender Squier Badtz-Maru Bass Guitar features a basswood body making it light enough for aspiring younger players. The maple neck is slender and perfectly proportioned to make it easier for little ones to play, too.
In the tradition of the great Fender Bass Guitars, the Bartz-Maru features a single pickup. In this case, it's a Special Design Single Coil pickup with a seperate volume and tone control. Other unique features include a laser-cut Badtz-Maru Pickguard, rear routed control cavity and an engraved Squier Neckplate.
The Fender Squier Badtz-Maru Bass Guitar is a well made bass guitar, a limited edition that is no longer available except for this brand new example from southcoastmusic.
We will also include a PRO-SCM setup (worth around $120) at no extra charge to ensure that your brand new Fender Squier Badtz-Maru Bass Guitar plays beautifully.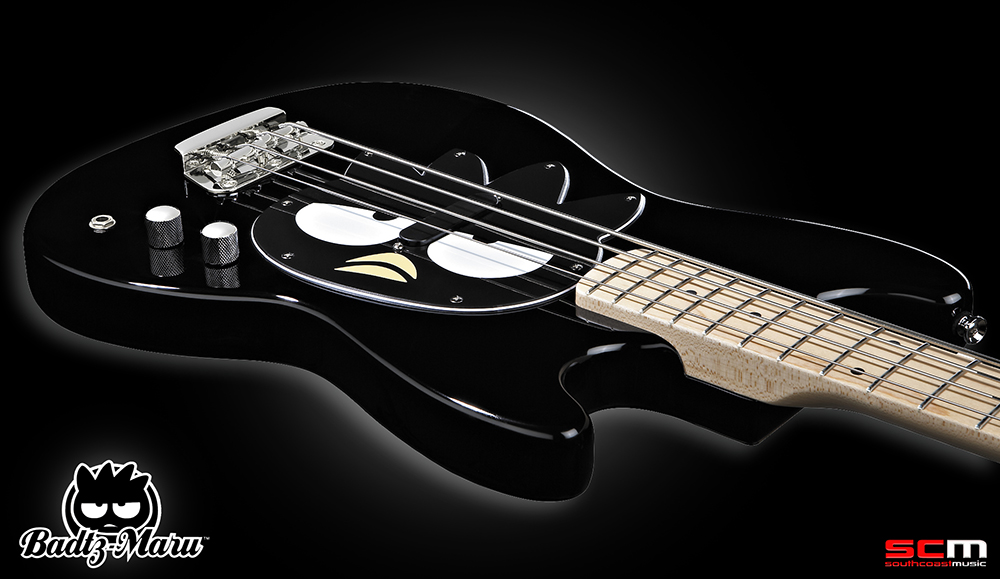 FENDER SQUIER BADTZ-MARU SPECIFICATIONS:
Controls: Volume and Tone with Knurled Chrome Dome Control Knobs
Finish: Black Gloss Lacquer with Badtz-Maru Graphic Artwork on Back of Body
Body Material: Basswood
Neck Material: Maple
Neck Join: Bolt-on Neck
Fingerboard Material: Hard Maple
Fingerboard Radius: 241mm (9.5″)
Hardware Finish: Chrome
Fretboard Position Markers: Black Dot Inlays
Machine Heads Finish: Chrome
Neck Finish: Satin
Number of Strings: 4
Number of Frets: 19
Pickguard: Badtz-Maru Pickguard
Pickguard Colour: Black
Pickup Type: 1 x Special Design Single-Coil Pickup
Scale Length: 30″
Width at Nut: 41mm (1.61″)
Setup: PRO-SCM