Fender Fighter 12 1100W 12″ 2-Way Powered Speaker with Bluetooth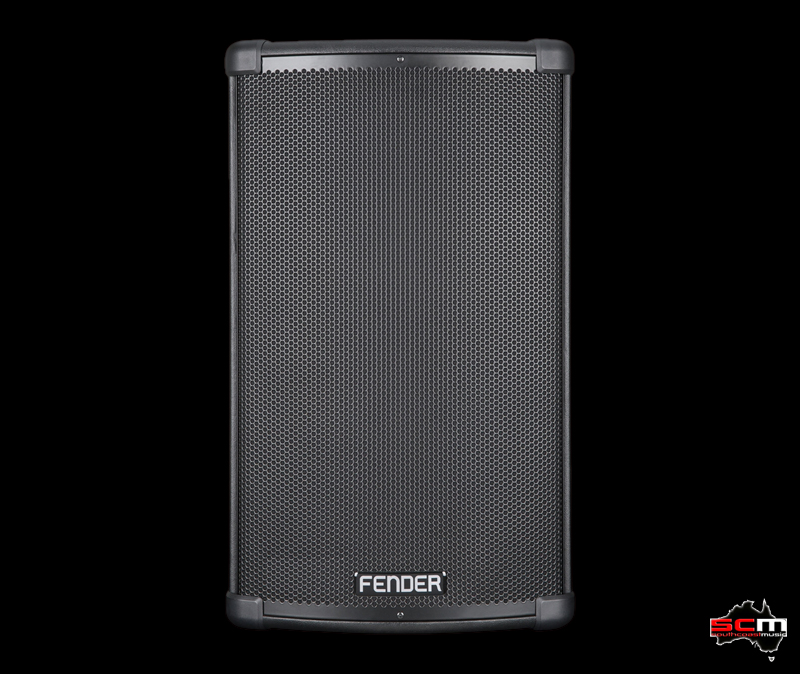 • Two Way Full-Range Active Loudspeaker with Bluetooth Audio Streaming
• 12″ LF Driver & 1″ Titanium Horn-Loaded HF Compression Driver
• 1100W Class D Power Amplifier with Active Crossover
• 3 x Input Channels & Two-Band EQ per Input Channel
• Loop output with Subwoofer Crossover Switch
• Dual Tuned-Port System for Extended Bass Response
• Dynamic Limiting Circuitry Continuously Monitors Headroom to Prevent Distortion
• Rugged, Compact & Lightweight Timber Enclosure
• Perforated Steel Grille, Protective Corners & Dual Rear Handles
• 35mm Pole-Mount Socket
Fender appear to be the quiet achievers when it comes to PA yet their products are highly respected and widely used in a wide variety of situations with great success.
Now Fender have thrown their hat into the Powered PA Cabinet ring and the results (and price) are impressive.
This is the Fender Fighter 12 – a high powered portable PA cab featuring a punchy 1100 watt Class "D" power amplifier. The custom designed high-quality 12″ woofer and 1″ titanium horn-loaded high-frequency compression driver pump out up to 130dB of pristine sound. Dynamic limiting circuitry continuously monitors the systems performance measuring the headroom and seamlessly adjusting system gain for distortion-free power even at higher volume levels.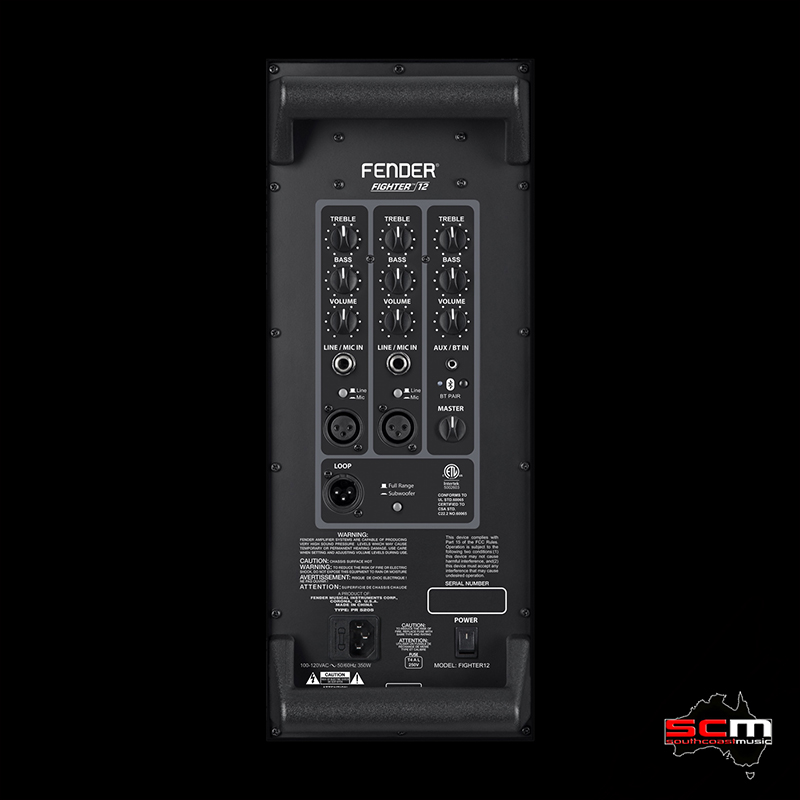 Bluetooth® Connectivity
In an especially convenient and versatile touch, The Fender Fighter 12 powered speakers feature high-fidelity Bluetooth connectivity for easy streaming of wireless audio from mobile devices.
Class "D" Power Amplifier
The Fender Fighter 12 powered speakers are equipped with a powerful and energy efficient Class "D" power amplifier that pumps out 1100W of clean, efficient power. Thanks to its dynamic limiting circuitry with continuous headroom monitoring, it delivers maximum power without distortion – even at high volume levels.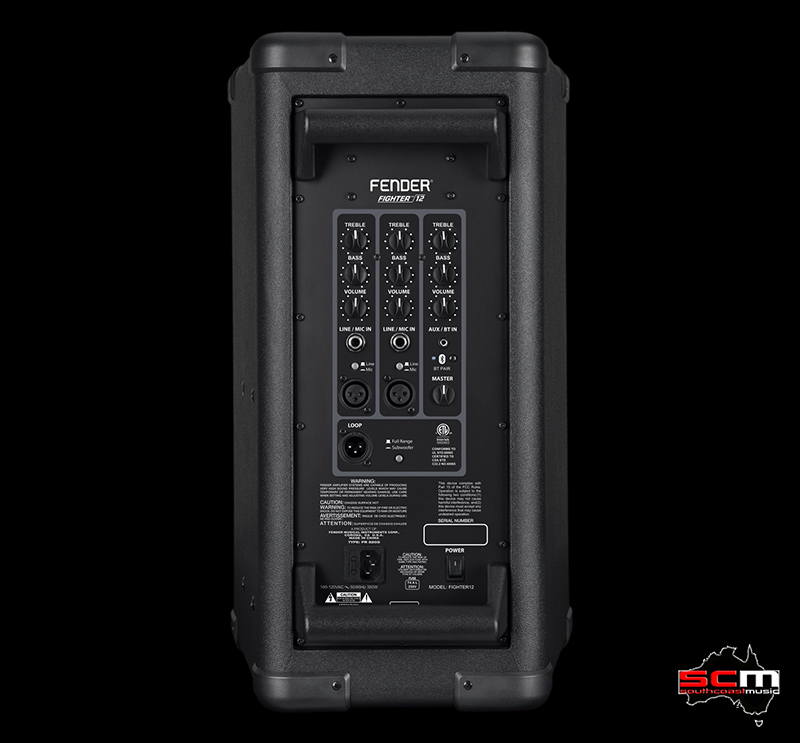 Three Channel Mixer
The Fender Fighter 12 powered speakers include three flexible input channels to accommodate a variety of input sources. With XLR, 6.35mm (1/4″) and 3.5mm (1/8″) connections, along with wireless Bluetooth connectivity, you can connect to almost any modern audio source with ease. Match your audio signal perfectly to the channel with volume and operating level controls and easily dial in great tone with the two-band EQ on each channel.
Experience incredible Fender® sound with this affordable, versatile and super-portable powered loudspeaker that's perfect for bands, solo performers, DJs, schools, houses of worship and businesses.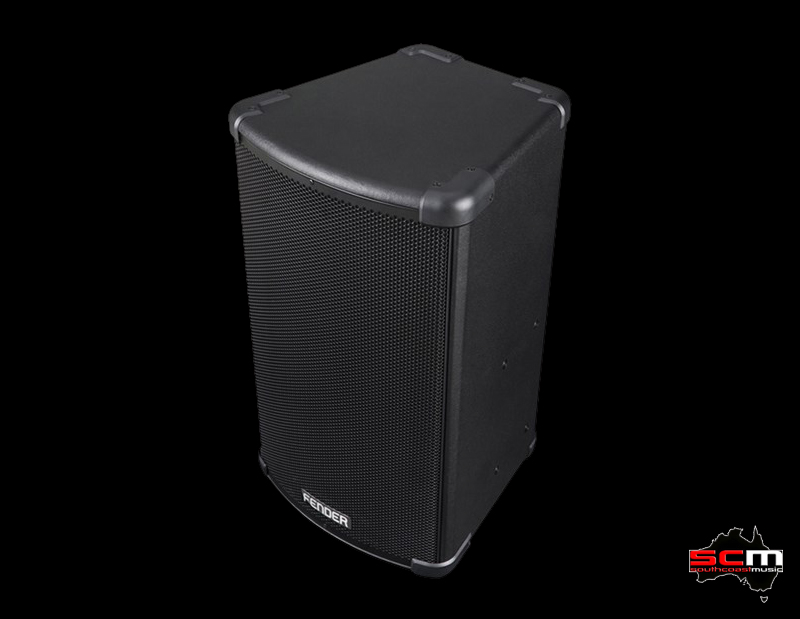 Fender Fighter 12 Technical Specifications:
• Manufacturer Part Number: 6962100000
• Speaker Type: Powered 2-Way, Full-Range
• Channels: 3 Channel / Bluetooth Stereo
• Inputs: 2 x XLR, 2 x 6.35mm (1/4″) & 1 x 3.5mm (1/8″)
• Bluetooth: Stereo, High-Fidelity
• Output: 1 x Balanced XLR Loop Output
• LF Speaker: 1 x 12″ Low Frequency Cone Transducer
• HF Transducer: 1 x 1″ Titanium Diaphragm Compression Driver
• Horn Dispersion: H90° x V30°
• Frequency Response: 50 Hz – 20 kHz
• Maximum Output Level: 130dB @ 1m
• External Power Source: Standard IEC AC Cable
• Cabinet Material: Timber Enclosure With Vinyl Covering
• Carry Handles: 2 x Rear Mounted
• Pole Socket Diameter: 35mm (1.37″)
• Dimensions: H57.15cm (22.5″) x D38.5cm (15.15″) x W34.3cm (13.5″)
• Weight: 14.3kg (31.5 lbs)