FENDER ACOUSTIC PREVERB
FENDER ACOUSTIC PREVERB Preamp/Reverb Effects Pedal – 0234548000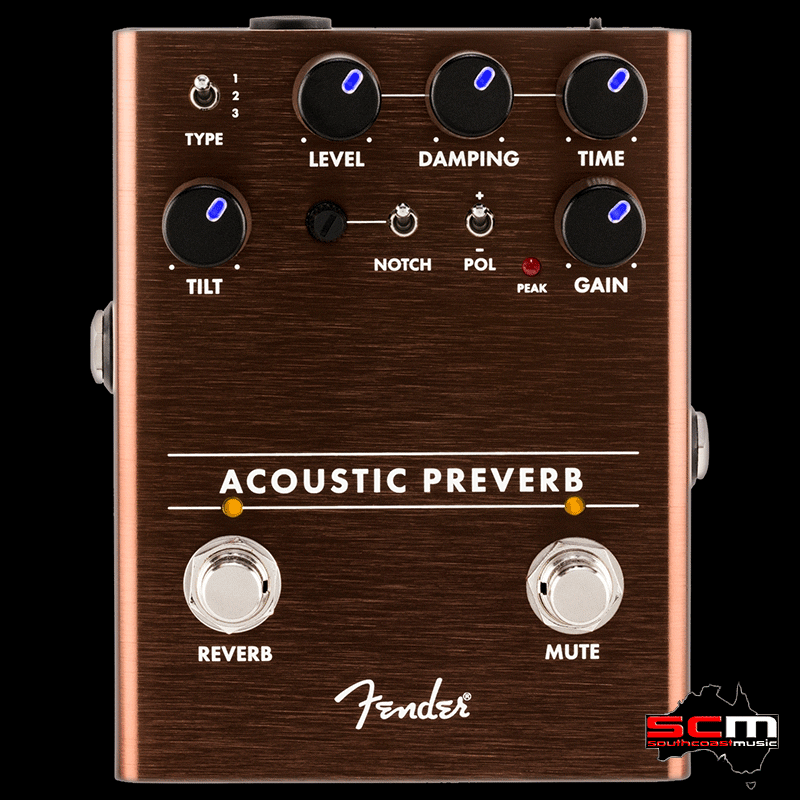 • Digital Reverb with three unique settings
• High-fidelity Preamp
• Anti-feedback Notch Filter
• Tilt EQ Control
• LED backlit knobs
• Lightweight durable anodised aluminium construction
Reverb is a wonderful effect that enhances the tone and natural beauty of an acoustic guitar.
Fender's Acoustic Preverb pedal provides that and more. The Fender Preverb features three distinctly voiced-for-Acoustic-guitar reverb settings and a high-fidelity preamp making this pedal the ultimate ambience machine.
Fender have also included a handy Notch filter and polarity switch – designed to eliminate feedback while the Tilt knob allows you to control your overall EQ balance.
Designed by Fender's in-house tone gurus, the Acoustic Preverb utilises an innovative all-original Fender circuit. The chassis is crafted from lightweight, durable anodised aluminium and the LED-backlit knobs show your control settings on a dark stage at a glance.
FENDER ACOUSTIC PREVERB SPECIFICATIONS:
• Model Name: Acoustic PREVERB
• Effect Type: Acoustic Preamp/Reverb
• Model Number: 0234548000
• Series: Fender Effects Pedals
• Country Of Origin: CN
• Chassis Material: Anodised Aluminium
• Dimensions: 7.37 x 12.45 x 13.72cm
• Weight: 0.77 KG