EV Electro Voice ND76 – Dynamic Cardioid Vocal Microphone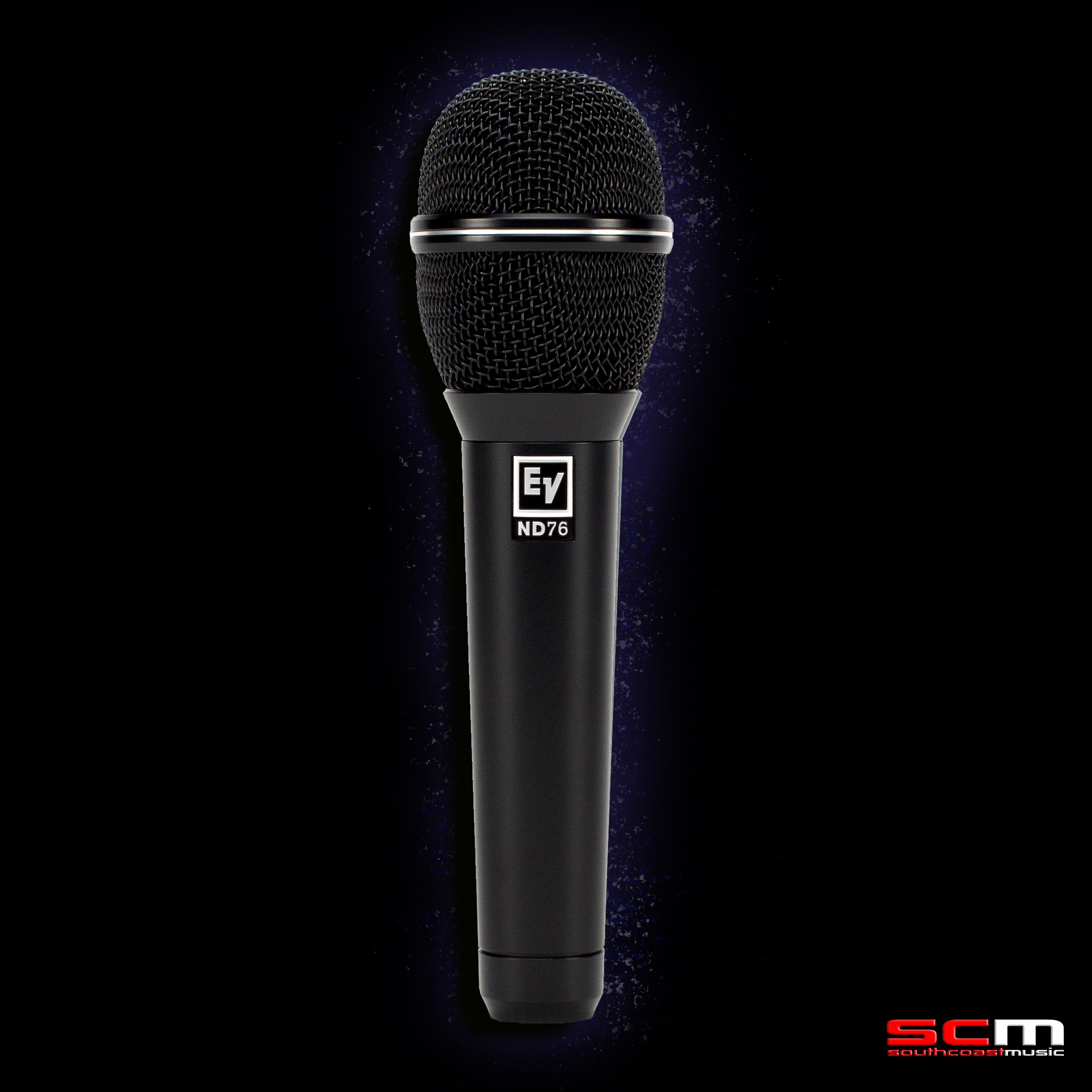 Superb all-around vocal performance
Excellent Gain before Feedback
Crisp, clear and balanced
Large-diaphragm dynamic capsule
Creates a rich and detailed frequency response
Shock-mounted capsule minimises handling noise
Low frequency bumps and thumps won't get into the PA
Humbucking coil guards against line hum
Use with confidence near speaker cabinets and EMF-generating equipment racks
Memraflex grille resists denting
Durable tight-mesh grille withstands extraordinarily rough treatment
Five Year Warranty
Founded in 1930, today Electro-Voice (commonly referred to as EV) is an American company and one of the world's leading manufacturers of Professional Audio equipment, including microphones, amplifiers and loudspeakers. Electro Voice is focused on Pro Audio applications such as sound reinforcement and markets products for use by consumers as well as small or large concert venues, broadcasting and houses of worship.
EV Electro Voice ND76 – Dynamic Cardioid Vocal Microphone
The Electro-Voice ND76 is a robust, high-performance hand held dynamic cardioid vocal microphone. Designed for excellent all-around voice applications, the ND76 capsule is precisely tuned to deliver crisp, clear and balanced vocal presence, as well as superior isolation from sound and spurious vibration on the stage.
The ND76 dynamic capsule contains a large Mylar diaphragm which delivers a rich and detailed frequency response by combining its large surface area for tonal balance with its low-mass high-velocity material for exceptionally fast transient response.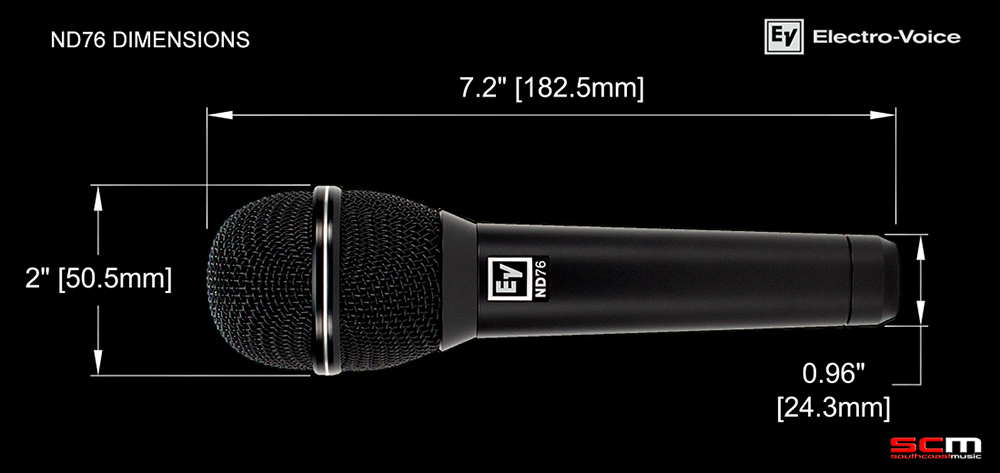 The ND76 features an innovative capsule shockmount system consisting of a 4-point suspension around the circumference of the capsule combined with a tuned pneumatic pump at the capsule base, offering superior handling noise reduction to eliminate mechanical vibrations and noise in the mix.
The ND76 capsule uses a humbucking coil that attenuates AC hum and electromagnetic interference. ND dynamic mics can be used with confidence near speaker cabinets and EMF generating equipment racks. The ND76S Memraflex grille is made of a durable tightmesh grille wire that withstands extraordinarily-rough treatment.
Your microphone remains protected and looking good gig-after-gig, year-after-year. For additional protection, the ND76S capsule contains a hydrophobic cloth membrane which prevents moisture and debris from reaching the diaphragm.
Electro Voice ND76 Technical specifications
Element Type: Dynamic neodymium magnet structure
Frequency Response Close: 30 Hz – 17 kHz
Frequency Response Far: 70 Hz – 17 kHz
Polar Pattern: Cardioid
Sensitivity, Open Circuit Voltage @ 1 kHz: 2.4 mV/Pascal
Maximum SPL: >140 dB
Polarity: Pin 2 positive, reference to pin 3 with positive pressure on diaphragm
Impedance: 350 ohms balanced (low-z)
Microphone Connector: 3-pin, XLR-type
Finish: Black polyurethane paint
Material: Zinc die cast handle, Memraflex grille screen
Dimensions, Length: Diameter: Shank: 7.2 in (182.5 mm) 2.0 in (50.5 mm) 0.96 in (24.3 mm)
Furnished Accessories: (1) Zippered Gig bag, (1) stand clip and (1) Euro thread adapter