ELECTRO-HARMONIX Mel9 Tape Replay Machine Pedal
Turn Any Guitar with a Pickup, Bass or Keyboard into a Mellotron!
The polyphonic MEL9 uses the same extraordinary technology as the B9, C9 and KEY9 to transform your axe and resurrect the sound of vintage tape-based keyboards.
Simply plug in your instrument, then select from nine authentic Mellotron sounds:
• Orchestra
• Cello
• Strings
• Flute
• Clarinet
• Saxophone
• Brass
• Low Choir
• High Choir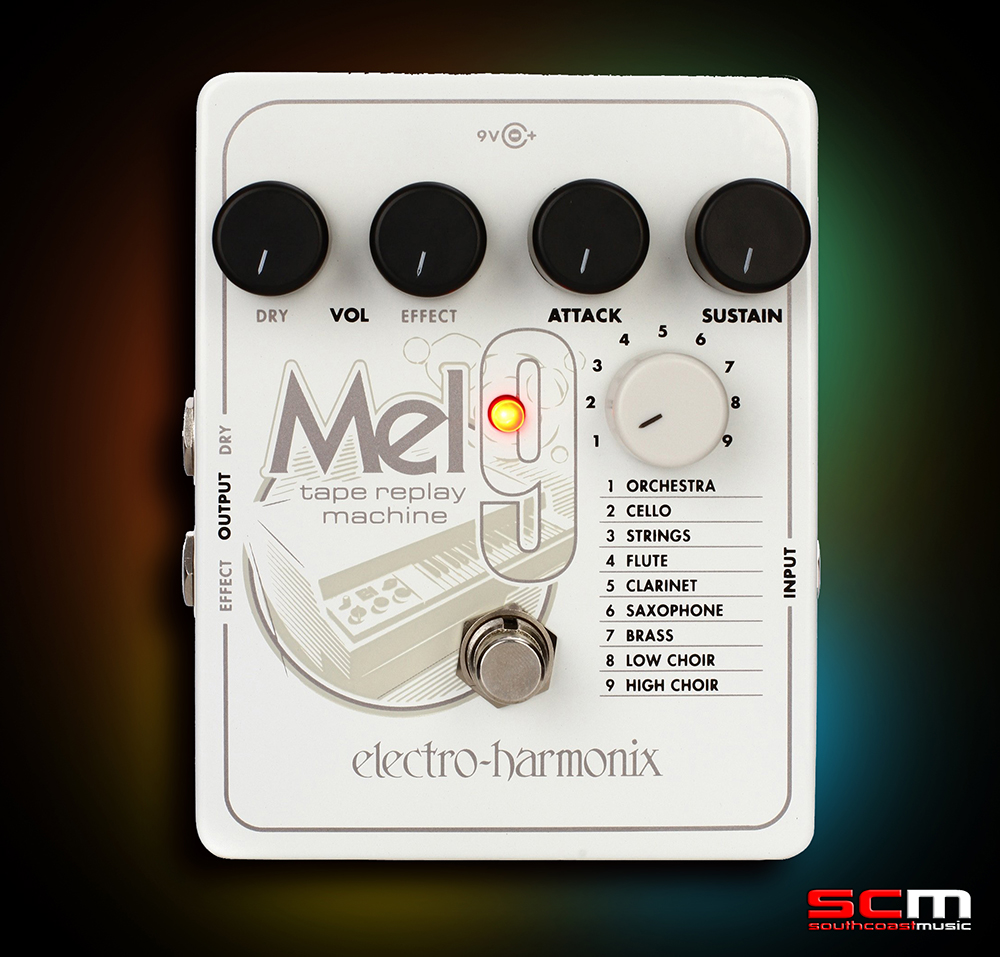 Using the Attack and Sustain controls allow you to shape your sounds and separate Dry and Effect outputs allow for dual amp setups. EHX's range of keyboard-emulation pedals are amazing, and the Electro-Harmonix MEL9 Tape Replay Machine is one of our favorites.
Pays homage to nine of the coolest Mellotron® sounds: Orchestra, Cello, Strings, Flute, Clarinet, Saxophone, Brass, Low Choir and High Choir
The Mel9 works on any guitar with a pickup without modifications, special pickups or MIDI implementation. The Mel9 is so clever that you even perform bends, slides, even whammy dive bombs! The Mel9 needs a strong and even guitar signal to work effectively. Accurate picking really helps and we have also found that the addition of a compression pedal before the Mel9 levels the input signal. Check our listings or contact us for information regarding compression pedals.
You can also use the Mel9 with a bass guitar down to the open A string.
The Mel9 also works well with keyboards within the limits of its polyphony (5 notes) and range (A1 to A5). Imagine having a portable digital piano and two Mel9 pedals – one for strings and one for choir. Simply step on one and let the extraordinary technology resurrect the sound of vintage tape based keyboards – in an instant the sound of a choir or an orchestra erupts behind your piano track.
• Emulates nine classic Mellotron sounds: Orchestra, Cello, Strings, Flute, Clarinet, Sax, Brass, Low Choir, and High Choir
• Works on any electric guitar, bass, or electronic keyboard
• Separate Dry and Effect outputs allow for dual-amp setups
• Includes independent Effect and Dry volume controls so you can create the perfect mix at the Effects output
• Dry Output jack outputs your input signal at unity gain
• Attack control sets the volume swell speed. As it's turned clockwise the notes fade in more gradually
• Sustain control adjusts the release time after a sound is stopped. As it's turned clockwise, the fade out time increase
• Pedal Type: Mellotron simulation Tape Replay Machine
• Input: 1 x 6.3mm (1/4″)
• Effect Signal Output: 1 x 6.3mm (1/4″)
• Dry Signal Output: 1 x 6.3mm (1/4″)
• Comes with a standard EHX 9.6DC200mA Power Supply
• Dimensions: W102 x L121 x H89mm (4.0 x 4.75 x 2.25")