Eb alto saxophone outfit

by 

Fontaine
FBW309 –
 Gold lacquer finish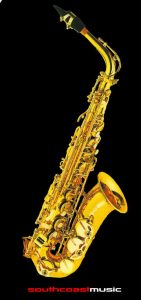 Fontaine…exceptional value for money instruments!
At southcoastmusic we have been supplying musicians with quality instruments since 1985!
As a professional Brass and Woodwind retailer we are spoiled for choice with Brands such as Yamaha, Jupiter, Selmer, Buffet etc…Unfortunately not everyone's budget will stretch to those brands, so – we have searched the World over for a range of instruments that play well, sound good, are reliable and most importantly…affordable.
Now you can enjoy professional quality tone at an affordable price! Fontaine is one of our most popular brands of Band and Orchestral instruments. Fontaine have have become the brand of choice for schools and band programmes across Australia.
The Fontaine FBW309 Alto Saxophone is a wonderful instrument – professionally set up ready to play and worth a lot more than our modest asking price.

This Fontaine instrument has been carefully designed and meticulously constructed to provide years of inspired music for the budding saxophonist or someone coming back to the instrument. The added brilliance of the lacquered finish will inspire you or your child even more than you thought possible.

Quality without compromise!

The tone of the Fontaine FBW309 is clear and focused. The look is pure class and the student mouthpiece is easy to blow and in tune. The mechanism is precision machined and assembled offering accurate and air tight action. Remember that instruments that leak are impossible to play. This is about inspiration, not perspiration!
Each Fontaine FBW309 is thoroughly checked and adjusted by a professional Brass & Woodwind technician prior to despatch.
FONTAINE – FBW309 Alto saxophone features:
Gold lacquer over a yellow brass body and keys
High F# key
High Quality pads
Pearl key inlays
Fitted black ABS case with plush lined interior
Quality student mouthpiece
Saxophone strap included
1½ strength reed
Eb alto saxophone outfit



by 

Fontaine
FBW309 –
 Gold lacquer finish