BOSS DD7 DIGITAL DELAY PEDAL
Expanded Delay Time, Up To 6.4s
Modulation Delay Mode Offers Natural, Chorus-Type Sounds
Analog Delay Mode Models The Classic Warm BOSS DM-2 Analog Delay Sound
Up To 40 Seconds Of Recording For Sound On Sound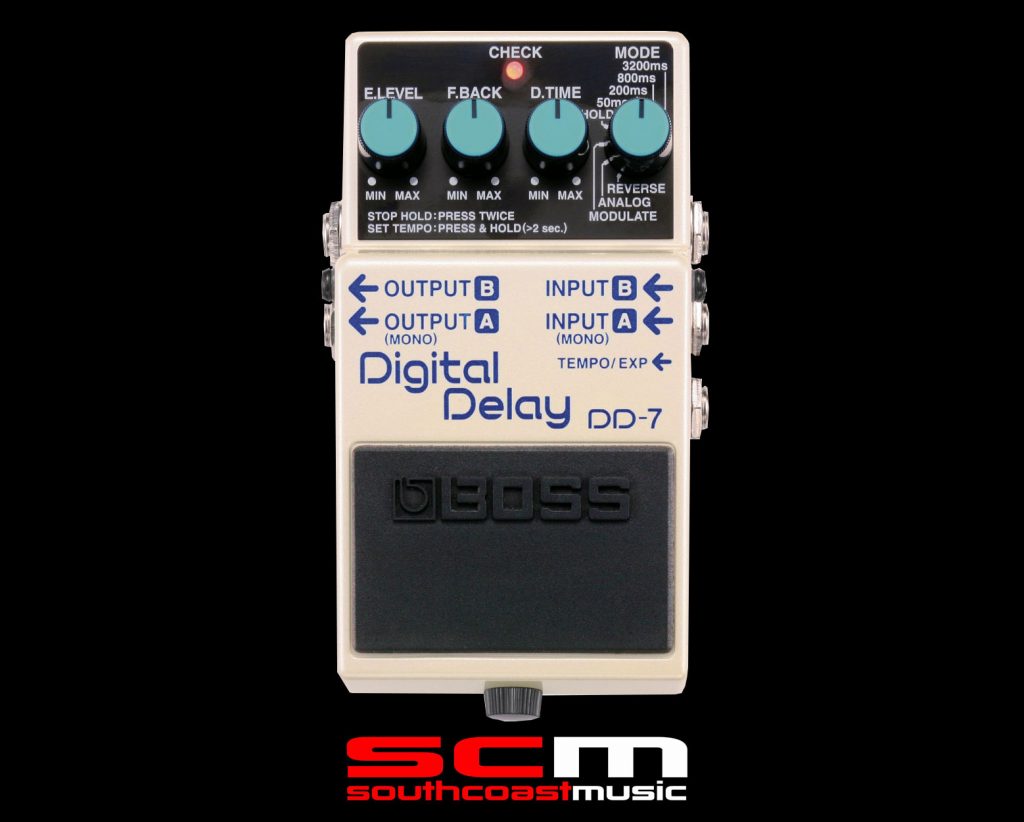 The Boss DD7 Digital Delay Pedal takes the tried and tested features from its predecessors and adds some important upgrades. These include an increased 6.4 seconds of delay time, Analog and Modulation modes as well as a new Hold option.
The Hold option gives 40 seconds of recording time, which allows for some pretty out-there sound-on-sound delays. The analogue delay mode is well overdue in the DD series, and simulates the Japanese-built eighties favourite the DM-2, heralded for its warm tonality.
The modulation mode modulates the repeats for a chorus-like effect. In addition you get stereo ins and outs and tap tempo. Although Tap Tempo can be set from the pedal itself  (you simply hold the pedal down for 2 seconds to activate the Tap Tempo mode) you can connect an external switch to have Tap Tempo ready to go at will.  An external expression pedal will also enable you to change delay time, feedback and effect level on the fly.
The new delay modes are a superb addition to the customary clean digital offerings we've come to expect from Boss. They're very easy to adjust, and the pedal doesn't mess with your basic tone. Boss don't do things by halves.
Analog mode brings in an ambient warm thickness akin to those elusive and very expensive Vintage Delay Processors which suits vintage-style sounds such as slap-back echo. The modulation mode brings to mind Bill Frisell-isms for which many players turn to the Electro Harmonix Memory Man Deluxe or latterly, the Line 6 DL-4.
The Hold mode is a lot of fun: 40 seconds of loop time, which enables you to layer lick after lick into a massive swelling soundscape. More usefully, you could play in a chord sequence and solo over the top.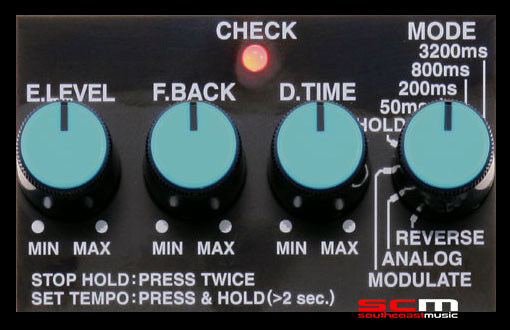 The Boss DD7 is an awesome Delay Pedal featuring superb sound, comprehensive control, an Industry Leading Warranty and a great price!
Expanded Delay Time
Up to 6.4 seconds of delay time is available with the DD-7, a marked increase from its predecessor. In addition, Hold mode allows up to 40 seconds of input to be recorded for creating "sound on sound" performances.
New Delay Modes
The DD-7 is equipped with two innovative new delay modes. Modulation Delay provides chorus-flavored sounds. Analog Delay offers a modeled simulation of the classic BOSS DM-2, beloved for its characteristic warmth.
External Control
For hands-free control of the DD-7, an external footswitch and Expression pedal (sold separately) can be used. Tap tempo can be controlled from an external foot switch, while delay time, feedback, and effect level can be changed on the fly via Expression pedal.
Stereo Output
Create amazing effects with the DD-7's stereo output, such as spatial audio sweeps via true stereo panning. You can also use the stereo outputs to create separate dry and wet signal paths – handy for recording and live-performance control.
Five Year Warranty
Boss pedals purchased from authorised Australia Retailers such as southcoastmusic are covered by an Australian Exclusive Five Year Warranty!