Danelectro Coral Electric Sitar Reissue Guitar – Red Crackle finish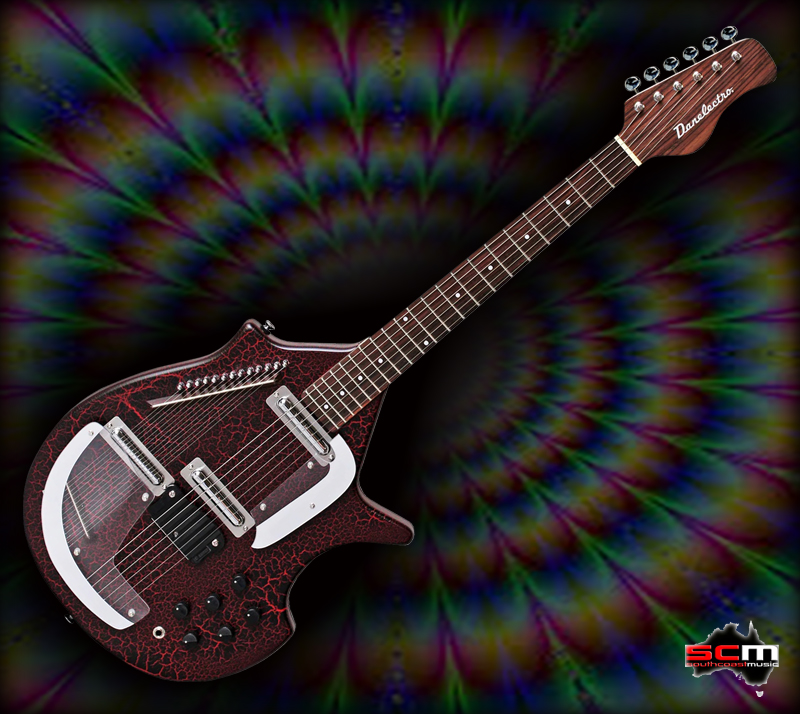 The Danelectro Vinnie Bell Coral 3S19 Electric Sitar is one of the coolest string instruments ever made.
In the late 1960s the Indian Sitar began to find its way into western music. Despite the attraction of this new jangly sound, the Indian Sitar proved be a difficult instrument to learn and a nightmare to tune and setup.
Enter New York session guitarist and innovator Vinnie Bell who in the late 1960s and in conjunction with Danelectro developed the Electric Sitar. With its standard guitar fretboard and tuning, the more familiar fret arrangement made the Danelectro Vinnie Bell Coral Sitar easy for a guitarist to play.
This amazing instrument found its way onto scores of best selling hit recordings and its place in musical history was confirmed. Finding a well cared for and properly functioning original today is difficult and pricey.
The good news is that this fabulous reissue of the iconic Danelectro/Coral 3S19 Electric Sitar is available from southcoastmusic. This new Dano reissue faithfully replicates the sound and feel of the original and with our Pro-SCM setup and comprehensive tuning, is ready to inspire you along with a new generation of players, songwriters and composers.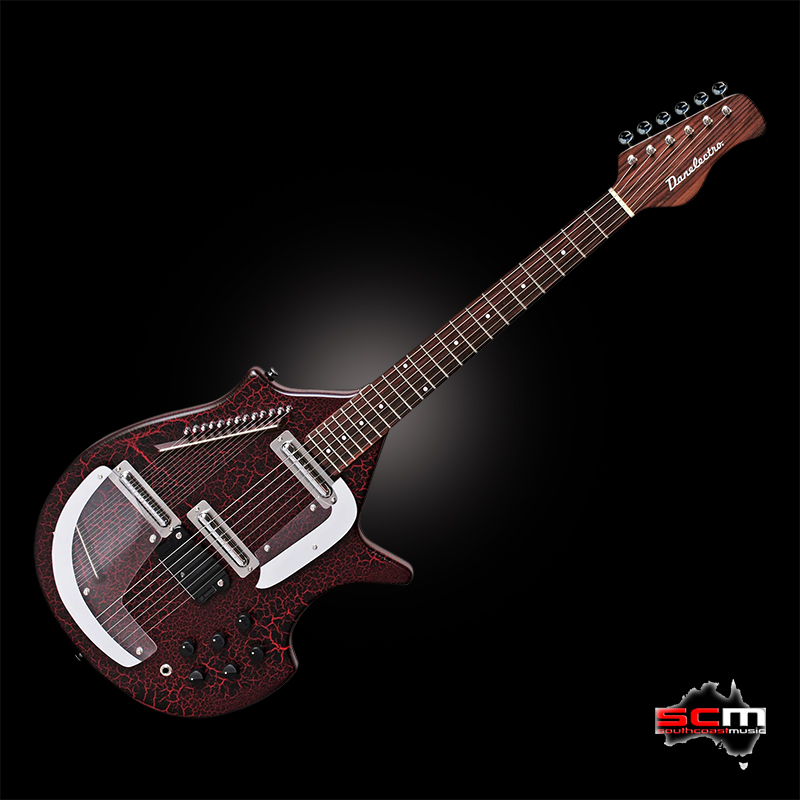 Played just like a standard electric guitar, the twangy sitar-like tones are produced by the Vincent Bell designed "buzz bridge" along with 13 additional sympathetic drone strings (with their own pickup and controls) to produce the unmistakable and mystical Eastern sound of an Indian sitar.
You've heard the Danelectro/Coral 3S19 Electric Sitar used by the Beatles' George Harrison on "Norwegian Wood" or the Rolling Stones' Brian Jones on "Paint It Black". Even Australia's own Ted Mulry used a Danelectro/Coral Electric Sitar on his hit song "Falling in Love Again". Bands such as the Animals, The Yardbirds, The Kinks, prog legends like Yes and Genesis and more recent artists like Steve Vai and Metallica have all used the electric sitar.
The difference when you buy your Danelectro Coral Sitar from southcoastmusic is our Pro-SCM setup. Our comprehensive setup also includes tuning all strings – including the 13 sympathetic ones to ensure the perfect playing experience.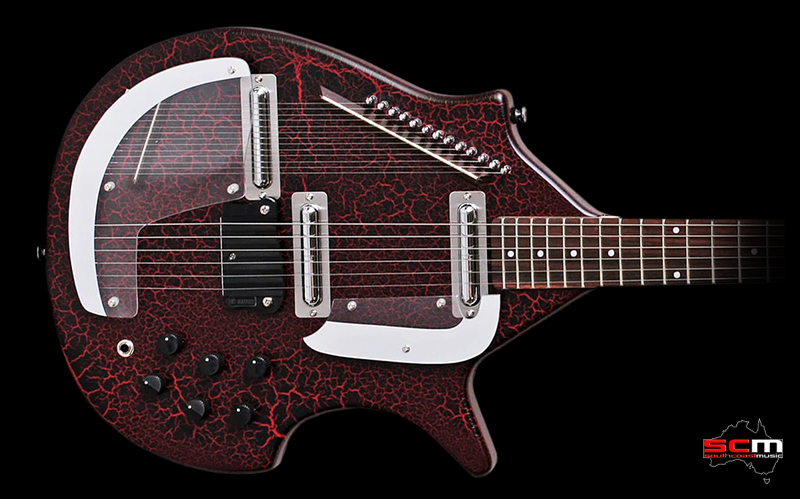 Danelectro Coral Sitar Reissue Features and Specifications:
• Body Material: Poplar
• Neck Join: Bolt-on
• Neck Material: Maple
• Fretboard Material: Pau Ferro
• Fretboard Position Markers: White Dot Inlays
• Number of Frets: 21
• Scale Length: 25.5″
• Nut Width: 1.65″
• Pickups: 3 Single Coil Alnico Lipstick Pickups
• Hardware Finish: Chrome
• Colour: Red Crackle
• Recommended Tuning (6 normal strings): D, A, D, G, B, E (drop-D)
• Sympathetic Strings Tuning: D, F#, G, A, C, A, G, F#, G, A, C, D, D (D7sus)
• Setup: Pro-SCM