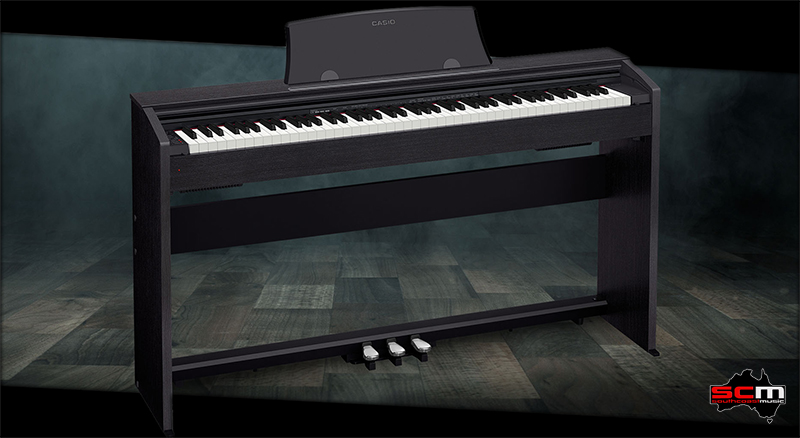 • Multi-dimensional Morphing AiR Sound Source
• 128 Note Polyphony
• 88 Simulated Ebony and Ivory Keys
• Tri-sensor Scaled Hammer Action Keyboard II
• Concert Play and Chordana Play App [for Piano] compatibility
• Speakers 8W + 8W
• Matching Bench Included
• Five Year Warranty
The world-renowned and class-leading Privia family of digital pianos grows with the PX-770. Designed to provide a true grand piano experience in a slim, modern design, the PX770 offers authentic piano sound, natural feel and impressive features. The PX-770 is a superb instrument for inspiring superb performances.
PIANO PURITY
The PX-770's award-winning AiR Sound Source includes a beautiful new stereo grand piano which comes alive with realistic damper resonance, simulating the entire body of the instrument, The PX-770 features a variety of 19 instrument Tones, with the ability to layer and split them as needed.
WELL-PLAYED
The acclaimed Tri-Sensor II Scaled Hammer Action piano keys give you the expression your performance deserves. The 88 simulated ebony and ivory textures give you an authentic and comfortable touch, combined with an innovative hammer action that is accurately scaled across the entire key range. Adjustable touch sensitivity, and adjustable hammer response accurately reproduces the delay between when the key is struck and a note is produced, providing full control.
WELL-HEARD
The PX-770 includes a powerful stereo amplification system. The speakers are conveniently located for an optimal listening experience.
WELL-EDUCATED
The PX-770's convenient features are useful at home, in a lesson studio, or anywhere else. You can connect two sets of headphones using the 3.5mm jacks on the front panel, making the PX-770 ideal for quiet practice. Duet Mode splits the piano into two equal pitch ranges, allowing a student and teacher to sit at the same instrument.
WELL-APPOINTED
60 songs are included in the built-in Music Library, with room for 10 additional songs of your choice. You can also record your performances using the PX-770's two-track MIDI recorder.
Concert Play allows you to play along with ten recordings of well-known orchestral pieces, with the ability to either listen to the piano part or silence it so you can play it yourself. To facilitate practice, you can even slow down these recordings without affecting their pitch.
WELL-DRESSED
Designed to complement any décor, the PX-770 is available in either a black, oak, or white finish. Its compact, elegant cabinet with sliding key cover adds to the beauty of any room.
WELL-CONNECTED
The PX-770 connects via class-compliant USB to any PC, Mac, iOS, or Android device, with no drivers or installations needed. The free Chordana Play for Piano app, available for iOS and Android devices, gives you complete control over every function in your piano. It also displays PDF scores, lets you play downloadable MIDI songs using your piano's internal sounds and speaker system, and learn to play MIDI songs with an interactive scoring system.
MATCHING BENCH
Unlike some of our competitors, we include a matching bench with this purchase, some competitors don't offer a bench included with this product.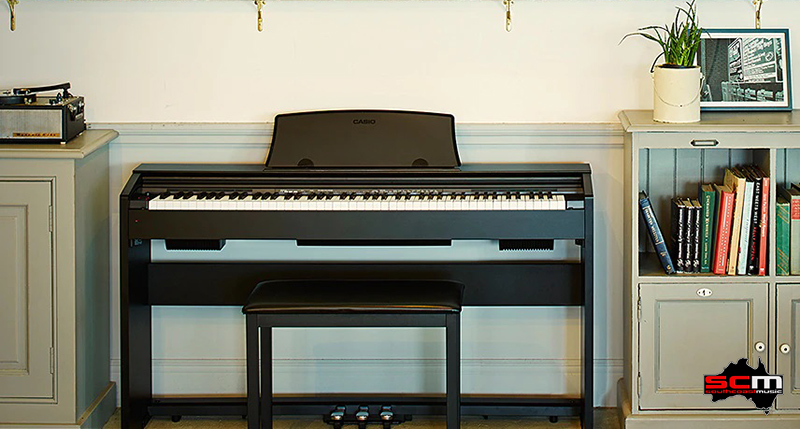 Casio PX770 Digital Piano Specifications:
• MPN: PX-770BK
• Manufacturer: Casio
• Warranty: Five Years
• Power Supply: 240VAC Power supply included
• Music Rest: Matching Music Rest Included
• Piano Cabinet Style: Slimline
• Number of Keys: 88
• Key Action: Weighted Tri-sensor Scaled Hammer Action Keyboard Ⅱ
• Key Finish: Simulated Ebony and Ivory
• Variable Touch Sensitivity: Yes – 3 sensitivity levels
• Key Cover: Sliding Key Cover
• Output Power: 2 x 8 Watts RMS
• Speaker Compliment: 2 x 4.7″(LF), 2 x 1.6″(HF)
• Pedals: 3 built-in pedals (damper, soft, sostenuto)
• Half-Damper Support: Yes
• Number of Preset Sounds: 19
• Polyphony: 128 notes
• Transpose Function: Yes
• Lesson Function: Yes – Part ON / OFF, Lesson Part Select – Right hand, Left hand
• Split Mode: Yes
• Duet Mode: Yes
• Octave Shift: ±2 octaves
• Layer Mode: Yes
• Song Recorder: Yes
• Recording Format: MIDI
• Number Recordable Tracks: 2
• Number of Songs that can be Recorded: 1
• Data Capacity – Approximately 5,000 notes
• Concert Play: 10
• Music Library: 60
• Storage Type Internal
• Metronome: Yes
• Metronome Range: 0 to 9 beats; tempo range : 20 to 255,
• Audio Outputs: 2 x 6.35mm (1/4″) Stereo – Headphones/Audio Out
• Connectivity: USB
• Cabinet Colour: Black (Ebony)
• Finish: Satin
• Dimensions: W139.10 x D29.9 x H79.8cm (without music rest)
• Product Weight: 31.5kg