CASIO CDP-S100 PORTABLE DIGITAL PIANO

THE PERFECT ENTRY INTO THE WORLD OF PIANO!
• Ultra Slim and Portable.
• 88 Weighted Keys with Smart Scaled Hammer Action II Keyboard.
• Fully compatible with iOS and Android devices.
• Compatible with Casio's own free Chordana Play Piano App (digital download).
• 10 Dynamic Stereo Tones.
• 8W + 8W Loudspeaker System.
• Battery Power Option (6 AA Batteries give up to 13 hours of playing time).
• Headphone Output (3.5 mm Jack).
• Audio Input (Stereo 3.5mm Stereo Jack).
• USB Connector to PC, Mac or smart device (iOS and Android).
• Compatible with AC Adaptor AD-A12150LW (Included).
• SP-3 Sustain Pedal Included.
• Weight 10.5kg (excluding batteries).
• Dimensions 132.2 x 23.2 x 9.9 cm.
• Music Rest included.
• Five Year warranty.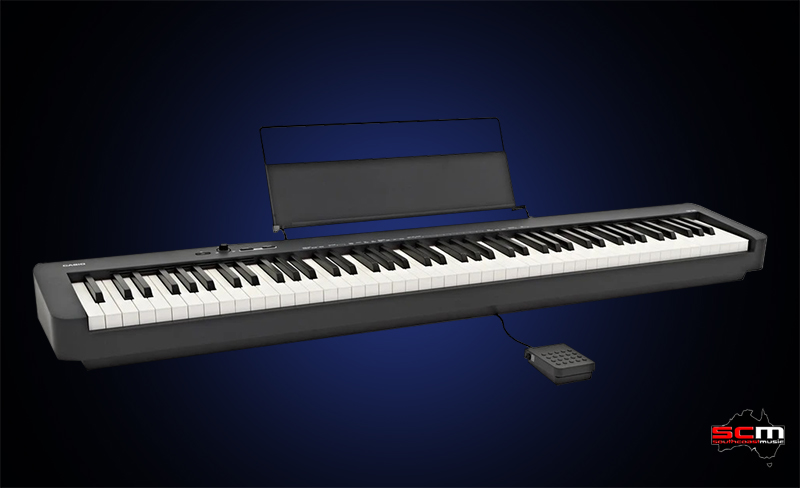 The CDP-S100 may be the entry-level model in the CDP-S digital piano series however, it offers an impressive range of features that include an authentic 88 note weighted keyboard action, advanced sound generation and an equally impressive speaker system.
Now, wherever you go, you can take your Casio CDP S100 Digital Piano with you. Meticulously designed and engineered with an ultra-modern slim-line and compact cabinet, the CDP S100 is also light in weight and easy to carry. The most authentic sound capabilities make this a class leading piano. The CDP S100 Digital Piano features Casio's Smart Scaled Hammer Action II Keyboard providing incredible feel, touch and dynamics to capture even the slightest nuances.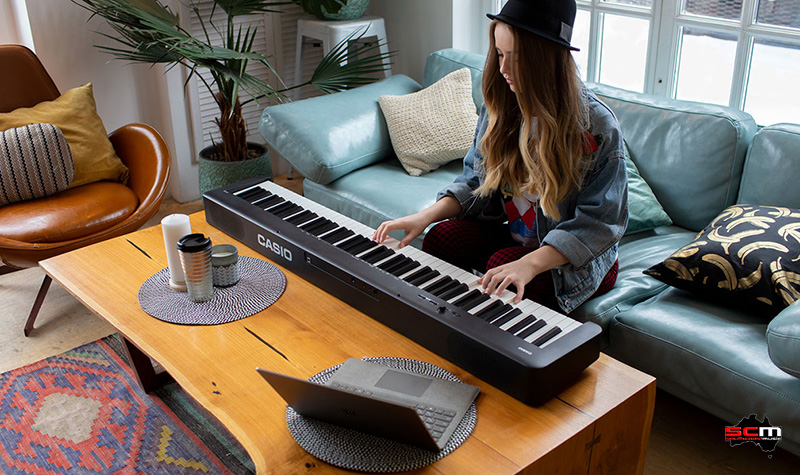 The textured keys recall the feel of Ivory, giving you a firmer grip of the keys.
The CASIO CDPS100 Digital Piano has also been designed to integrate seamlessly with the Chordana Play for Piano app.
Play one of the 50 songs included in Chordana Play, or add MIDI files. Chordana Play can generate a music score from the MIDI file and detect chords, too, making it easy to learn to play two-handed piano pieces
Chordana Play displays the music score and piano roll notation for built-in songs and MIDI song files. With MIDI files, you can select which tracks to play with your left and right hands, or you can assign the melody to the right-hand and chords generated by the app to your left-hand.
The ability to be powered by batteries and its lightweight construction makes the CDPS100 the perfect portable piano. If you would like a furniture piece, the portable CDP-S100 can also be converted into an attractive standing model using the optional CS-46 stand.