CASIO
CASIO SP20 DAMPER / SUSTAIN PEDAL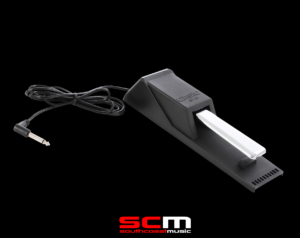 The Casio SP20 is a traditional piano style pedal that has been designed to plug into your Casio Portable Keyboard, Arranger Keyboard or Digital Piano.
Beautifully engineered to deliver years of untroubled service, the Casio SP20 has been designed to sustain notes in the same way as the damper pedal on an acoustic piano.
The Casio SP20 is a light weight yet heavy duty sustain pedal and includes a hard wired cable with a 6.3mm (1/4″) phono connector.
The SP20 has been designed to work with Casio branded instruments. If you own a brand of keyboard or digital piano that is not a Casio and you would like to purchase a sustain pedal, please contact us before making a purchase to ensure that you buy the pedal compatible with your keyboard.
KAT Hi-HAT CONTROLLER PEDAL
The Casio SP20 is also compatible with the KAT KTMP1 – Electronic Drum & Percussion Pad Sound Module. We have discovered that the SP20 functions as a Hi-Hat controller for the KTMP1.
The best news is that the Casio SP20 was retailing for $120. Check the new rrp and our sell price . . . smiles all round!