CARVIN USA
CARVIN MB15 250 WATT 115 MICRO BASS AMP COMBO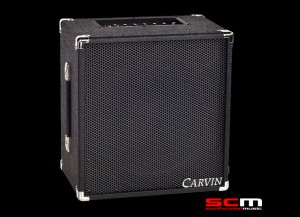 Built in the USA, Carvin's new BX Series Micro Bass Amps delivers big sound in a small package. Perfect for small Clubs, Pubs, Rehearsal Spaces, Schools, Houses of Worship, Apartments or even as a recording amp run directly into the board, the Carvin MB15 won't disappoint.
The heart of the BX Micro Series is the amplifier itself, modeled on the popular BX500, in a small package with convenient user friendly top-mounted controls.
Despite its compact size, the Carvin BX Micro Series Bass Amp is loaded with features normally reserved for larger combos such as direct out, phones/tuner jack, built-in compressor and parametic EQ. The MB15 Micro Bass's 250 watt power amplifier powers a 15-inch speaker and the result is tight and punchy.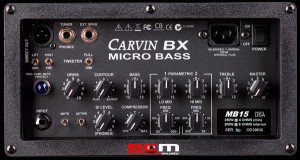 Thanks to the 250watts of clean RMS power, the MB15 delivers the performance you would expect from a more powerful 15″ bass system. A titanium tweeter with a DIM switch adds to the upper harmonics enhancing your overall sound.
The micro size makes the Carvin MB15 easy to carry too while the compact dimensions of W17″ x D12″ x H18.5″ and a bantam weight of only 14kg (32.6lbs.) are very impressive.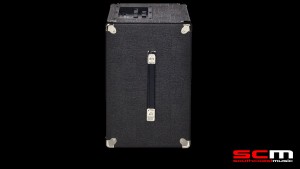 CARVIN MICRO BASS FEATURES
The internal BX head delivers 2o0w RMS at 8 ohms or an impressive 250w RMS with an 8 ohm extension speaker. The Class D power amp is 94% efficient delivering not only its full RMS but doing it very efficiently resulting in very little heat generated and taking less AC power from the wall.
The THD (Total Harmonic Distortion) is less than .1% for ultra low distortion keeping your bass clean and the tone pure in every respect.
If clean 'ain't your scene, the state-of the-art BX pre-amp features a Drive knob to control the harmonic content (clean to clipping) and dual Parametric EQ to enhancel the sweet tones of your bass.
The Contour, Bass and Treble controls deliver deep bass and brilliant highs. The pre amp Direct Out XLR is pre or post selectable for the house PA or recording and includes a ground lift and Level control. The Master level controls the speakers while the DI level controls the pre-amp output including the Phone/Tuner.
The Carvin BX MB15 Micro Series Bass Combo features a Poplar plywood enclosure covered with black Tolex.
The BX Micro Series is made in the USA and is the result of over 60 years of engineering and design excellence from Carvin.
CARVIN BX MB15 MICRO BASS SPECIFICATIONS
o Power: 200W @ 8 ohms, 250W @ 4 ohms (w/ 8 ohm extension speaker)
o 15″ Speaker
o Titanium tweeter
o Frequency Response: 60 – 20Khz
o Convenient top-mounted control panel
o Outputs: Direct XLR out, phones/tuner, 6.3mm (1/4″) external speaker output
o Controls: Drive, Contour, Bass, Treble, Master Volume
o Separate DI level
o Built-in compressor
o Dual parametric EQ
o Covered in black vinyl
o Dimensions: 17″ wide x 12″ deep x 18.5″ high
o Weight: 14kg (32.6lbs)
o MADE IN THE USA