The 1960s were turbulent times indeed. Most parents of teenagers in Great Britain had lived through WWII and were struggling to come to terms with the new counter-culture that seemed to be consuming their children.
The phenomena that their kids called Rock 'n Roll seemed subversive and divisive at its very least.
The Rolling Stones were seen as demonic and anarchistic so when lead singer Mick Jagger and guitarist Keith Richards were arrested for drugs in 1967, it was a case that tested the temper of the times.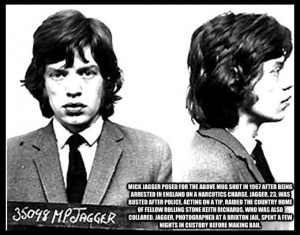 The case was particularly controversial and fueled with incredible viciousness and venom by people representing the "establishment" who believed that these rebellious rock stars were finally getting what they deserved… while others thought that Jagger and Richards were facing unusually harsh punishment simply because the government of the day wanted to make examples out of them.
William Rees-Mogg, Editor of The Times (landmark U.K. newspaper) when the Jagger/Richards 1967 drug bust and subsequent trial happened, took the latter point of view in The Times with a famous editorial that he wrote titled "Who Breaks a Butterfly Upon a Wheel?"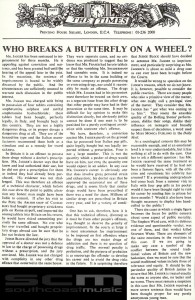 click to read the original editorial
It was a huge deal for Jagger and Richards to get the support from The Times, which was considered part of the very establishment that disapproved of the growing "counter-culture" movement that was represented by rock bands such as the Rolling Stones.
When Keith Richards threw a drug-fueled party at his West Sussex house in early 1967, it was never going to be an uneventful affair. Mick Jagger and Marianne Faithfull were the star guests but the police came uninvited, so launching a legendary confrontation.
The drugs bust spawned a media frenzy of salacious speculation and led to a famous summer trial that pitted the hedonistic poster boys of the counterculture against the British Establishment. It was intended as a high-profile show of strength from on high. As it happened, things turned out rather differently…Jagger and Richards pleaded not guilty, but they were found guilty in a jury trial. Jagger was sentenced to three months in prison for possession of four amphetamine pills, and Richards was sentenced to 12 months in prison for allowing his home to be used for smoking cannabis.
Using previously unpublished police and court documents, best-selling author Simon Wells reveals what really happened on the night of the drugs raid as well as the extraordinary conspiracy mounted to end the careers of Jagger and Richards, and how the Establishment widened their net to drag in the Beatles and other rock stars.
With fresh interviews with lawyers, police, eye witnesses and those present at the notorious party, Wells reveals the truth about the celebrity pushers, London gangsters, bent cops, corrupt newspapers and dodgy politicians.
The Great Drugs Bust has everything; sex, drugs, rock and roll and a huge slice of British social history. At its core are four pep pills, a Sunday tabloid, two celebrated rock stars and a court case that changed popular culture forever.
Simon Wells' book Butterfly On The Wheel charts the events that created one of the most sensational events of the 20th century. Taking its cue from the genesis of the Rolling Stones, the story winds itself through a labyrinth of drugs, fame and controversy that ultimately ended up on a doorstep of a West Sussex country mansion one Sunday night in February 1967.
It chronicles a major turning point in British society; a watershed where attitudes to drugs prompted a seismic change in popular opinion.
This is a fascinating read and a book that should be read by every Baby Boomer as they were either directly or indirectly affected by the outcome of this point in time.
Highly recommended!
This book ships freight free!