BEALE
Beale Stage Performer 1000 88-Key Weighted Digital Piano
AUSTRALIA'S BEST VALUE FULL FEATURED PORTABLE DIGITAL PIANO!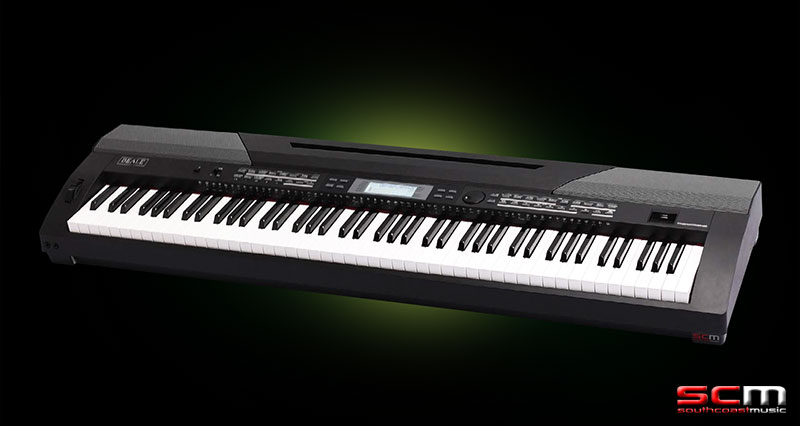 Designed in Australia, the Beale Stage Performer 1000 is a feature packed Portable Digital Piano with a huge selection of high quality sounds & versatile arranger functionality.
This 88 Note Fully Weighted Hammer Action Stage Piano is simply amazing and comes loaded with really useful Arranger & Performance Functions. The quality of the Piano sample is outstanding – especially at this price and it NEVER needs tuning!
At your fingertips are all the tools you need to perform in a Band, Duo or as a Solo one-man band! As a first piano it is simply without peer.
WEIGHTED HAMMER ACTION KEYBOARD
88 Note, fully weighted hammer action keyboard with adjustable touch sensitivity for that professional stage piano feel.
600 INSPIRING FACTORY SOUNDS
The Beale StagePerformer 1000 draws on an incredible range of high quality acoustic and electronic sampled sounds. You can choose from acoustic & electronic pianos, organs, acoustic, electric and bass guitars, brass and woodwinds, synthesisers, world instruments, drum kits, percussion sounds and more.
230 ARRANGER STYLES and 10 USER STYLES
Your personal backing band awaits you with the 230 built-in, interactive rhythms. Featuring a wide variety of musical genres, a complete backing band is right there at your fingertips to play along with.
Create real-time arrangements using left-hand single-fingered easy play or fully-voiced chords. The SP1000 also offers a 'full-keyboard' mode that responds to chord input across the entire keyboard range. You can also create and store up to 10 of your own custom styles. You can also perform with the Rhythm Track only.
HARMONY MELODY
Enhance your playing by adding rich and harmonically accurate expression. Select the Harmony function and it will automatically add a harmony to the melody notes played with your right hand.
PERFORMANCE ASSISTANT
This is a great feature. The Performance Assistant works with Piano and Guitar sounds adding a level of realism to embellish your performance & produce idiomatic voicings.
Guitar Mode helps you sound like a guitarist producing strums, broken chords & echoism.
Piano mode helps you achieve difficult Piano performance skills like Piano Rhythm, Broken Chords and endings.
DSP DIGITAL EFFECTS
Add ambience and depth to your music with a versatile range of studio quality Digital Effects. Choose from 10 Digital Reverb, 8 Digital Chorus and 6 Digital EQ presets.
KEYBOARD MODES
SPLIT MODE
In Split mode you can perform with 2 different sounds for the Lower & Upper end of the keyboard and you choose the note range for each sound. For example, select a Bass on the Lower Octaves and a Piano on the upper octaves for a duo style performance.
LAYER MODE
In Layer Mode you can have 2 different sounds across the entire keyboard. A favourite for many keyboard players is the lush combination of Piano & Strings.
TWINOVA (DUAL) MODE
The Twinova mode divides the keyboard into two equal halves. The same octave range is available for both sides of the keyboard. The DUAL mode is simply perfect for teaching. The Teacher can sit alongside their student and together play the same notes in the same octave range to learn a piece of music.
TRANSPOSE
Transpose allows you play a song in a different key while using familiar chord shapes and hand positions. This is a handy feature when accompanying a singer or another musician who play in a key you are not familiar with.
MULTI-TRACK RECORDER
Record your own performances or compose your masterpiece with the StagePerformer. The StagePerformer has the capacity to record 5 songs. Each song has 6 recording tracks divided into 5 seperate Instrument Tracks plus 1 Accompaniment track. You can then save your songs directly to a USB device or Computer.
MUSIC LIBRARY
The Beale StagePerformer 1000 has a built-in 120 song Music Library. Song control allows you to rewind, fast forward, pause & loop a song – or part of a song for more fluid practice.
BUILT-IN LESSON MODE
Each of the 120 songs in the Music Library can be accessed through the built-in lesson mode. Lesson Mode offers you the ability to practice in one of three ways. Select the song you wish to learn and choose whether you want to play either the Left Hand, Right Hand or Both Hand parts. Lesson mode allows you to evaluate your performance giving you a score based on Pitch, timing and complete performance. This is a great feature for monitoring musical development.
CHORD DICTIONARY
If you don't know how to play a chord you can look it up in chord dictionary. The Chord Dictionary also has Chord Learning and Chord Examining mode to help you expand your repertoire.
• 88 Note Weighted Hammer Action Keys
• 128 Note Polyphony
• 600 High Quality Sounds
• 230 Arranger Styles
• 10 User Styles
• 48 User Memory Banks – 8 Banks with 6 x Quick Recall Buttons
• Harmony & Performance Assistance
• 120 Music Library Presets
• 5 Demo Songs
• 5 Song / 6 Track Song Recorder with Storage via USB
• On Board Lessons
• Chord Dictionary
• USB & Midi Connectivity (Midi In & Out)
• Sustain & Unit Pedal
• Mic Input, AUX Input, 2 Headphone Outputs
• Powerful 60 Watt x 4 Speaker Stereo Sound System
• Backlit LCD Display
• Power Supply Included: 12VDC/2000mA
• Dimensions: W1365mm x D366mm x H137mm
• Weight 13.8 Kg