Bb Trumpet Gold Lacquer Finish with Case by Fontaine
Fontaine
FBW404
Bb Trumpet Gold Lacquer Finish
D e s i g n e d  i n  A u s t r a l i a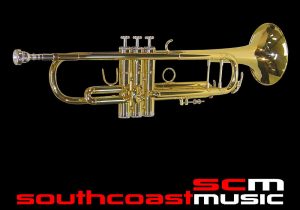 Since being released into the Australian market in 2003, the Fontaine range of Brass and Woodwind instruments have become one of the most popular in the Australian first instrument / student market.
The Fontaine FBW404 is an excellent beginner or student Bb Trumpet. Offering features normally only found on more expensive instruments, the Fontaine FBW404 features a Yellow Brass lead pipe and tuning slide as well hard wearing Nickel plated valves. There is also an adjustable 3rd valve slide stop and 2 water keys.
The 11.6mm bore size is free blowing and the 125mm gold lacquered brass bell provides a warm and focused tone. The Fonatine FBW404 has definitely been built for inspiration, not perspiration.
Yellowbrass lead pipe and tuning slide.
Nickel plated valves.
Adjustable 3rd valve slide stop.
2 water keys.
Bell diameter: 125mm;
Bore size: 11.66mm.
Black ABS case with plush lined interior
Polishing Cloth Included.
southcoastmusic offers a broad range of Band and Orchestral instruments – please let us know if there is an instrument that is not listed on our site that you would like to buy from us