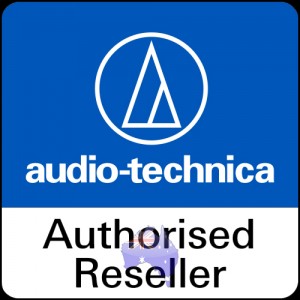 southcoastmusic exceptional instruments at exceptional prices… everyday!

audio-technica 
AT

H – M50X 

Profes

sional  Mon

i

toring  Hea

dphones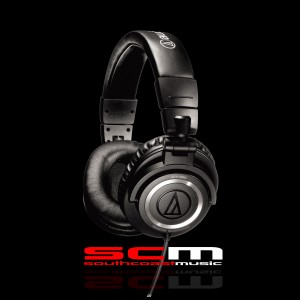 AUDIO-TECHNICA PROFESSIONAL STEREO STUDIO MONITOR HEADPHONES
o Exceptional audio quality for professional monitoring and mixing
o Collapsible design ideal for easy portability and convenient storage
o Proprietary 45 mm large-aperture drivers with neodymium magnet systems
o Closed-back cushioned earcup design creates an outstanding seal for Maximum isolation
o Adjustable padded headband for comfort during long mixing/recording sessions
o Single-sided coiled cable terminates to gold-plated mini-plug with screw-on ¼" adapter
audio-technica . . .
Audio-Technica is one of the most celebrated and repected microphone and headphone manufacturers in the world.
Audio-Technica is responsible for a wide range of highly acclaimed and awarded products, including high-performance microphones, headphones, noise-cancelling headphones, wireless microphone systems, mixers, turntables, MM and MC cartridges as well as other electronic products for home and professional use worldwide.
Audio-Technica has been supplying all the microphones for the Grammy Awards for the last 10 years, as well as completely kitting out TV shows like the American version of Big Brother, Deal or No Deal, The Rock and Roll Hall of Fame inductions, as well as the Olympic and winter Olympic games in 1996, 2000, 2002 and 2004. You know that you're in good company with audio-technica.
audio-technica ATH-M50X stereo headphones
The Audio-Technica ATH-M50X Professional Studio Monitor Headphones are arguably the best available in their price category, offering superb sound and build quality.
As well as excellent build quality and superbly detailed, balanced sound with tight bass, the Audio-Technica ATH-M50 Professional Studio Monitor Headphones are incredibly comfortable and at this price are a bargain.
With the ATH-M50X professional studio monitor headphones, Audio-Technica has achieved an exceptionally accurate response with exceptionally low listening fatigue and long-wearing listening comfort.
Designed especially for professional monitoring and mixing, these studiophones feature an efficient collapsible design for space-saving portability and storage. Circumaural ear pieces swivel 180° for easy one-ear monitoring and luxuriously padded ear cushions create an outstanding seal for maximum isolation.
The adjustable headband is generously padded for ultimate comfort during long mixing sessions. A coiled cable at the left earpiece terminates to a gold-plated mini-plug with included screw-on 6.3mm (¼") adapter.
Audio-Technica's sophisticated driver technology and superior components deliver exceptional power handling and very high SPL capabilities while maintaining clarity of sound throughout their extended range, with deep, accurate bass and outstanding high-frequency extension. The headphones feature proprietary large-aperture drivers with neodymium magnet systems for ultra-efficient signal transfer.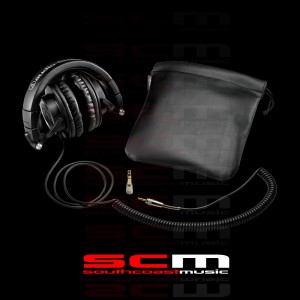 audio-technica ATH-M50X specifications:
o Type: Closed-back dynamic
o Driver Diameter: 45 mm
o Magnet:  Neodymium
o Voice Coil: CCAW (Copper-clad aluminum wire)
o Frequency Response: 15 – 28,000Hz
o Maximum Input Power: 1,600mW @ 1 kHz
o Sensitivity: 99 dB
o Impedance: 38 ohms
o Weight: 284g (10oz) without cable and connector
o Cable: 1.2 – 3.0 m (3.9′ – 9.8′) Coiled, OFC litz wire
o Connector: Gold-plated stereo 3.5mm (1/8″) TRS stereo connector with strain relief
o Accessories Included: Protective pouch, Professional screw-on 6.3mm (1/4″) TRS stereo adapter
"A-T has raised the bar once again, this time with the new M50 headphones, and this time they've raised it quite a bit. Already these phones are by far the favorite in our studio."
George Massenburg — GRAMMY®-winning engineer & producer
"Artists who have for years had to tolerate low-quality headphones for high-volume use simply don't have to compromise anymore. These are fantastic-sounding headphones, period. There just isn't anything better you can do for your artist than to give them a pair of these."
Frank Filipetti — GRAMMY®-winning mixer and producer
"I tried these phones on a few major artists and they all said, 'WOW these are great.' We use these phones on all our vocalists."
Al Schmitt — GRAMMY®-winning recording engineer and producer
"The M50's seem to be winning hands-down. Everyone that's heard them won't give them back."
Tom Schlum — Chief Engineer | Capitol Studios
audio-technica ATH-M50X PROFESSIONAL STEREO MONITOR HEADPHONES
no gimmicks….Australia-wide Delivery is included in our best value price!
Spend your money once and buy with confidence  – we are one of Australia's oldest Retail and Online Music Stores and look forward to including you in our group of happy and satisfied customers.