ASHTON ELECTRONIC DRUM KIT RHYTHM VX WITH DUAL ZONE SNARE
ASHTON RHYTHM VX ELECTRONIC DRUM KIT
Electronic drums have proven to be a brilliant solution for drummers the world over. From beginners to students and even working musicians simply requiring the ability to practice silently whenever the urge takes them. Whether at home, in an apartment or the studio, electronic drum kits offer a lot of flexibility for the drummer who doesn't have the room for a traditional kit. With the ability to perfect your drumming skills without getting complaints from the neighbours, Ashton's electronic drums are also extremely portable making them great for recording or live gigs.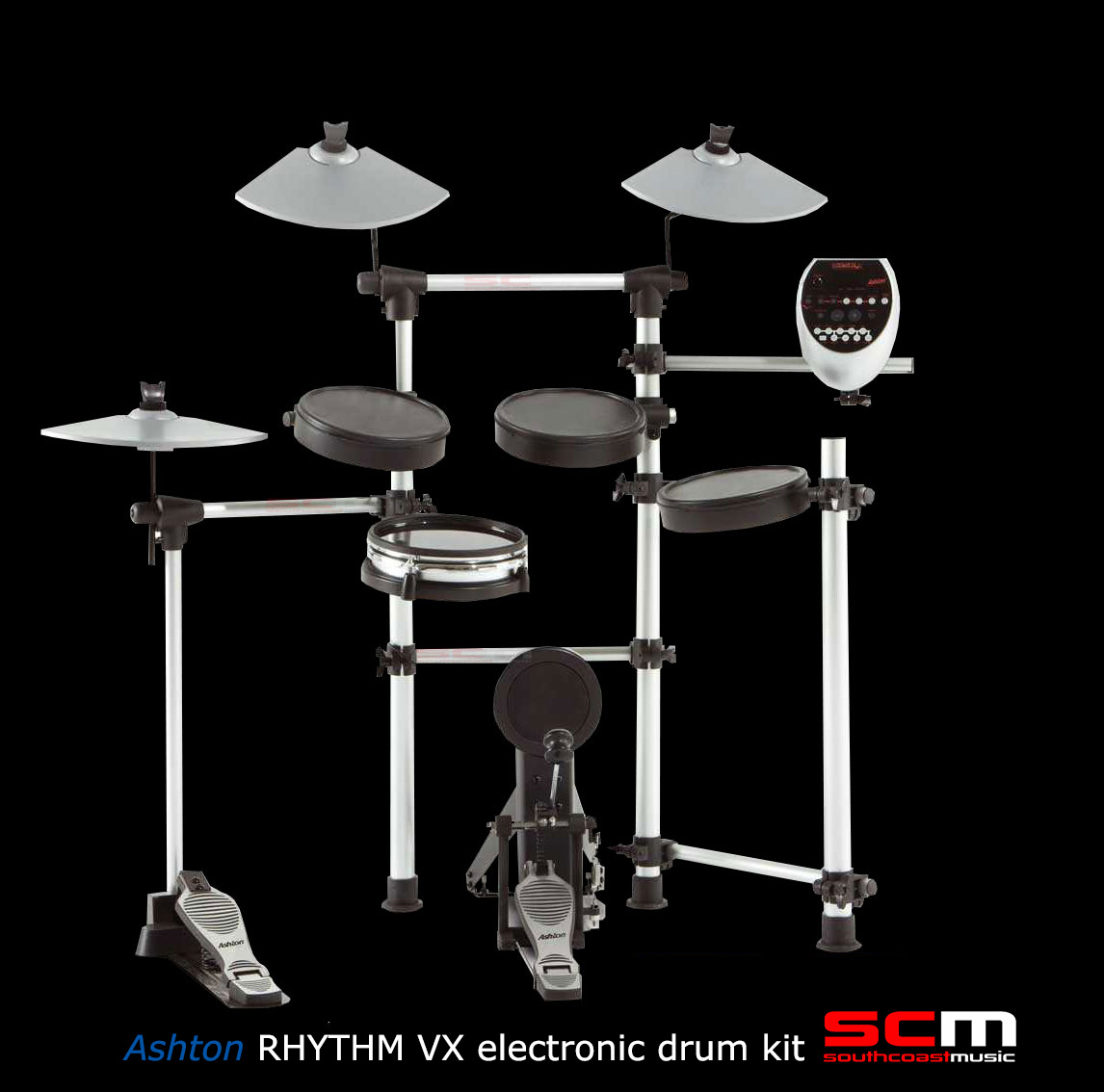 The Rhythm VX range delivers great sound and reliability, from the recording studio to the live performances, allowing you to record your sessions easily from the USB output.
The first thing you'll notice on the Ashton Rhythm VX kit is that there are no visible wires connecting the pads to the brain.
This is because all the wires run inside the frame, so all you have to do is clip the pads in place to make it work. This makes the kit look cleaner & also stops the cables getting tangled or damaged.
Secondly, Ashton have used a very popular compact design which means that the kit fits neatly into corners & takes up less space that most other electronic kits.
Lastly, the brain uses realistic drum sample sounds & features a USB socket making connectivity to your PC really easy. There's enough give in the snare and tom pads to save your wrists and this is balanced by a nice rebound resulting in a kit that feels more responsive than its modest price might otherwise suggest.
Not surprisingly, the rugged and hard wearing pads add a lot to the playing experience and the dual-trigger snare allows for more realistic rim and head triggering. The cymbal and tom pads are also decent sizes making the Rhythm VX an eminently playable kit.
This kit is perfect for beginners and should even satisfy experienced players.
The Ashton Rhythm VX is an extremely capable electronic drum kit and not just if you're just starting out or on a budget. If you are making a comeback to the drumset or live in a situation where the sound of a drum kit could be a problem, the Ashton Rhythm VX is the answer.
ASHTON RHYTHM VX ELECTRONIC DRUM KIT INCLUDES:
2 x Cymbals pads
1 x Hi-hat pad
3 x Tom pads
1 x Dual Zone Snare pad
1 x Bass drum pad
1 x Kick pedal
1 x Hi-hat pedal
1 x Power adapter
ASHTON RHYTHM VX ELECTRONIC DRUM KIT FEATURES:
108 Voices
10 preset and 5 programmable drum sets
5 User kits
40 Preset patterns
Integrated metronome with programmable click
ASHTON RHYTHM VX ELECTRONIC DRUM KIT CONNECTIONS:
USB Port
Stereo mini-jack connectors