ASHTON AK120 PORTABLE KEYBOARD
The AK120 is a break through model for the Team at Ashton.
A superb electronic keyboard perfect for seasoned players or beginners, the Ashton AKK120 offers 61 touch sensitive keys and delivers a palate of Digitally Sampled Sounds, Rhythms and Pre-Recorded Songs that you would usually expect to find on a much more expensive instrument. The list of features is impressive and should satisfy many situations.
Many parents can't afford lessons and some people are simply too shy. The AK120 answers this beautifully with a unique Lesson system that teaches players how to play music at the right tempo using the the right chords. It also features an interactive chord dictionary to help out along the way and ensure that students are learning correctly.
HEADPHONE JACK
If you're a night owl or may simply enjoy private practice, you can connect a pair of headphones into the onboard PHONES socket. If you don't own a set of Headphones, let us know – we offer a wide range of Headphones to suit most budgets!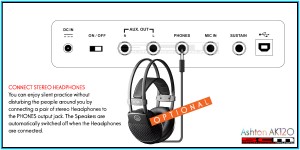 SUSTAIN PEDAL JACK
If Piano is your forte, you'll appreciate the option of adding a sustain pedal for added realism. Because the Ashton AK120 is a portable keyboard with Touch Sensitive keys, there's no reason to miss Piano Practice when you are on Holiday again! (not included)
USB PORT
Everyone owns a computer, even the kids! Imagine connecting your AK120 to your computer…well you can! The built-in USB (Universal Serial Buss) allows you to stream MIDI data between your keyboard and computer. The possibilities are endless. Don't be fooled by people offering you Learn to Play Software as part of their "package"…when you buy your Keyboard from us we can direct you to a number of Free Downloads…you choose! You can also use the Ashton AK120 as a USB-MIDI controller keyboard.  (cable not included)
AUX (AUDIO) OUTPUT JACKS
Ok, forget the headphones, you want to get loud…verrrry LOUD! The AK120 is perfect for a lot of performance applications. Simply connect the AUX OUT jacks to the appropriate audio cable and then into an Amplifier, PA System or Powered Speaker(s) and you are ready to Rock (or roll).
Once again, we can offer you a large range of solutions to suit most budgets.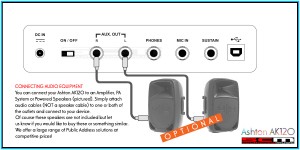 MICROPHONE INPUT JACK
Fancy a sing-a-long? Connect your microphone to the MIC IN socket and away you go! Don't have a mic? We can help with that too.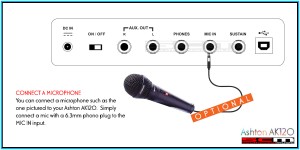 ASHTON AK120 functions:
VOICES: 300, Including 3 drum kits
KEYS: 61 keys
DISPLAY: Multi-functional LCD
POLYPHONY: 32-note (max)
STYLES: 200 Styles
DEMO SONGS: 100Songs
ASHTON AK120 specifications:
CONTROL BUTTONS: Power on/off switch, ACC.Vol , Tempo+/-, ChordDict, Lesson, L/R Part, DSP, Style, Voice, Song, Memory, M1-M4, O.T.S., Dual, Sustain, Touch, Metro, Octave+/-, Transpose+/-, +, Accompaniment Control Start/Stop, Sync Start, Intro/Ending, Fill A, Fill B, Fade In/Out, A.B.C.
REGISTRATION MEMORY: 4 Storage Slots
TEMPO: 30-280bpm
RECORD FUNCTION: Record, Play
CONNECTORS: DC IN, AUX OUT, Phones, USB, MIC IN, Sustain
POWER SUPPLY: DC IN
SPEAKER: 4Ω 10W + 10W
DIMENSIONS: 955 X 360 X 145mm
WEIGHT: 5.5kg (without batteries)
INCLUDES AC ADAPTOR AND ADJUSTABLE KEYBOARD STAND!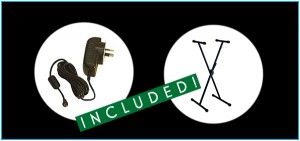 POSTAGE AND HANDLING IS INCLUDED IN OUR PRICE!