Arban's Complete Conservatory Method for Trumpet by Jean Baptiste Arban Includes MP3 Audio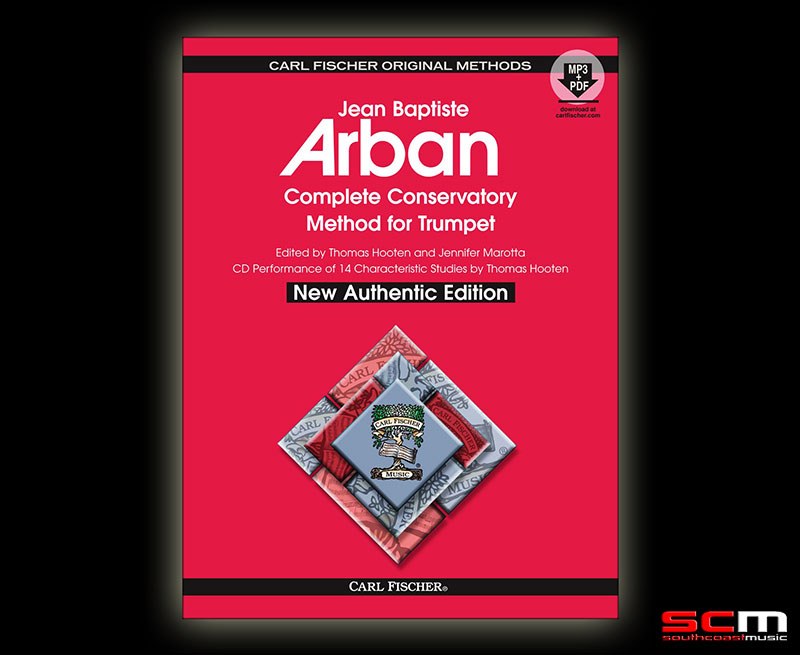 • SKU: O21XSB
• Publisher: Carl Fischer Music
• Delivery Method: Print
• Medium : Soft Cover with Downloadable Online Media
• Page Binding: Spiral Bound
• Product Type: Methods and Studies
• Accompanied: Accompanied Solo
• Weight: 3.15 lbs.
• UPC: 7-98408-04884-6
• ISBN: 978-0-8258-4884-1
Arban's Complete Conservatory Method for Trumpet Table of Contents

This New Authentic Edition of Jean-Baptiste Arban's Complete Conservatory Method contains the same tried and true comprehensive system of study that Arban developed over a century ago.
This edition features a Spiral Bound spine, finally making this important book easily readable and mountable on a music stand.
This magnificent volume has been completely re-engraved and painstakingly edited by prominent Trumpet Performers and Teachers. Jean-Baptiste Arban's revolutionary teaching system for the Bb Trumpet has been kept intact, while some of the editor's own insights have been added with respect to how trumpet is taught today.
Purists and modernists alike have welcomed this new edition and applauded the spiral bound layout.
Arban's time-tested pedagogical sequence has also been given a fresh new layout for easier reading.
Of equal importance are the included downloadable resources. There are spectacular performances of all of the 14 characteristic studies as well as piano accompaniments for the Fantasies performed by John Walker.
All tracks are in MP3 format and may be downloaded to your PC, Mac or MP3 player/iPod/smartphone.
As an added bonus, the downloads also contains the original text from the first edition of the Arban method in PDF form, including multi-language translations.
The Arban Complete Conservatory Method is the definitive must-have for all students and players of the Trumpet and Cornet.
With this masterful new edition of Jean-Baptiste Arban's work and all of its extra resources, the Arban will remain the driving force in Brass education for Generations to come.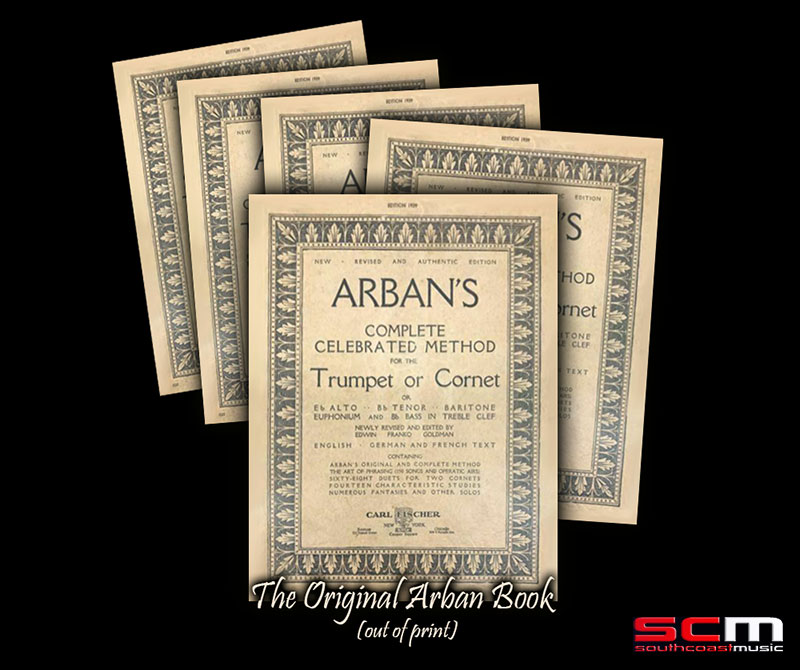 • Notes and Track Listings for the MP3 Accompaniment and Performance Tracks
• Fingering Chart for Trumpet/Cornet
• Diagram of the Trumpet and Cornet
• Preface to the 1894 and 1936 Editions
• Editorial Note by Thomas Hooten and Jennifer Marotta
• About Jean Baptiste Arban
• About Thomas Hooten
• About Jennifer Marotta
• Introduction by Jean Baptiste Arban
• Range
• Alternate Fingering
• Mouthpiece Position
• Attack
• Breathing
• Style: Faults To Be Avoided
• I. First Studies
• Explanatory Notes on the First Studies; Syncopation; Rhythmic figures and 6/8 Meter
• Music Studies
• First Studies
• Syncopation
• Rhythmic Figures
• 6/8 Meter
• II. Slurring or Legato Playing
• Explanatory Notes on Slurring or Legato Playing
• Music: Studies on Slurring or Legato Playing
• III. Scales
• Explanatory Notes on Major and Minor Scales, Chromatic Scales and Triplets
• Music Studies
• Major Scales
• Minor Scales
• Chromatic Scales
• Chromatic Triplets
• IV. Ornaments
• Explanatory Notes on the Simple or Long Appoggiatura; the Short Appoggiatura or the • Grace Note; the Portamento
• The Double Appoggiatura, the Turn, the Trill and the Mordent
• Music Studies:
• Preparatory Studies for the Turn
• The Turn
• The Double Appoggiatura
• The Simple or Long Appoggiatura
• The Short Appoggiatura
• The Portamento
• The Trill
• The Mordent
• V. More Advanced Studies
• Explanatory Notes on Intervals; Broken Octaves and Tenths; Rhythmic Figures, • Arpeggios and Cadenzas
• Music Studies
• Intervals
• Broken Octaves and Tenths
• Triplets
• Rhythmic Figure
• Major and Minor Arpeggios
• Dominant Seventh Arpeggios
• Diminished Seventh Arpeggios
• Cadenzas
• VI. Tonguing
• Explanatory Notes on Triple Tonguing, Double Tonguing, the Slur and Double Tonguing, and Fanfare Tonguing
• Music Studies
• Triple Tonguing
• Double Tonguing
• The Slur and Double Tonguing
• Fanfare Tonguing
• VII. The Art of Phrasing
• 150 Classic and Popular Melodies
• VIII. 68 Duets for Two Cornets
• IX. Concluding Remarks: 14 Characteristic Studies
• X. 12 Celebrated Fantaisies and Airs Variés
• AUDIO CONTENTS:
• Arban's Fantasies Accompaniment Audio MP3s
• 14 Characteristic Studies Performed by Thomas Hooten