AKG WMS 40 MINI
UHF WIRELESS HAND HELD MICROPHONE SYSTEM
WMS-S40SVC US25C 539.300 MHz
AKG WMS40 Mini Wireless Vocal System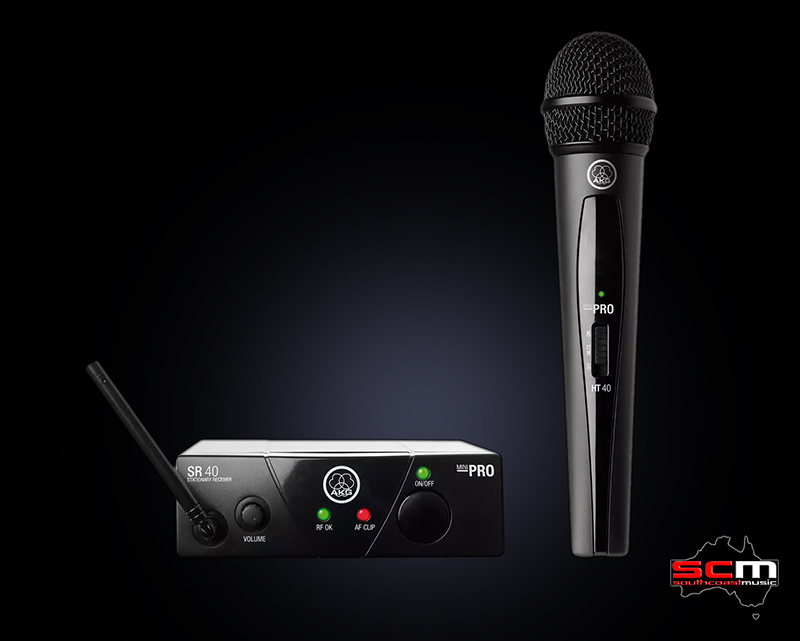 Suitable for:
• Live sound
• Schools
• Houses of worship
• Conferencing
• Sound and Audio Visual companies
• Gyms
From humble beginnings in 1949, AKG microphones and headphones have built a rock solid reputation on stage and in the studio with international musicians such as Frank Sinatra, Eric Clapton, Peter Gabriel, Stevie Wonder, Aerosmith, the Rolling Stones, Rod Stewart, Anastasia, Eros Ramazotti, Kayne West and Simply Red.
The AKG WMS 40 Mini Vocal Set is a true plug and play solution for people wanting a wireless solution with clear, natural sound and ease of use at an unbeatable price/performance ratio.
Unique HDAP (High Definition Audio Performance) technology ensures the best possible, most realistic sound at any time.
The SR40 Mini receiver provides three status LEDs each for channels 1 and 2 indicating:
• On/Off status
• Received signal strength (RF OK)
• Audio clipping (AF CLIP)
The SR40 receiver features an ultra compact housing and offers a 6.3mm (1/4″) jack output.
The SR40 comes complete with a 240VAC – 12VDC switched mode power supply. The illuminated ON/OFF button clearly indicates when the system is on.
AKG are famous for their microphones and the rugged HT 40 Mini handheld transmitter is a great performer.
The AKG HT40 Mini handheld transmitter features a dynamic cardioid capsule for excellent rejection of unwanted surrounding sounds and maximum gain before feedback.
The AKG HT40 Mini handheld transmitter features an on/off/mute switch and a sturdy wire-mesh cap to protect the cardioid dynamic microphone element.
The exceptional 30 hours battery life from a single AA battery is really practical and saves serious money over the long term with day-to-day use.
The AKG WMS 40 Mini Vocal Set system includes:
• 1 x AKG SR 40 MINI Receiver
• 1 x AKG HT 40 MINI Handheld Transmitter
• 1 x AKG 240VAC – 12VDC Power Supply
• 2 x AA size dry batteries
AKG WMS 40 Mini Vocal Set Specifications:
• AKG Product Code: WMS-S40SVC
• Frequency Band: US25C
• Frequency: 539.300 MHz
• Modulation: FM
• Audio Bandwidth: 40 to 20,000 Hz
• Frequency Stability: (-10°C to +50°C) ±15 kHz
• T.H.D.: 0.8% (at 1 kHz typical)
• Signal/Noise Ratio: 105 dB(A) typical
• RF Output: Maximum 10 mW (typical)
• HT Handheld Mic Power Requirement: single 1.5-V AA size battery
• Battery life: Up to 30 hours