AKG P5
PERCEPTION SERIES MICROPHONES
professional DYNAMIC VOCAL MICROPHONE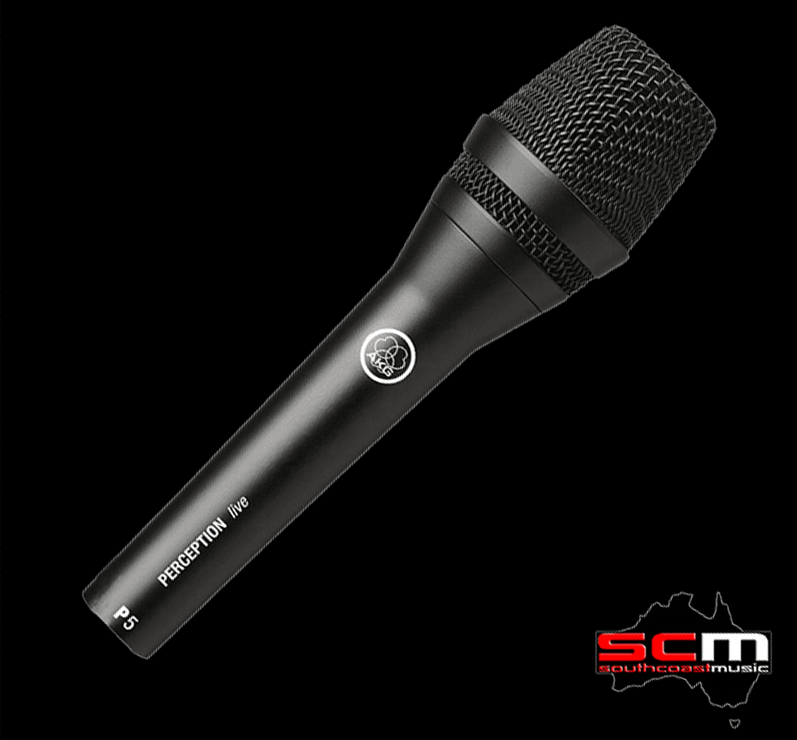 •Designed and engineered in Austria
• High feedback suppression with supercardiod polar pattern for trouble-free use with on-stage monitoring
• Non-slip coating for complete onstage control
• Integrated windscreen for elimination of pops and wind noise
• 24-carat gold-plated XLR connector for optimum conductivity and resistance to corrosion
• Rugged wire-mesh cap and full metal body withstand every live performance
• Complete with stand adapter and zip bag for daily use and easy transport
Designed and engineered in Austria, the AKG Perception series P5 is a high-performance dynamic vocal microphone that delivers powerful sound for all vocal applications. Built by AKG in China, as a lead vocal microphone it is without peer at this price.
Featuring a supercardioid polar pattern that ensures utmost gain before feedback and ambient noise suppression, the AKG P5 is a performance microphone – even on the noisiest stage.
The AKG Perception P5 has a heavy-duty yet lightweight die-cast metal body built to withstand tough stage performances. An integrated windscreen efficiently eliminates pop and wind noise.
The internal shock absorption is superb and offers exceptional protection for the capsule. This is one of the many reasons that the AKG P5 is a firm favourite with schools, vocal teaching studios and Karaoke applications.
What's in the box?
• 1 x AKG P5 Microphone
• 1 x AKG SA45 Stand Adapter
• 1 x AKG Microphone Bag