AKG
K 141 MK II
Professional Stereo Headphones
The AKG K141 MK II Studio Monitoring Headphones are a newly updated version of the legendary and highly awarded AKG Studio Headphones.
The patented 30mm XXL transducers utilise Varimotion™ technology to deliver higher sensitivity, a wider dynamic range and higher SPL. Thanks to the low impedance design, the K141 MKIIs are superb sonic solutions for use with computers and other devices with low-power output.
The gimbal suspended earcups and self-adjusting headband makes these studio headphones wonderfully comfortable to wear. The detachable cables make the AKG K141 MKII Headphones easy to transport and the gold-plated plugs ensure superior signal transfer.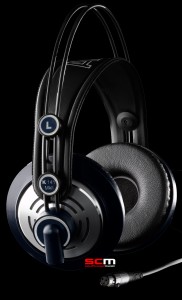 AKG K141 MKII Key features:
Professional Stereo Studio Monitoring Headphones
Semi-open Supraaural Design
Self-adjusting headband for comfortable fit
Patented Varimotion Transducers
Undistorted sound even at high volume levels
Low Aural Fatigue over extended listening times
2 x Soft Leatherette Ear Pads
2 x Velvet Ear Pads
Single-sided, detachable 3 metre cable and additional 5 metre coiled cable
TWO YEAR warranty