Parallel Audio HELIX 765 UUPC
70 Watt Lithium-ION Wireless Portable Sound System
Two 100 Channel UHF Diversity Receivers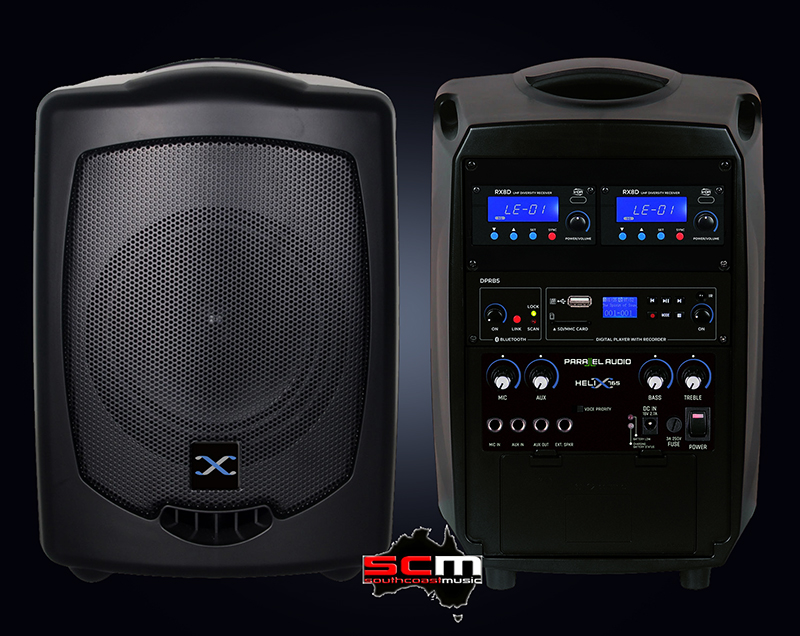 Parallel Audio is a complete line of PA and wireless microphone systems developed in close partnership with one of the world's leading manufacturers of wireless public address solutions.
Parallel Audio retains the quality and reliability we have had the pleasure to provide to our customers over the years and enables us to expand our current offering with an improved range of wireless and portable PA solutions.
All Parallel Audio products have been refined and engineered for the Australian and New Zealand markets.
The first products released by Parallel Audio include the HELIX Series of PA systems and a range of wireless microphone products.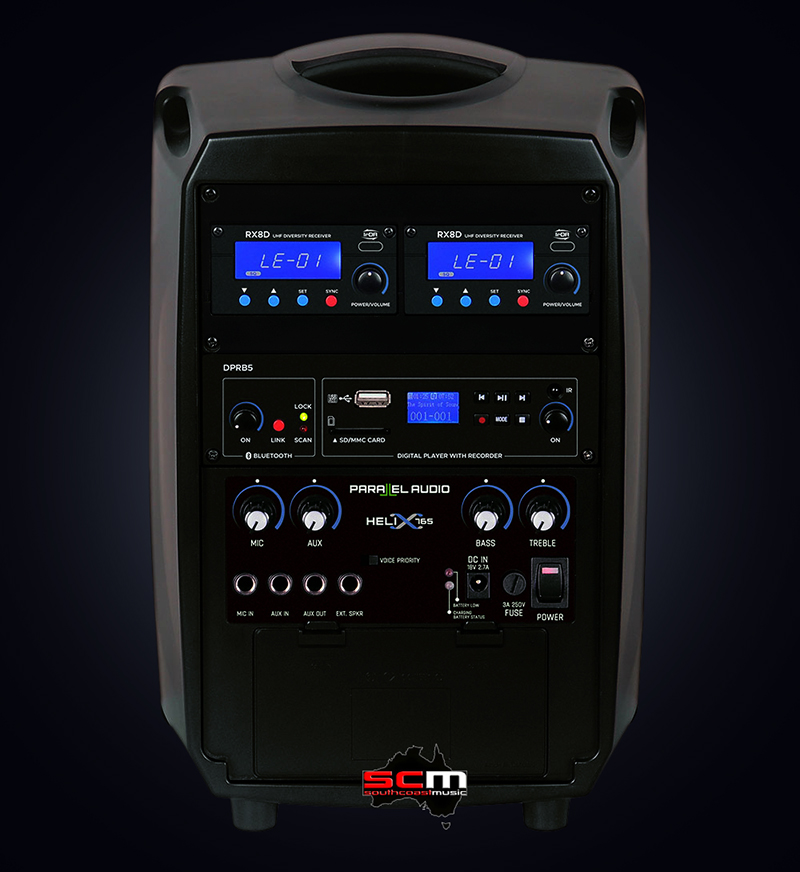 HELIX 765 UUPC – 70 Watt Lithium-ION Wireless Portable Sound System
• Energy Efficient & Lightweight 70 Watt Class-D amplifier
• Bluetooth Receiver/Digital Music Player with Recorder included
• Includes 2 Diversity Receiver Modules with 100 selectable frequencies in each
• Voice Priority Function
• Audio inputs: Mic in, Aux in
• Audio outputs: Aux out, External speaker
• Individual volume control for Mic in, Aux in, Bass and Treble
• Select from a range of Hand Held and Beltpack Transmitter/Microphone Options
The brand new HELIX 765-UUPC may be small in size, light in weight but it's big in sound and features!
The take-anywhere HELIX 765 system features two UHF 100 channel Receivers that work perfectly with the optional HELIX range of Wireless Hand-Held and Belt-Pack transmitters. A comprehensive range of Lapel and Headworn microphones are also available to suit a wide range range of situations.
The HELIX 765's light weight makes it a breeze to move around and its design eliminates the need for cables so you can take it anywhere. There are even two mounting options for the built-in 17mm 'top hat' mount – a height adjustable stand and a wall bracket, both designed to suit a wide range of situations.
The HELIX 765 features a 6 ½" full range speaker system driven by a gutsy 70 watt energy efficient Class-D power amplifier that puts much less load on the Lithium-Ion battery offering up to 20 hours of wireless speech performance! A water-resistant Dust cover is also included.
Other important features include a Bluetooth Receiver/Digital Music Player with Recorder. The Voice Priority function automatically lowers the sound of music playing through the system when speech is detected through the microphones. There are also two audio inputs – Mic in, offering an input for a wired microphone and Aux in which allows connection (with the appropriate cable) of devices such as non Bluetooth equipped smart phones or music players.
You have individual controls for Mic in, Aux in, Bass and Treble as well as two audio outputs – an Aux out and External speaker output.
• Output Power: 70W Class-D (140W with external speaker)
• Speaker System: 6 ½" Full Range Speaker
• Audio inputs: Mic in, AUX in
• Audio outputs: AUX Out, External speaker
• Antenna: Built-in
• Power supply: 100-240V AC / 18V DC, 2.7A
• Battery type: Lithium-ion
• Battery specifications: 14.8V, 5.2Ah, 76.96Wh
• Battery quantity: 1
• Stand-by time: 23 hrs
• Operating time: 9-11 hrs (music), 17-20 hrs (speech)
• Charging time: 8 hrs
• Dimensions: H313 x W220 x D215 mm
• Weight: 3.8 kg
• Tripod stand mountable with HX-765 ST / Wall mountable with HX-765 WB
• Dust Cover included
• Optional Carry Bag: HX-765 SB
• Optional Powered Extension Speaker: HX-765 PSR
• Optional Passive Extension Speaker: HX-765 SP
* NOTE: The above specifications are subject to change without prior notice.