YAMAHA MG12 12 CHANNEL MIXER
For more than a century, YAMAHA has built a legacy of superior craftsmanship and innovation with an unrivaled catalog of world-class musical instruments to touring-grade professional audio. Now in its third incarnation, the MG Series embodies this pursuit of design excellence, and incorporates some of the same technologies developed for use in high-end professional consoles, including studio-quality pre-amps, powerful digital processing, and a rugged, reliable construction.
With an intuitive, easy-to-use interface, the MG Series mixers are suited to a diverse range of users and applications. For installed, recording, or live music settings, the solid construction and flexible design of these consoles lets you shape your sound with confidence, continually delivering peak performance and a level of sound quality and reliability unrivaled in its class.
YAMAHA has always provided sound engineers with the purest possible signal instead of added processing or colour to give it a "signature" sound, and the MG Series is no exception. Embracing this philosophy of transparent sound, these mixing consoles deliver a level of sonic purity and sound quality that is unmatched in their class.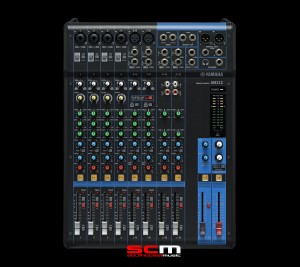 o 12-Channel Mixing Console
o Max. 6 Mic / 12 Line Inputs (4 mono + 4 stereo)
o 2 GROUP Buses + 1 Stereo Bus
o 2 AUX (incl. FX)
o "D-PRE" mic preamps with an inverted Darlington circuit
o One-Knob compressors
o PAD switch on mono inputs
o +48V phantom power
o XLR balanced outputs
o Internal universal power supply for world-wide use
o Optional Rack Mount Kit RK-MG12 Available
o Metal chassis
o 308 mm x 118 mm x 422 mm (12.1″ x4.6″ x16.6″)
o Weight: 4.0 kg (8.8 lbs.)
D-PRE DISCRETE CLASS-A MIC PREAMPS
The quality of your preamps determine the direction your mix will take and ultimately how good it is going to sound. Featuring YAMAHA's studio-grade discrete class-A D-PRE preamps, they utilise an inverted Darlington circuit comprising two cascading transistors in a configuration that delivers more power with lower impedance. Delivering fat, natural sounding bass and smooth, soaring highs, with very low distortion, D-PRE preamps possess an impressively wide frequency range that allow them to handle signal from any audio source without overly amplifying any specific elements of the sound.
HIGH QUALITY SOUND OP-AMP
The head amp determines sound quality and op-amp integrated circuits are one of the most important parts of the head amp circuit. MG Series mixers feature new, high-quality, custom made MG01 op-amps  developed in cooperation with YAMAHA's semiconductor manufacturer. Op-amp design usually prioritises electrical design and efficiency. YAMAHA's design brief was to focus on sound quality first.
SWITCHABLE PHANTOM POWER AND PAD SWITCH
With phantom power, MG Series consoles allow you to take full advantage of the greater frequency response and high sound quality of condenser microphones. The input channel with PAD switch accepts MIC to line level of inputs, PAD Switch attenuates high input signals that often accompany mic'ed instruments during performance, avoiding the clipping that can seriously affect your mix.
YAMAHA MIXER – YOUR SOUND
When was the last time you heard guitar without EQ or a completely unprocessed vocal on one of your favourite songs? Probably never. YAMAHA mixers are famous for their flat response and sonic purity, but it often takes more than a perfectly-captured instrumental performance or vocal to achieve a professional sounding mix.
Equipped with some of the same state-of-the-art functionality featured on YAMAHA's high-end consoles, the MG Series gives you the tools you need to produce high quality sound that is uniquely your own.
ONE KNOB COMPRESSORS
Compression plays an essential role in just about any recording or sound reinforcement environment by altering the level of dynamics of an audio signal when you need livelier guitars, punchier bass lines, a tighter snare, or a cleaner vocal sound. However, it can take countless hours to master the complexities of even the most basic outboard compression units and use them effectively.
Originally a YAMAHA innovation, 1-knob compressors are now an industry standard that gives you instant access to optimised compression settings via a single rotary control.
SUPERB EQ AND HIGH PASS FILTERS
There's nothing more useful than reliable equalisation when you need real management of your tone. The MG Series benefits from YAMAHA's unparalleled experience in designing pro audio gear, featuring 3-band equalisers on all mono channels for precise control of your sound. The High-pass filter allows you to eliminate unwanted low frequency noise, for a smoother, cleaner mix.
AUX/EFFECTS SEND/GROUP
MG Series mixers feature AUX sends for expanding your sound reinforcement or recording setup, allowing you to incorporate additional effects, output to external recording devices, or feed to an Monitoring system. Master send controls are also provided.
USEFUL INPUT/OUTPUT CONNECTORS
High-quality Neutrik™ balanced XLR connectors are used on mono microphone/line channels and XLR equipped stereo channels. Each of the mono inputs is equipped with combo jack and accepts both MIC and LINE level signals.
Two of the stereo inputs are equipped with XLR and two phone connectors with XLR accepting MIC level signals while two phone connectors accepting LINE level signals and can be used either mono or stereo.
Easy-to-read LED level metering allows output levels to be monitored with precision.
BUILT TO LAST
For gigging, recording, and installed applications alike, your console can be subjected to a wide range of environmental conditions and hazards. Excessive humidity, unstable power supplies and the rigors of road travel in general can take a serious toll on a mixing console, often causing expensive, time-consuming repairs and reducing its lifespan. The MG Series has been redesigned with an emphasis on durability, incorporating practical features that offer greater flexibility while ensuring peak performance for many years to come. YAMAHA are so confident of the quality of their MG series mixers that they back them up with a FIVE YEAR warranty!
OPTIONAL RACK MOUNT KIT
Easily adaptable to a diverse range of installed and portable applications with the optional RK-MG12 Rack Mount kit, featuring a sleek design that makes safe, stable placement of your console hassle-free, keeping setup time and effort to a minimum.