YAMAHA MGP12X 12 CHANNEL PREMIUM MIXING CONSOLE
o Small-Format Sound Reinforcement
o 4 Mono Input Channels
o 4 Stereo Input Channels
o D-Pre Microphone Preamplifiers
o Dual Digital Effects Engine
o X-pressive EQ Section
o 1-Knob Compressors
o 2 Digital Hybrid Stereo Channels
o Control & Playback with iPhone & iPad
o Integrated Universal Power Supply
o Metal chassis
o Five Year Warranty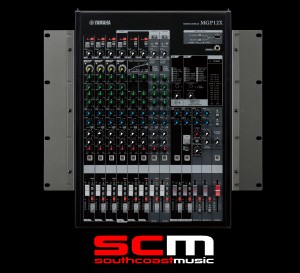 YAMAHA build some of the world's most respected Concert Sound Equipment. They are in constant touch with the world's leading audio engineers and artists. They are also right there at the grass roots level which combines to give them a great insight into the needs and wants of today's musicians and bands. The YAMAHA MGP12X 12-Channel Premium Mixing Console is the result of the call for a small format sound reinforcement console with a feature set that meets the demands of today's touring bands, performance groups, live venues, houses-of-worship, town halls and much more.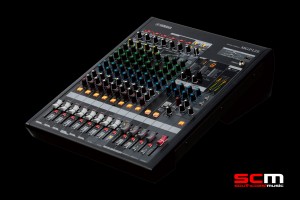 The YAMAHA MGP12X 12-Channel Premium Mixing Console features a total of 12 input channels with 4 mono inputs, 4 stereo inputs, dual effects processors, one-knob compression, stereo hybrid channels and optional control/audio playback from Apple iPads and iPhones. This is a serious audio mixer.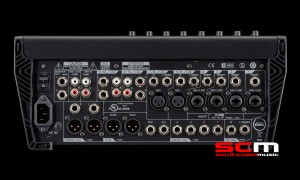 o Studio-grade discrete class-A "D-Pre" mic preamps with an Inverted Darlington Circuit
o Musical X-pressive EQ based on Yamaha's famed VCM technology
o Professional 1-knob compressors with LED indicators
o High-grade dual digital effects processors: Advanced REV-X and classic SPX
o Stereo hybrid channels utilizing a powerful, proprietary DSP
o Digital connectivity for iPod/iPhone
o MGP editor for detailed control of the console's DSP settings via iPod/iPhone
o Rugged, impact-resistant, powder-coated metal chassis
o Integrated universal power supply for world-wide use
o 6 mic inputs with 48V phantom power and HPF per channel
o 12 line inputs (4 mono and 4 stereo)
o Additional 2TR inputs provided to accept the output from analog devices or iPod/iPhone
o 2 Aux sends + 2 FX sends
o 4 Group Buses + STEREO Bus
Six YAMAHA D-Pre microphone preamps featuring an inverted Darlington circuit design, ensure that the best quality audio signal enters the console. The result is transparent, warm and musical audio. The YAMAHA MGP12X mixer's X-pressive EQ section delivers precise settings, steep shelving and musical frequency contouring. Powerful Dual Digital Effects processors lay a palette of pristine Yamaha REV-X reverbs and SPX series digital multi-effects at your fingertips.
Additionally, the MGP12X features a pair of dedicated stereo Digital Hybrid channels.
Two stereo channels feature extensive Digital Signal processing underneath the familiar analogue controls. The Digital Hybrid channels feature a Priority Ducker for prioritising announcements and other signals, a Leveler for global level control as well as a Stereo Image feature that adjusts the width of stereo tracks and delivers a superb listening experience (ideal for backing tracks and intermission music breaks).
The Yamaha MGP12X features a USB iPod and iPad connection. Not only can the console playback audio from these devices, Yamaha's free MGP editor app allows for extensive control and editing of many of the console's features and parameters, directly from your Apple iPhone or iPad. Thanks to its integrated rack ears, the MGP12X can easily be rack mounted.
o Channels: 12 Line inputs (4 mono and 4 stereo)
o Groups: 4 Group buses + ST bus
o AUX Input: 2 Aux Sends + 2 FX Sends
o Compressor: Compressor CH1-4, HPF (100Hz 12dB/oct)
o EQ Section:
MONO ±15dB(Max.): High 8kHz shelving/ Mid 250Hz-5kHz peaking(CH1-4,9-12)/ Low 125Hz shelving
STEREO ±15dB(Max.): High 8kHz shelving/ Mid 2.5kHz peaking(CH5-8)/ Low 125Hz shelving
o Effects Section:
– FX1:REV-X (8 Programs, Parameter control),
– FX2:SPX (16 Programs, Parameter control)
o Microphone Inputs: 6,(100Hz 12dB/oct)
o Phantom PowerL 48V phantom power per channel
o Line Inputs
– Line: 4mono + 4stereo
– Channel inserts: 4
– Return: 1 stereo
– 2TR IN: 1 stereo
o Digital I/O USB audio USB in: iPod, iPhone exclusive
o THD: 0.02% (20Hz-20kHz@ +14dBu)
o Frequency Response: +0.5/-1.0dB 20Hz – 20kHz, refer to the nominal output level @1kHz
o EIN -128 dBu (20Hz-20 kHz, Rs=150Ω, input gain = maximum)
o Residual Output Noise: -102 dBu (20Hz-20 kHz, Rs=150Ω, input gain = maximum)
o Crosstalk: -74dB @ 1kHz
o Power Requirements: 100-240V 50Hz/60Hz
o Power Consumption: 45W
o Dimensions (WxHxD) 348 x 143 x 495mm (13.7 x 5.62 x 19.48″)
o Weight: 7.5kg (16.53lbs)
o Warranty: FIVE YEARS