YAMAHA MG06 ANALOGUE MIXER:
YAMAHA…world famous stage and studio proven quality at an affordable price.
o 2 x D-PRE discrete Class-A mic preamps deliver clean and natural sound
o EQ and highpass filters allow for effective sound-shaping
o High quality op-amp ensures transparent sound reproduction
o 2-band EQ on all mono channels for sound-shaping
o Pad switch on mono inputs for managing loud sources
o Metal chassis for durability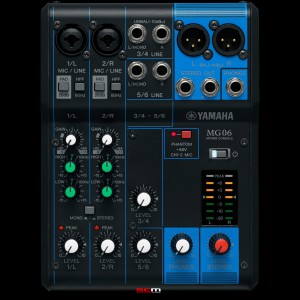 D-PRE discrete Class-A mic preamps deliver clean and natural sound
Yamaha MG Series mixing consoles are fitted with Yamaha's transparent D-PRE preamps. These amazing Class-A preamps simply deliver more power with lower impedance, resulting in natural sounding bass and smooth, musical highs. The Preamps also utilise an inverted Darlington Circuit which is rare at this price point.
(1) A standard Darlington circuit employs two transistors in series to amplify an incoming signal by dramatically increase the current (something a preamp for a mic-level signal must do).
(2) The standard circuit lacks negative feedback to reduce non-linear distortion.
(3) The inverted circuit applies local feedback to reduce the distortion while lowering the output impedance, both desirable in a mic preamp.
EQ and highpass filter for effective sound-shaping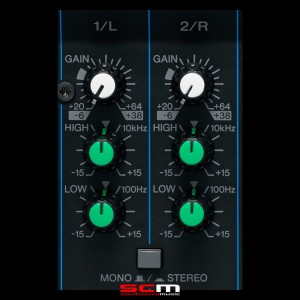 Modern EQ'ing is more about removing unwanted frequencies – some inferior systems require boosting to improve poor sound – not so with Yamaha D-PREs! The D-PRE's pure sound should ensure that you won't need to spend hours EQ-ing just to get a barely-acceptable sound, or put up with unwanted hiss.
Whether tweaking your sound to perfection or whether you're removing unwanted frequencies, effective and powerful EQ is necessary for building a successful mix. Featuring equalisers on all mono channels, the Yamaha MG Series mixing consoles provides you with control over the tonal balance of your mix. Additionally, a highpass filter allows you to get rid of any rumble that might be present in your mix by eliminating unwanted low-frequency noise.
High quality op-amp ensures transparent sound reproduction
For the new MG Series mixers, Yamaha have developed new, high-quality MG01 op-amps, to ensure that you are getting the best sound possible. The design brief for these new op-amps was to focus on sound quality, rather than prioritising electrical design and efficiency. Yamaha has always strived to deliver the purest possible signal instead of imparting their "signature" to your sound, and the MG Series is no exception. Yamaha have always been renowned for their "natural sounding" audio equipment and you can count on a transparent and articulate sound when you mix through a Yamaha MG Series analogue mixer.
Yamaha MG06 Analogue Mixer Features:
o 6-Channel Mixing Console
o 2 x Mic / 6 Line Inputs (2 mono + 2 stereo)
o 1 Stereo Bus
o "D-PRE" mic preamps with an inverted Darlington circuit
o XLR balanced outputs
o PAD switch on mono inputs
o +48V phantom power
o Metal chassis
o Dimensions: W149 mm x H62 mm x D202 mm (5.9″x 2.4″x 7.9″)
o Net Weight: 0.9 kg (1.98 lbs.)
o Five Year Australian Exclusive Warranty