Clavinova CVP digital pianos have earned an enviable reputation for their superb instrument Voices, all of which have been tuned to perfection on the CVP805.
Yamaha's Clavinova series are by far the leading digital piano on the market today and the new CVP805 is a premium digital piano designed to deliver the ultimate digital piano experience.
Packed with stunningly realistic instrument Voices and inspiring accompaniment Styles, the CVP805 is sure to provide hours of musical enjoyment. Whether you want to learn to play hit songs with professionally-arranged accompaniment, plug-in a microphone to sing-along with on-screen lyrics for karaoke fun or add lush harmonies to your singing voice with virtual backup singers, the new CVP Clavinova models provide a definitive, immersive playing experience.
Featuring incredible samples from the Yamaha CFX Concert Grand Piano and Bösendorfer's legendary Imperial Concert Grand Piano, the CVP805 allows you to enjoy superb-sounding performances with polished introductions and endings, dramatically improved tones, delivering authentic accompaniments that will enhance your playing across a diverse range of musical genres. Connect your way to various devices via the built-in Bluetooth, WiFi or USB.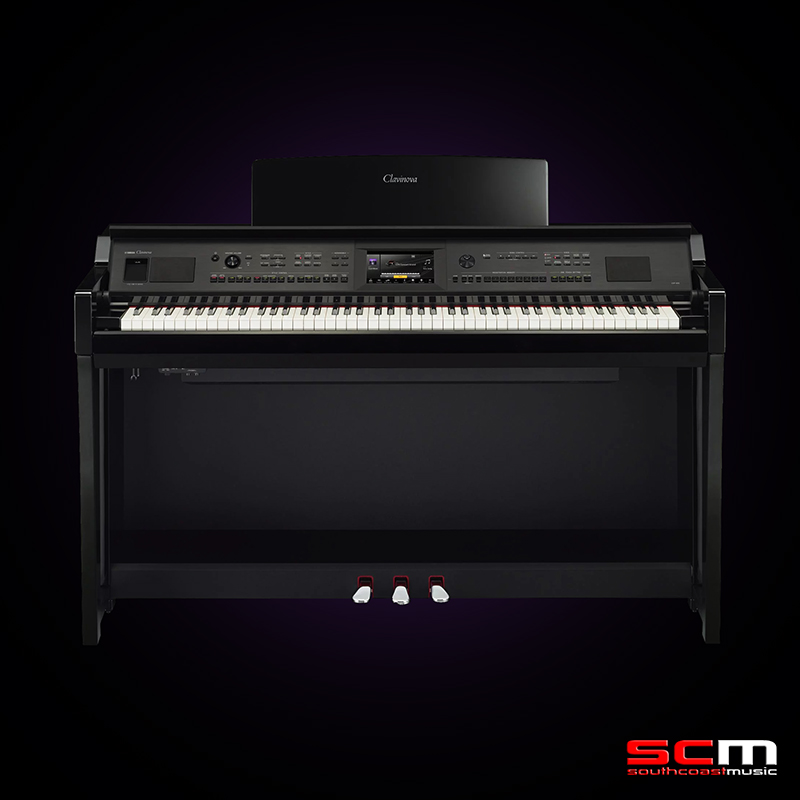 At the center of the CVP805 is a gorgeous TFT Color Touch Screen that is simple to navigate and makes operating a wide selection of functions quick and easy.
The Music Finder Database on the previous generation has been replaced with the more versatile and powerful Playlist feature, which allows song titles to be stored with attached registrations, song files and setups for instant recall.
The dream of learning or playing along with favorite songs is one held by many aspiring musicians, and the CVP-805 makes this dream a reality. This new digital piano takes full advantage of the Audio-to-Score function found in the Yamaha Smart Pianist App for iOS and Android. The app analyses iTunes music files that already reside on an iPad or Android tablet, then generates a piano accompaniment and a chart of chord symbols for those songs, which is displayed on the device placed in front of the user. Like magic, the user is sitting in with their favorite band and playing inspiring accompaniment, from the very first moment they touch the keys.
The CVP-805 has also inherited the powerful sound engine found in the flagship Yamaha Arranger Workstation, Genos, bringing Articulation Element Modeling (AEM) technology to specific acoustic instrument Voices. This technology powers the Super Articulation 2 Voices, the most realistic, expressive-sounding instrument Voices available.
Clavinova CVP digital pianos have earned an enviable reputation for their superb instrument Voices, all of which have been tuned to perfection on the new models. The CVP-805 features 50 new Voices (1,844 total).
When it comes to touch, the CVP805 Clavinova digital piano should impress the most discerning pianist, thanks to the new GrandTouch keyboard action with escapement. Immensely popular on the company's CLP Clavinova models, the GrandTouch keyboard features real wooden keys and reproduces the true key resistance of an acoustic grand piano with even greater fidelity. For example, the instrument responds with a controlled nuanced sound when the keyboard is played softly, while a stronger touch will elicit powerful brighter tones, just like a grand piano. The result is an instrument with a more responsive touch, offering a greater dynamic range than ever before.
To elevate the enjoyment factor even more, players can wirelessly connect an iPhone, iPad or iPod touch to easily share the music they make with friends.
While the CVP805 is immensely popular with the piano hobbyist looking to play their favorite music in the home, this superb digital piano is also ideally suited for school music labs as well as in contemporary houses of worship for worship leading.
Features and Specifications
• CFX and Bösendorfer Imperial piano samples
• Binaurally-sampled CFX, for a totally immersive headphone experience
• GrandTouch™ Keyboard with, 88-key Linear Graded Hammers
• 1,315 Voices + 49 Drum/SFX Kits + 480 XG Voices
• 525 Styles
• 130 watt 2 x (45W + 20W) Hi-Fidelity Audio System
• 2 x (16cm LF + 2.5cm HF (dome)) speaker system
• 7″ TFT color LCD Touch Screen (800 x 480 dots)
• Built-in Bluetooth® audio
• iOS app "Smart Pianist" integration (Song function only)
• USB to HOST audio/MIDI interface
• USB Display Output (HDMI)
• Chord Looper
• Microphone jack to sing-along with on-screen lyrics for karaoke fun
• GP Response Damper Pedal offers a grand piano-style resistance curve, starting out light to the touch and growing heavier as the pedal is depressed further
• 2 GB of onboard RAM enables audio recording without a thumb drive
• Five Year Warranty