Yamaha PSR-SX600 Arranger Workstation Keyboard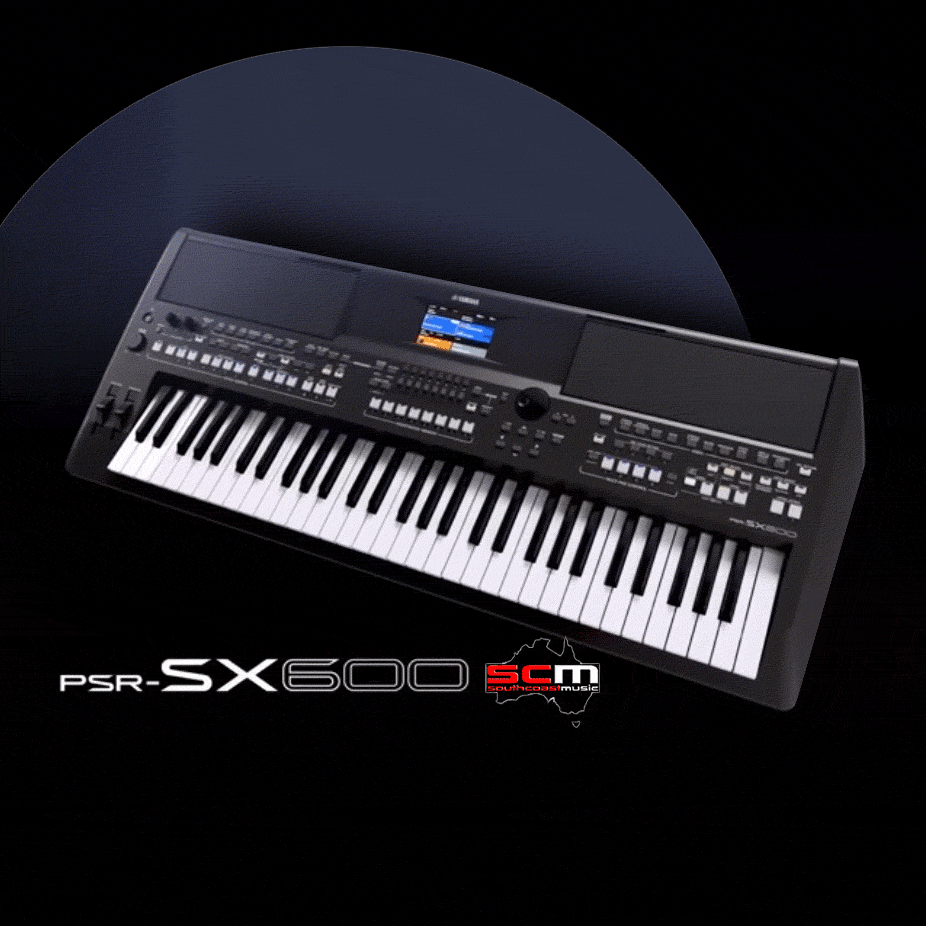 PSR-SX600 is the standard model in the PSR-SX series, offering a range of content and functionality that makes it perfect for performing at home or on stage. With intuitive control and superb sound quality, the PSR-SX600 delivers the expressive control that professionals demand and enthusiasts crave.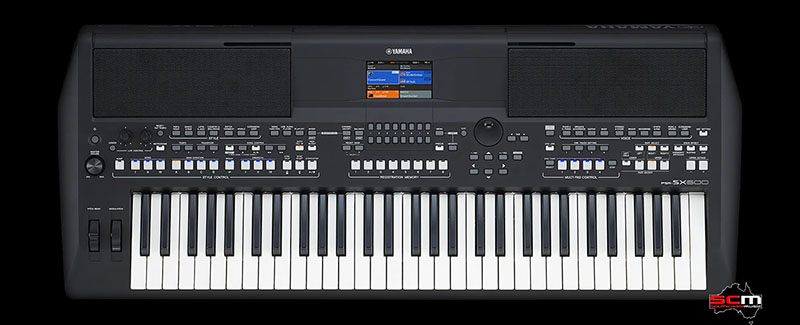 • Class Leading Sound Quality
• 10.9cm (4.3″) full colour display
• 850 Voices
• 73 Super Articulation voices
• 27 MegaVoices
• 43 Drum/SFX kits
• 415 Styles, including 372 Pro, 32 Session, 10 DJ and 1 Free Play.
• 100 MB on-board memory for expansion data
• Unison & Accent to let Styles playback follow your performance
• Compatibility with Rec'n'Share Apps
• Microphone input
• Playlist and Registration for quick and easy set up
• Voice and Style expandability with the Yamaha Expansion Manager
• Available from south coast music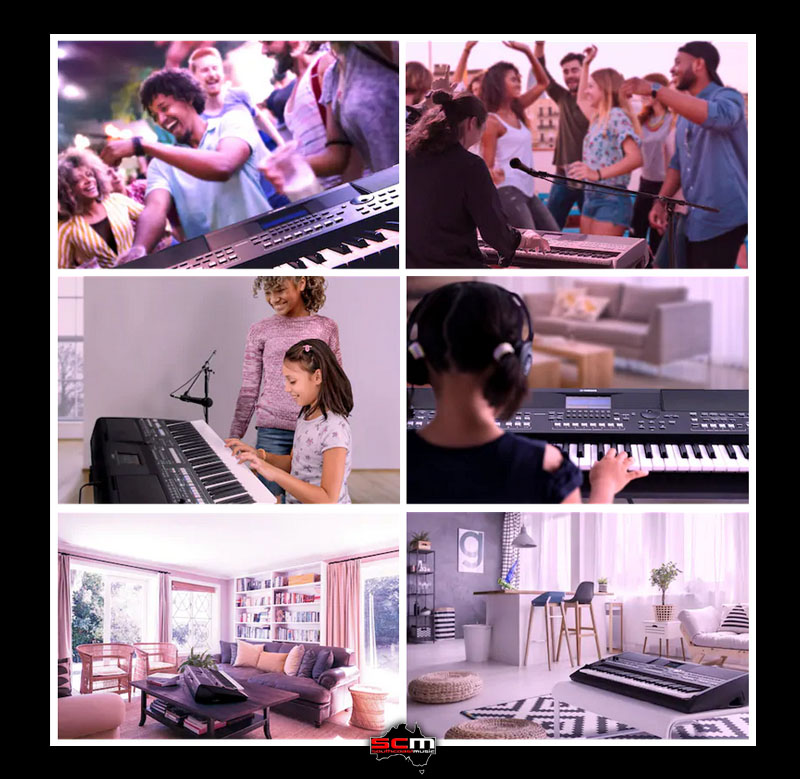 Take everything to the next level with PSR-SX600
Setting new standards in high-end Digital Workstation sound, design and user experience. Yamaha have meticulously crafted the PSR-SX600 to intensify your performance and enjoyment.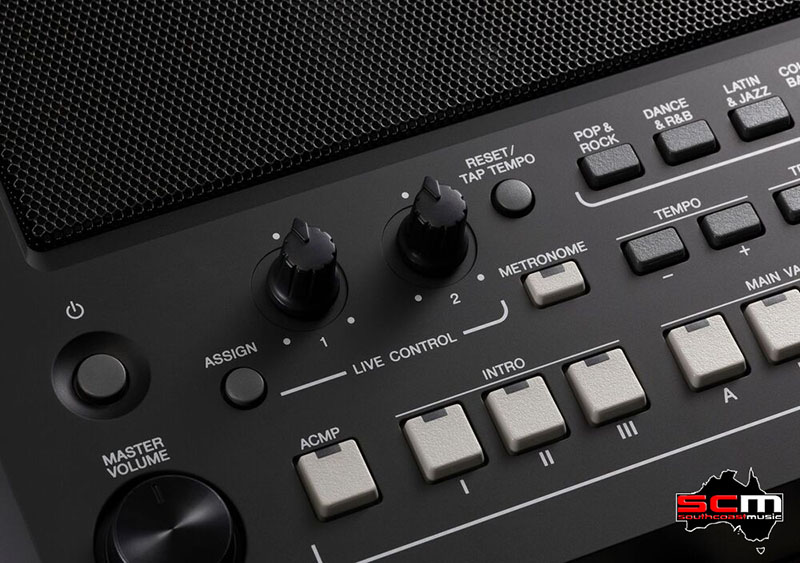 A New World of Sounds and Grooves
The PSR-SX600 delivers high-quality music experiences with rich, realistic voices including a beautiful grand piano. With Styles, you can play music in a wide variety of music genres from around the world. The SmartChord function lets you use these professional backings with just one finger – making amazing music has never been easier – or sounded better. You can even use a microphone (sold separately – contact scmusic to discuss options) to sing along with your performance through the built-in speaker system.

Performances Worth Sharing
The Yamaha PSR-SX600 gives you professional expressive functions to enhance your performance. Use these great features to elevate your experience. Use:
• Multi-Pads to add loops and phrases to compliment the accompaniment
• Cutoff to filter the sound in real time
• Unison & Accent to morph Styles to your own performance
• The Rec'n'Share app to capture and share high quality sound and video of your performance with a single tap
Yamaha PSRSX600 Specifications:
• Colour: Black
• Dimensions: W1004 mm x H134 mm x D410 mm
• Weight: 8.1 kg
• Number of Keys: 61
• Type: Organ, Initial Touch
• Touch Response: Normal, Soft 1, Soft 2, Hard 1, Hard 2
• Other Controllers: Joystick
• Control Knobs: 2 (assignable)
• Pitch Bend: Yes
• Modulation: Yes
• Display: TFT Colour WQVGA LCD
• Resolution: 480 x 272 dots (4.3 inch)
• Size: 10.9cm (4.3″)
• Touch Screen: Yes
• Language: English, German, French, Spanish, Italian, Japanese
• Panel Language: English
• Tone Generating Technology: AWM Stereo Sampling
• Polyphony: 128 notes (Max.)
• Number of Preset Voices: 850 Voices + 43 Drum/SFX Kits + 480 XG Voices
• Featured Voices: 73 Super Articulation!, 27 MegaVoice, 27 Sweet!, 64 Cool!, 71 Live!•
• XG Compatibility: Yes (for Song playback)
• GS Compatibility: Yes (for Song playback)
• GM Compatibility: Yes
• GM2 Compatibility: Yes
• Expandability: Expansion Voice – Yes (approx. 100MB max.)
• Editing – Voice Set Part: Right 1, Right 2, Left
• Digital Reverb: 52 Presets + 30 User settings
• Digital Chorus: 106 Presets + 30 User settings
• DSP: 295 Presets + 30 User settings
• Insertion Effect – Master Compressor: 5 Preset + 30 User settings
• Insertion Effect – Master EQ: 5 Preset + 30 User settings
• Insertion Effect – Part EQ: 27 Parts
• Mic effects: Noise Gate x 1, Compressor x 1, 3 Band EQ
• Arpeggio: Yes
• Number of Preset Accompaniment Styles: 415
• Featured Styles: 372 Pro Styles, 32 Session Styles, 10 DJ Styles, 1 Free Play
• Fingering: Single Finger, Fingered, Fingered On Bass, Multi Finger, AI Fingered, Full Keyboard, AI Full Keyboard, Smart Chord
• Style Control: INTRO x 3, MAIN VARIATION x 4, FILL x 4, BREAK, ENDING x 3
• One Touch Setting (OTS): 4 for each Style
• Style Section Reset: Yes
• Unison & Accent: Yes
• Expandability: Expansion Style – Yes (Internal Memory)
• Compatibility: Style File Format (SFF), Style File Format GE (SFF GE)
• Number of Preset Songs: 3 Sample Songs
• Number of Tracks: 16
• Data Capacity: Approximately 1 MB/Song
• Recording Function: Quick Recording, Multi Track Recording
• Compatible Data Format – Playback: SMF (Format 0 & 1), XF
• Compatible Data Format – Recording: SMF (Format 0)
• Multi Pad Preset Banks: 188 Banks x 4 Pads
• Audio Link: Yes
• Registration – Number of Buttons: 8
• Registration Control: Registration Sequence, Freeze
• Playlist – Number of Records: 500 (max.) Records per Playlist file
• Lesson/Guide: Follow Lights, Any Key, Karao-Key, Your Tempo
• Search: Registration Bank
• Demo/Help – Demonstration: Yes
• Metronome: Yes
• Tempo Range: 5 – 500, Tap Tempo
• Transpose: -12 – 0 – +12
• Tuning: 414.8 – 440.0 – 466.8 Hz
• Octave Button: Yes
• Scale Type: 9 types
• Direct Access: Yes
• Text Display Function: Yes
• Voices – Harmony/Echo: Yes (with Arpeggio)
• Panel Sustain: Yes
• Monophonic/Polyphonic: Yes
• Voice Information: Yes
• Style : Yes
• OTS Information: Yes
• Song Score Display Function: Yes
• Lyrics Display Function: Yes
• Song Creator: Yes
• Multi Pad Creator: Yes
• Audio Recorder/Player Recording Time (max.): 80 minutes/Song
• Recording: Only on USB .wav (WAV format: 44.1 kHz sample rate, 16 bit resolution, stereo)
• Playback: Only on USB .wav (WAV format: 44.1 kHz sample rate, 16 bit resolution, stereo)
• Time Stretch: Yes
• Pitch Shift: Yes
• Vocal Cancel: Yes
• Storage – Internal Memory: Yes (approx. 20 MB max.)
• Storage – External Drives: USB flash drive
• Power Supply: PA-300C or an equivalent recommended by Yamaha
• Power Consumption: 17 W
• Auto Power Off Function: Yes
CONNECTIVITY
• Headphone Output: Yes
• FOOT PEDAL: 1 (Sustain), 2 (Unison), Function Assignable
• Microphone: Microphone x 1
• AUX IN: Stereo 3.5mm mini jack
• LINE OUT: MAIN OUTPUT(L/L+R, R) 6.35mm X 2
• USB TO DEVICE: Yes
• USB TO HOST: Yes
AMPLIFIERS AND SPEAKERS
• Amplifiers: 15 watts x 2
• Speakers: 12 cm x 2
FURNISHED ACCESSORIES
• Owner's Manual
• Online Member Product Registration
• Music Rest
• AC Adaptor
WARRANTY
• Five Years