FENDER BASSMAN 250HD 250 WATT BASS GUITAR AMPLIFIER HEAD
o PART NUMBER: 2345903910
o 250 WATTS RMS OUTPUT AT 4Ω
o BUILT-IN COMPRESSOR, 4-BAND EQ AND CONTOUR CONTROL
o -6 dB PAD, XLR LINE OUT AND HEADPHONE OUTPUT
o AUX-IN RCA INPUT JACKS FOR USE WITH MEDIA PLAYERS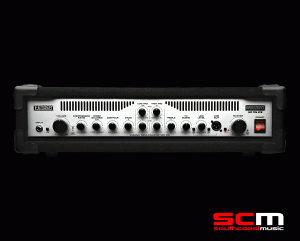 The Fender Bassman 250HD was a mighty beast when released in 2007. A favourite with Bass Players the world over, it offered pro features, rugged build quality and great tone at an affordable price.
If you missed out then, don't worry – here is your chance to get your hands on a brand new NOS (new old stock) example right here at southcoastmusic.
The full feature set and punchy sound of this amp head has a real pro vibe. Mounted in a rugged carpet-covered enclosure, the Bassman 250HD has a high-quality XLR output great for recording or running a live signal into a mixing console along with two 6.3mm (1/4″) speaker outputs and one Speakon® speaker output.
FENDER BASSMAN 250HD – BUILT-IN COMPRESSOR, 4-BAND EQ AND CONTOUR CONTROL
The Fender Bassman 250 HD amp offers plenty of tone-shaping power. The built-in compressor has a fixed threshold and adjustable ratio to provide a solid signal without overloads.
The special "Contour" control is a variable scoop applied to the MID section for slap-style playing. In addition, you've got 4-band EQ control: Bass, Low and High Semi-Parametric Midrange (Freq/Level) and Treble.
A "Room Balance" control compensates for difficult room acoustics.
FENDER BASSMAN 250HD – PAD, LINE OUT AND OTHER PRO FEATURES
The balanced XLR line-out makes recording with the Fender Bassman 250HD easy.  It features an independent level control, a pre/post switch and a ground lift for bothersome earth loops. The 6dB input pad easily handles active and high-output basses. You can control the high frequency horn with its 3-position attenuator switch (Full, -6dB, Off).  Other Pro features include a handy mute switch, built-in effects loop along with a tuner output for silent tuning as well as a headphone jack that automatically cuts the speaker signal when engaged.
FENDER BASSMAN 250HD RUGGEDLY BUILT FOR ACTION
The Fender Bassman 250HD was built for the long run with a real wood cabinet…no particle-board here! The black carpet covering is hard wearing and the brushed aluminum control panel is a classy addition.
FENDER BASSMAN 250HD IT'S ALL THERE
As a standalone unit with a matching Fender speaker cab, the Bassman 250HD is a great performer however, using the XLR DI connection it can handle a much wider variety of performance situations than its output potential may first suggest. With the optional Fender Bassman 115 speaker cabinet you'll find the  15-inch driver combination provides focused, punchy tone with midrange that is dynamic and tight. When you add it all up, great Fender sound, flexible tone shaping, pro features and sturdy design and our great pricing, it's clear that the Fender Bassman 250HD Head is a great choice!
FENDER BASSMAN 250HD FEATURES
o Series: Fender Bassman® Series
o Type: Solid State Bass Amplifier Head
o Operating Voltage: 240V AC
o Output: 250 Watts at 4 ohms
o -6dB Input Pad for High Output Basses
o RCA Auxilliary Input Jacks for use with media players
o Compressor (fixed threshold, adjustable ratio)
o Contour (a variable scoop applied to the MID section for slap style playing)
o Bass, Low and High Semi-Parametric Midrange (Freq / Level), Treble
o XLR output with Level control, PRE/POST switch and Ground Lift switch (live, recording)
o Mute switch (with LED to indicate Mute ON)
o Master Volume
o Speaker Out (4 Ohm min, full power internal, unplug internal cable for use with external cabinet)
o Headphone jack (for silent practice)
o Effects Loop (send and return)
o Tuner Out (still functions when the amplifier is MUTED)
o Plywood Cabinet (No Particle Board)
o Heavy Duty Spring Loaded Handles
o Covering: Black Carpet and Brushed Aluminum Control Panel
o Weight: 13.15kg (29 lbs)
o Dimensions: H 15.24cm (6″) x W 58.4cm (23.5″) x D 34.3cm (13.5″)
o Warranty: One Year