AKG C414B-XLII
FLAGSHIP REFERENCE RECORDING MICROPHONE
o New Old Stock – 2007 build
o Brand New – Unused
o All Accessories Included
o One Only
When one of the all-time classic microphones got a 21st-century makeover.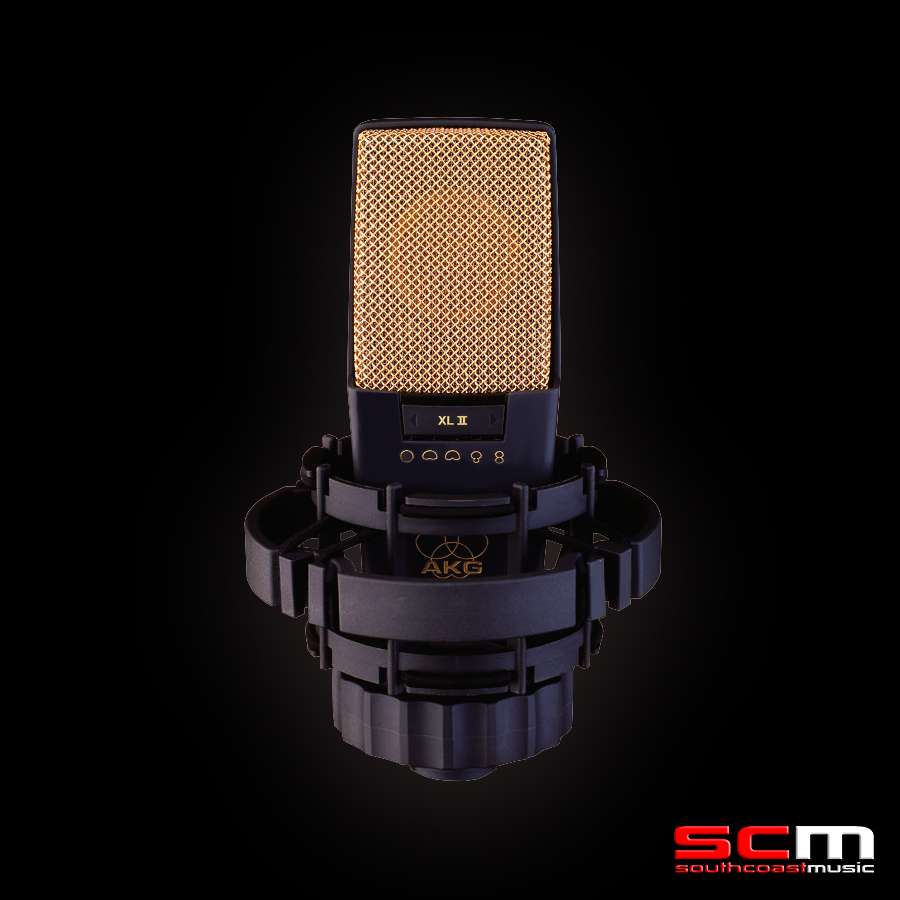 Alongside the C12, the C414 is the best known microphone that AKG make. Found in professional recording studios the world over, the number of hit songs recorded with these iconic microphones is immeasurable. However, the C414 has evolved over its long lifetime and in 2004, while still managing to retain the original sound of the C414, AKG Engineers made a number of significant improvements over the previous design thereby improving the technical performance of this benchmark microphone.
AKG microphones are an important part of what we do at southcoastmusic. We not only sell them, our staff own them, have recorded with them at some of Australia's biggest Recording Studios, worked with American Grammy Award winning Producers and one of our Team even worked as the National Sales Manager/AKG Product Manager for the previous Australian AKG distributor.
This is a Time Capsule (no pun intended!) opportunity. We have always carried a comprehensive range of microphones and accessories – especially AKG. Recently, while making changes to our warehousing, we found some 'new old stock'. Included in this find was this C414B-XLII – brand new, unused, never been on display and purchased by us in 2007!
Built in Austria, this microphone completes complete with all accessories as supplied by AKG at the time including a foam-lined aluminium flight case that also includes a high-strength plastic shockmount with bayonet quick-release mechanism, a separate mesh pop shield with flexible gooseneck, a foam wind sock and manual in an assortment of popular languages.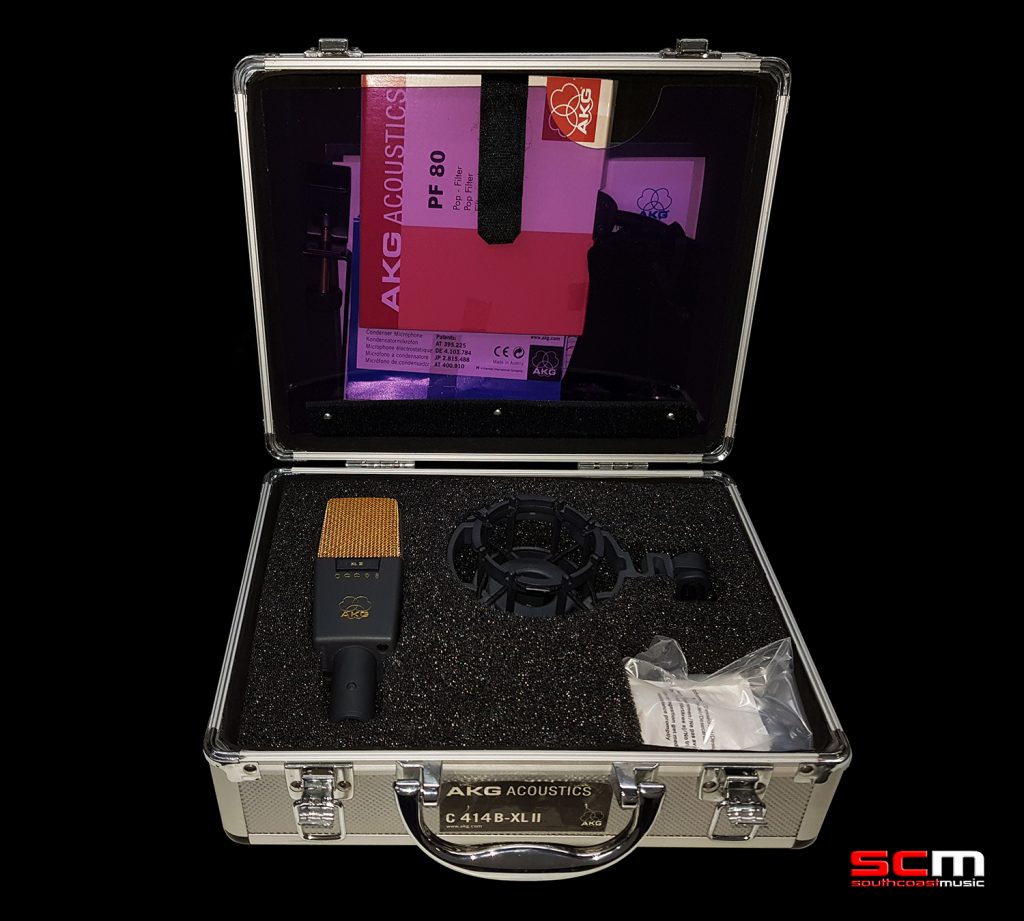 ABOUT THIS AKG C414B-XLII
o Made in Austria
o High sensitivity and extremely low self noise
o High sound pressure level capability and wide dynamic range
o Five switchable polar patterns for placement and application flexibility
o Two-color LEDs provide quick visual indication of selected polar pattern and output overload
o Elastic capsule suspension greatly minimises structurally-transmitted noise from chassis vibration
o H 85 professional shock mount/stand adapter, PF 80 external pop filter and W 414 X external windscreen.
The AKG C414XLII is a large-diaphragm, multi-pattern capacitor microphones utilising a gold-sputtered diaphragm. Only the front side of the diaphragm is coated effectively avoiding electrical shorting between the diaphragm and backplate at very high SPLs.
The capsule hangs in a (then) newly designed four-point suspension system rather then the previous fixed block method. The way the various pattern, pad and filter options are selected was also quite unlike anything AKG had done before. Rather than use slide switches, the mics were upgraded with soft-touch rocker switches linked to digital switching circuitry, status LEDs along with a non-volatile memory so that settings are retained when the mic is disconnected from the phantom power source.
The AKG C414B-XLII has slight additional lift above 3kHz giving this model a slightly more airy and open top end that is useful when miking vocals to capture a contemporary 'crisp' sound, or when miking instruments at a distance where the high lift helps compensate for the natural HF loss that occurs at a distance.
Visually, the XLS model has a silver grille matched by silver engraved legending, while the XLII has a gold mesh and legend. As the mics are so similar, I'll simply refer to them as the C414 until the time comes to describe their tonal differences.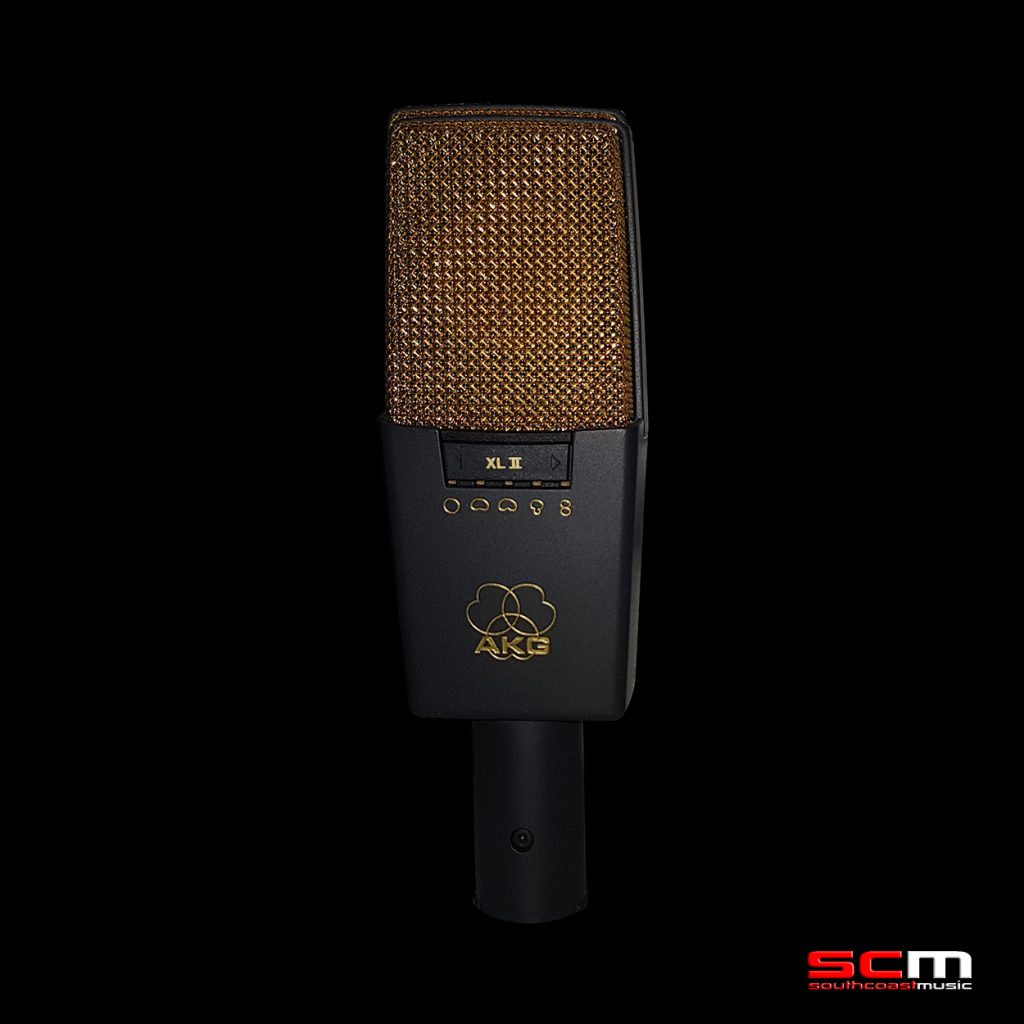 SWITCHABLE FACILITIES
The AKG C414B-XLII features fve selectable pickup patterns including omni, figure of eight, cardioid, narrow cardioid and wide cardioid (not seen on previous C414 models).
A tiny system of green LEDs below the switch illuminates whichever option has been selected and the current selection can be temporarily locked by pressing and holding the rocker selector switch for three seconds. Pressing again for three seconds or switching off the phantom power, unlocks the setting.
The same pattern-selection LED doubles as a clip warning light and turns red for around one third of a second 2dB prior to clipping. AKG designed the C414B-XLII so that when the pattern LEDs are recessed, if you can see the LED clearly from the position of the instrument or voice being recorded, the mic is being aimed correctly.
The pad switch has 6dB, 12dB, and 18dB settings — as with the pattern selection, this works by changing the polarising voltage on the capsule. The familiar bass-cut switch has also had a face-lift with 40Hz, 80Hz or 160Hz settings as well as off. A slope of over 12dB/octave is used for the lower two settings, while the 160Hz setting has a more gentle 6dB/octave characteristic.
REVERSE SIDE OF THE C414B-XLII FEATURES PAD AND FILTER SWITCHING
The reverse side of the AKG C414B-XLII has pad and filter switches. The re-engineered, transformerless electronic circuitry has extended the dynamic range of the C414B-XLII microphone to around 134dBA by maximising headroom and minimising self noise, the latter down to an impressive 6dBA.
During the makeover, AKG engineers made both the capsule and circuitry less susceptible to humidity and temperature by locating the function switches in the low-impedance section of the circuitry, which also minimises switching thumps. The in-house controlled performance tolerance has been raised to such a high level that other for convenience, there is no need to buy matched pairs for stereo work.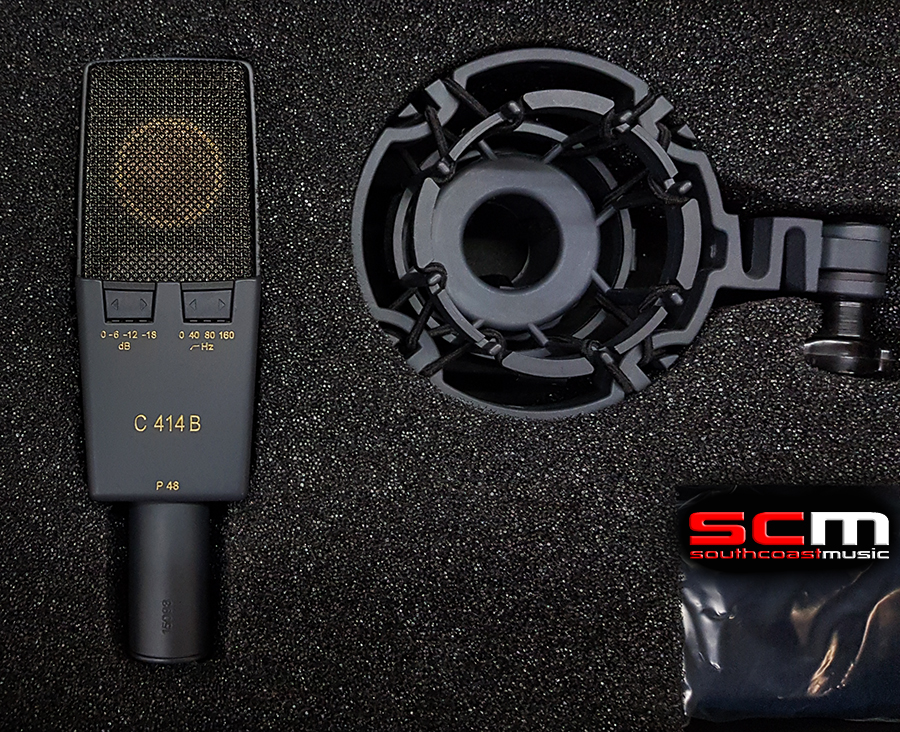 AKG C414B-XLII SPECIFICATIONS
Model: C414B-XLII
MPN: AKG-C414B-XLII
UPC: 9002761007893
Connectivity: Cable
Professional Applications: Vocal Recording, Broadcast, Musical Instrumen Recording, Performance, Audio for
Television
Sound Mode: Mono
Type: Condenser Microphone
Power: Requires Phantom Power
Phantom Voltage: 48v
Diaphragm Type: Gold Sputtered
Diaphragm diameter: 24mm
Self-noise: 6.0 dB(A)
Impedance: 200 ohms
Maximum SPL: 200 dB
Pickup Patterns:
Omnidirectional: (23 mV/Pa; 20 to 20,000 Hz)
Figure of Eight: (23 mV/Pa; 20 to 20,000 Hz)
Cardioid: (23 mV/Pa; 20 to 20,000 Hz)
Hypercardioid: (23 mV/Pa; 20 to 20,000 Hz)
Wide Cardioid: (23 mV/Pa; 20 to 20,000 Hz)
Pads and Filters:
Pad: -6 dB pad (Via Switch)
Pad: -12 dB pad (Via Switch)
Pad: -18 dB pad (Via Switch)
Filter: 12 dB/octave at 40 Hz (Via Switch)
Filter: 12 dB/octave at 80 Hz (Via Switch)
Filter: 6 dB/octave at 160 Hz (Via Switch)
Effective Output Level: -32.77 dBm
Frequency Response: 20Hz – 20000 Hz (True)
Connector Type: Three Pin XLR
Length: 160mm (6.30″)
Weight: 300grams (10.58 oz)
ON TEST
On release, critics reported that tonally, "the C414B-XLII sounded like the earlier transformerless C414s, with a smoother top end. The top-lift XLII model sounds open rather than harsh with the obvious test being for recording lead vocals". The reviewer reported that the C414B-XLII "handled this like the thoroughbred it is, combining body with high-end clarity".
ONE ONLY
While there are and will always be cheaper microphones, the C414B-XLII is a flagship microphone. The design and the use of modern manufacturing methods have allowed AKG to create a modern masterpiece while retaining 'that' classic sound and introduce some very real improvements, both practical and technical.
When purchased by us in 2007, the recommended retail price of this microphone was $2799!
Buy with confidence! southcoastmusic is an authorised stockist of AKG Microphones and Accessories.