AUDIO TECHNICA AT2020USB+ RECORDING AND PODCASTING MICROPHONE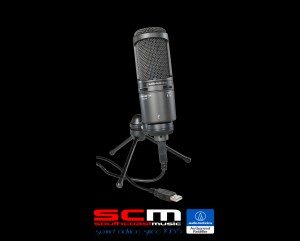 Audio Technica was established in Tokyo, Japan in 1962 and their unswerving commitment to excellence has seen them become a giant in the Global Audio Industry. Audio-Technica are the microphones of choice for leading Artists and Audio Engineers the World over and have supplied the microphones for the Grammy Awards for the last 10 years,as well as TV shows such as the American version of Big Brother, The Rock and Roll Hall of Fame inductions and the Olympic and winter Olympic games.
Audio Technica designs and manufactures a wide range of products, including high-performance microphones, headphones, noise-cancelling headphones, wireless microphone systems, mixers and electronic products for home and professional use worldwide. Audio Technica is also a leading OEM (Original Equipment Manufacturer) and manufacture a wide range of hand-held and wireless microphones for many of the World's microphone brands.
The Audio Technica AT2020+ is a side-address, cardioid microphone with a 16mm diameter (medium-sized) diaphragm. Its back-electret capsule features a low-mass diaphragm with a superb frequency response in excess of 20Hz to 16kHz and an impressive maximum SPL handling of 144dB (1kHz at 1% THD).
Power is drawn from the USB port with the standard full-size USB connector taking the place of the usual XLR socket. A blue LED lights up inside the basket when the mic is powered up.
The signal-to-noise ratio of 74dB (1kHz at 1Pa) equates to a self-noise or EIN figure of 20dB which is low for typical close-miked studio applications, which is precisely what the AT20202 USB+ is intended for. There are no pads or filters required due to the AT2020 USB+'s high SPL capability.
The Audio Technica AT2020 USB+ features 16-bit A-D conversion (which can accommodate a dynamic range of over 90dB) and a sample rate of 44.1kHz. As well transmitting the signal from the microphone itself, the USB connection also streams stereo audio back from the computer. Headphones may be plugged into the 3.5mm mini-jack socket on the side of the mic and there are on-board controls to adjust the headphone level, while another adjusts the balance between the direct signal from the mic (for latency-free monitoring) and the computer's stereo output. Being a class-compliant device, the AT2020 USB+ needs no additional driver to be used with Apple operating systems (OS X, iOS) and a suitable driver should download automatically for Windows if one isn't already installed – this plug-n-play system doesn't get much easier than this.
Just like the best Medium to Large diaphragm recording microphones, the Audio Technica AT2020 USB+ has a slightly flattering tonality. It adds a hint of warmth to the lower mids in a vocal, imparting a very slightly compressed quality that's mildly reminiscent of some of our favourite valve mics.
The AT2020 USB+ is well suited to a wide range of vocal styles delivering excellent male vocal performance. Female vocals sound simply superb and it can also double up as a very capable acoustic instrument mic.
The Audio Technica AT2020USB+ mic delivers excellent transient detail while staying warm and smooth, and its headphone output is not only very clean and loud, it offers the ability to balance the mic and computer return signals – especially important if latency has been a problem on your system.
Whichever way you look at it, the Audio Technica AT2020 USB+ is a winner!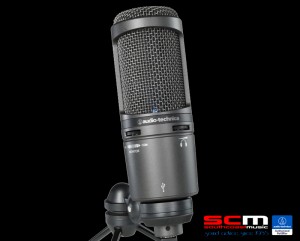 Buy with confidence, southcoastmusic is an authorised Australian Audio Technica reseller.