BLUE MICROPHONES
SNOWBALL USB MICROPHONE – white finish
· Classic Studio-Quality USB Microphone
· USB microphones for any application
· Includes Desktop Tripod Stand and USB Cable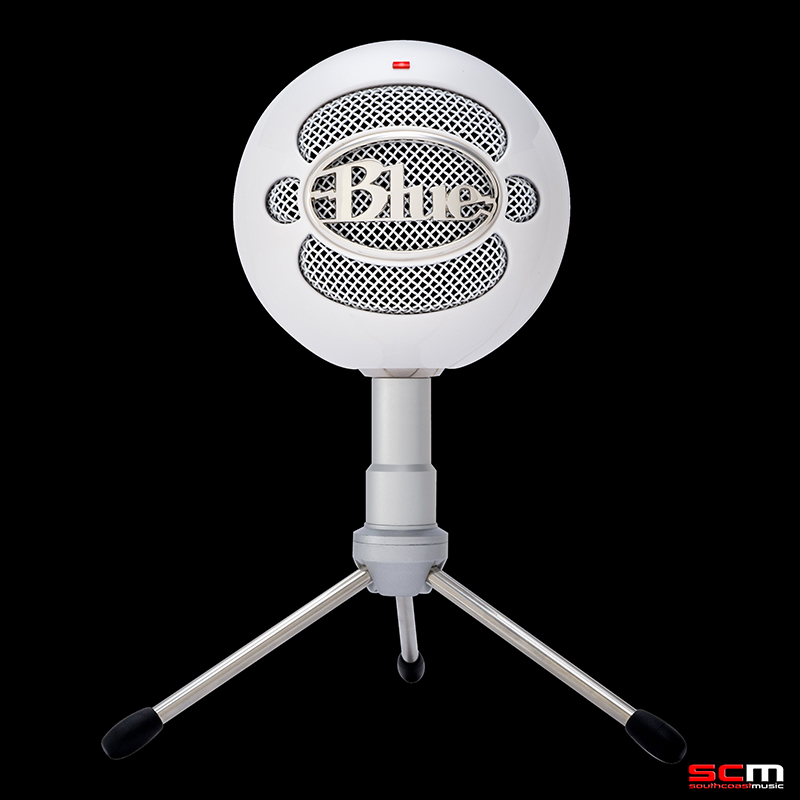 Capture studio-quality audio for vocals, music, multimedia production and gaming with Snowball—the world's most popular family of USB microphones.
Snowball features industry-leading Blue condenser capsule technology to deliver natural sound directly to your desktop and the simple USB connection and plug-and-play operation means you don't need any extra gear—just plug right in and start recording and streaming in amazing quality.
RECORD STUDIO-QUALITY VOCALS, INSTRUMENTS, PODCASTS AND MORE
Snowball USB microphones bring the same Blue heritage that powers the world's most elite studios and artists to your home setup, so you can achieve studio-quality sound on your desktop with ease. Snowball utilises a unique dual capsule design to ensure rich, detailed sound for any project.
IT DOESN'T GET ANY EASIER
Want to get studio-quality audio quickly and easily? Done. The Snowball family's excellent sound quality and easy operation make them the industry-standard USB microphones for podcasting and desktop recording. With Snowball you can record and stream stunningly detailed audio as soon as you rip open the packaging and plug it into to your Mac or PC.
FROM VIDEO GAMES TO VoIP
Snowball USB microphones are perfect for streaming live audio in stunning quality. Take your Twitch channel to the professional level with pristine audio. Host VoIP and conference calls without missing a single detail. Every Snowball mic delivers precisely what you need to get the most out of your projects.
SOUND SOURCE AND PICKUP PATTERN SELECTION
CARDIOID MODE
Perfect for recording single-direction audio like vocal performances, voice-overs, podcasts and solo instruments. Cardioid mode records sound sources that are directly in front of the microphone, delivering rich, full-bodied sound.
OMNIDIRECTIONAL MODE
Picks up sound equally from all around the mic. It's best used in situations when you want to capture the ambience of "being there" such as recording a band's live performance, a multi-person podcast or a conference call. Switch the Omni setting for lush 360-degree audio.
CARDIOID WITH -10DB PAD
Dealing with an especially loud sound source? This setting reduces mic sensitivity so even the loudest instruments or vocalists come in crystal clear and distortion free.
CAPTURE A VARIETY OF SOURCES
Snowball is the perfect microphone for computer recording and streaming. It gives you the flexibility and versatility to capture all sorts of projects in stunning sound quality. You get three pickup settings—cardioid, omni, and cardioid with -10dB pad—to accommodate any recording situation.
USE YOUR FAVORITE SOFTWARE
Whatever your favorite software is—Garageband, iMovie, Pro Tools, Audacity, you name it—Snowball will produce amazing results. Simply plug the mic into your Mac or PC and start down the path of your next project—no drivers required. See, we told you it was simple.
Snowball is compatible with Windows 10, Windows 8 (including 8.1), Windows 7, Windows Vista,Windows XP (Home and Professional), and Mac OS X (10.4.11 or higher), and require a minimum of 64 MB of RAM.
Snowball mics are backed by a two-year limited warranty.
SNOWBALL FEATURES
· Unique two-condenser-capsule design for capturing vocals, music, podcasts, gaming and more
· Cardioid, omni, and cardioid with pad pickup options
· Includes fully adjustable metal mic stand and USB cable
· Plug and play with Mac and PC
SNOWBALL TECHNICAL SPECIFICATIONS
· Transducer Type: Condenser, Pressure Gradient With USB digital output
· Onboard controls: 3-way switch for pattern select and -10dB pad
· Capsules: dual condenser capsule array
· Polar Patterns: Cardioid or Omnidirectional
· Frequency Response: Position 1-3: 40 –18 kHz
· Sample Rate: 44.1 kHz
· Bit Rate: 16bit
· Weight: 460g
· Dimensions: 325mm (circumference)
SNOWBALL SYSTEM REQUIREMENTS
Windows
· Windows 7, 8, 10
· USB 1.1/2.0 (or newer)
· 64MB RAM (or better)
Macintosh
· Mac OSX (10.4.11 or higher)
· USB 1.1/2.0
· 64 MB RAM (minimum)
Snowball USB Microphone, adjustable desk-top stand, USB cable, and instructions.