YAMAHA DTX450K ELECTRONIC DRUM KIT
Dedicated to the Beat – United by the Groove  WELCOME TO THE TRIBE !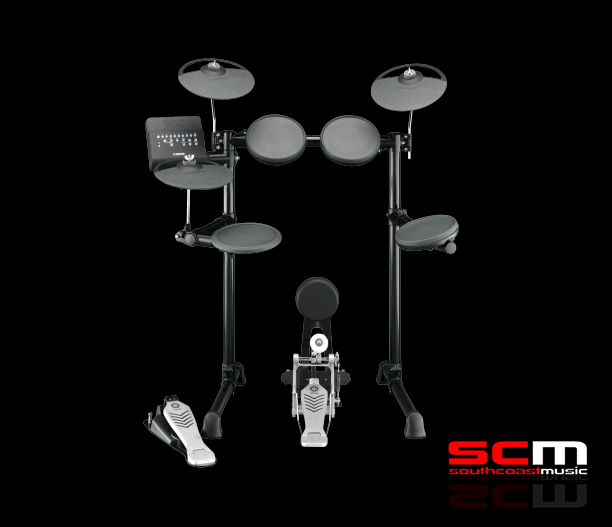 The DTX450K features 10 custom drum kits and training functions with a newly developed 3-zone snare pad and real bass drum pedal action.
With this new DTX450 Electronic Drum Kit superb Yamaha quality and technology has been brought to a new level of affordability.
The DTX450K is powered by the DTX400 module that features 169 professional acoustic drum and percussion sounds with Accent Articulation for dynamic expression.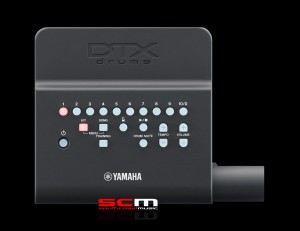 For the ultimate learning experience you can play along to 10 songs and customise 10 kits to suit any situation. There are also interactive training functions featuring Voice Guidance.
The tactile ergonomically designed pads feature oversized 10″ ride, hi-hat and crash cymbals, while the 7″ drum pads have been redesigned for greater playability, authenticity and durability. The TP70S snare pad features 3-zones for head, rim-shot and side-stick effects.
Yamaha is famous for its Drum Hardware. The DTX450K includes a Yamaha FP6110 smooth action belt-drive bass drum pedal and a KP65 kick pad tower that provide an authentic kick drum feel. The KP65 is also perfectly suited to a Double Kick pedal – although not included with this Kit, we stock a large range of Double Kick Pedals to suit Left and Right Footed Players – contact us for details and piricing.
Another "first" at this price point is the remote HH65 hi-hat controller pedal which also allows "half-open" hi-hat sounds for expression usually found on much higher priced kits.
A longer floor tom bar (PCY90AT) enables the addition of an extra cymbal, while chrome hardware offers a cleaner, professional look.
The steel rack delivers a solid framework for your playing experience.
YAMAHA DTX450K FEATURES
o DTX400 module:
– 169 drum sounds
– 127 instrument sounds
o TP70S 3-zone snare pad for head, rim-shot, side-stick
o Yamaha FP6110 Belt drive Kick Pedal
O Yamaha KP65 Kick Drum Tower and Pad
o Large 10″ Ride Cymbal
o Large 10″ Crash Cymbal
o 10″ Hi-Hat Cymbal
o HH65 remote Hi-Hat, allows half-open, pedal and splash hi-hat sounds.
o Newly designed 7″ Drum Pads for greater playability and durability
o 10 interactive Training Functions with Voice Guidance
o 10 Preset kits (all of which can be user-configured)
o 10 play-along songs (new songs can be downloaded via USB)
o Steel Rack for a solid playing experience
o Longer Floor Tom bar for expanding with extra cymbal (PCY90AT)
o Chrome hardware for the cymbal attachments
o One Year Warranty
Yamaha's free Musicsoft Downloader utility can be used to transfer Type 0 MIDI Files from your PC (no Mac version is currently available) to the TD400 module via USB. Doing this replaces one of the existing song files, but if you fancy playing along to 'Roundabout' by Yes in MIDI File format (yes, it really does exist!), then you can. Of course, you can also take advantage of the Aux In jack and plug in your MP3 player to play along with pre-recorded material.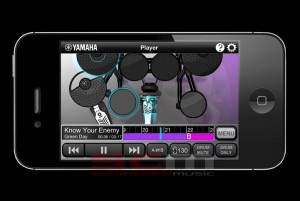 Speaking of USB, here's a quick word about using the DTX400 with your computer. In addition to transferring files, the USB connection allows for MIDI interfacing between the DTX400 and your Mac or PC DAW. This is, in fact, the only method of MIDI integration, as the module doesn't have MIDI In or Out ports. With the driver installed, the DTX400 pops up in your DAW, and recording a part is as simple as hitting play and record. You have access to the additional keyboard sounds in the TD400, and of course the kit can be used to trigger your virtual instruments.
Free iPhone app: whether you've already got a DTX400K, or are still making your mind up, the Yamaha Song Beats app will help you become a better drummer. Described to us by Yamaha as "like Guitar Hero for drums, but actually useful!", it comes with built-in drum-along lessons for players of all abilities. You can also download additional popular hit tracks in app, with or without pre-recorded drums, that you can play along to.
YAMAHA DTX450K ELECTRONIC DRUM KIT