ALESIS COMMAND MESH KIT Eight Piece Drum Kit with Mesh Snare, Kick & Toms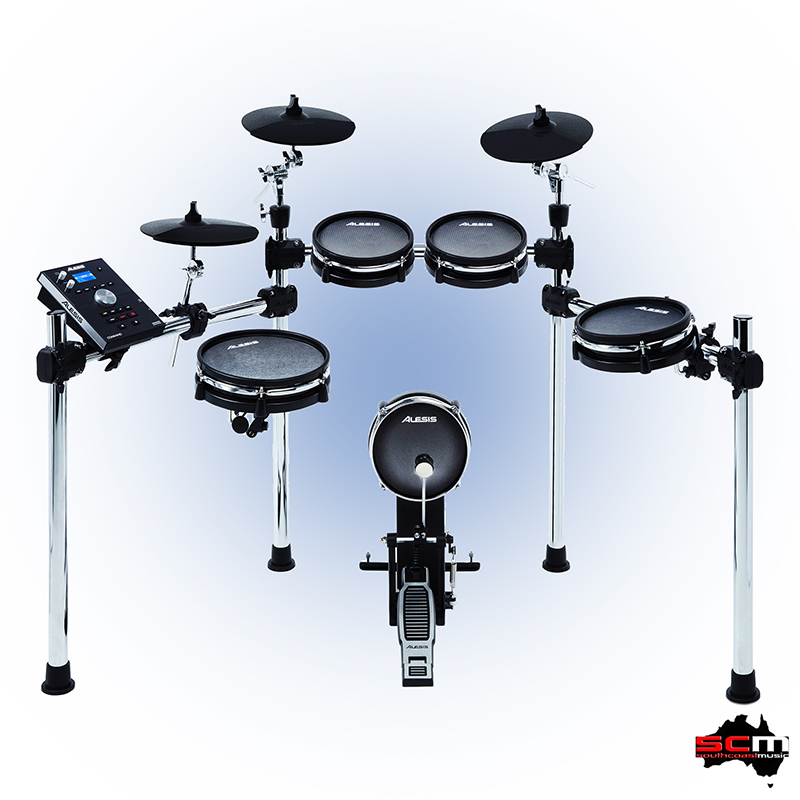 ALESIS COMMAND MESH EIGHT PIECE ELECTRONIC DRUM KIT
COMMAND MESH KIT – UP FOR ANY BATTLE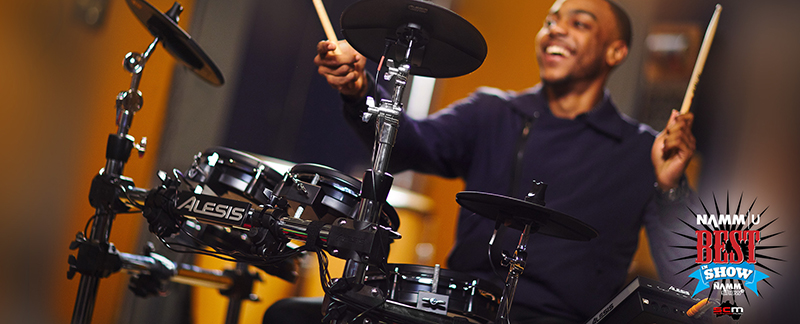 • Voted Best Electronic Drum Kit at NAMM Show
• Tightly-woven Mesh Drum Heads for Superior Playing Response
• 3 x 8″ Dual Zone Mesh Toms
• 8″ Mesh Kick Pad
• 10″ Dual Zone Mesh Snare Drum
• Kick Drum Pedal Included
• 10″ Ride Cymbal and Crash Cymbals – both with Choke
• 10″ Hi-Hat Cymbal
• Command Advanced Drum Module with 74 kits and 671 sounds
• Load your own WAV files and MP3 play-along tracks via a USB Thumb Drive
• Record yourself playing in real-time (5 tracks internally, up to 99 tracks with a USB Thumb Drive)
• USB/MIDI connection to use your favourite Recording Software or Sound Libraries
• Premium 4 Post Chrome Rack with non-slip Clamps
• All connection cables, drum key, drum sticks and 240V power supply included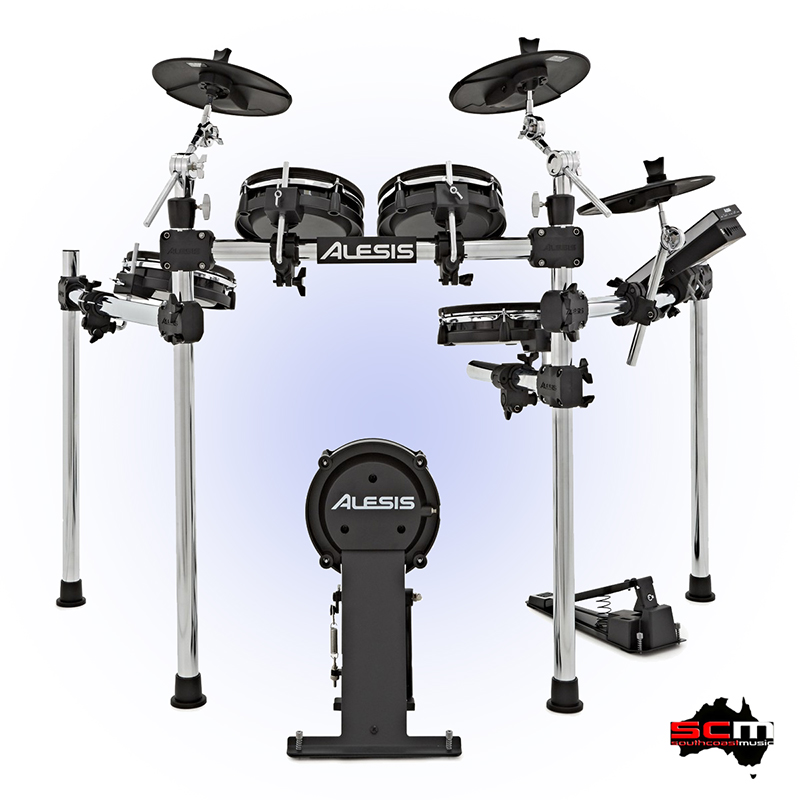 The Alesis Command Mesh Kit features all mesh-head pads that deliver an authentic drumming experience.
This amsing drum set includes an 8″ mesh kick drum pad with pedal, a 10″ dual-zone mesh snare drum and three 8″ dual-zone mesh toms. The set also features a 10″ ride cymbal with choke, a 10″ crash with choke and a 10″ hi-hat with foot pedal.
The included Command Advanced Drum Module offers 74 drum kits (54 preset, 20 user) with 671 sounds. The versatility of this module is breathtaking and you can also build the custom drum kit of your dreams from your own sounds by loading them via a USB thumb drive.
Additionally, with 60 play-along tracks and a built-in performance recorder, you have an endless source of fun and creativity.
All of this mounts to a premium 4-post chrome plated steel rack with non-slip clamps, providing a durable foundation that is easy to set up and move and built to withstand the rigours of the road.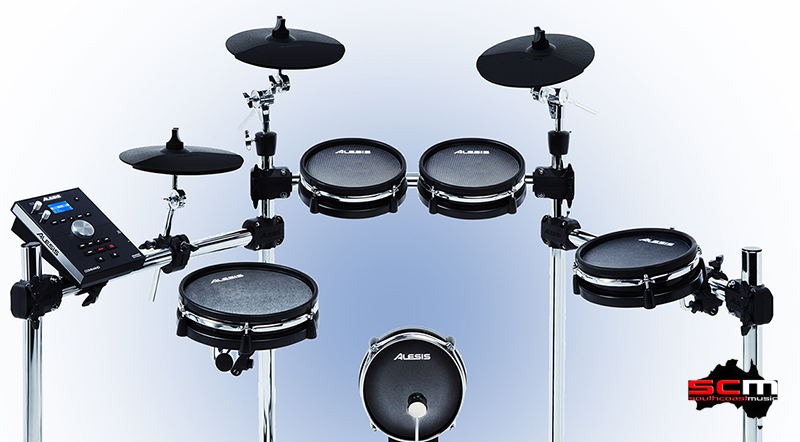 CLASS LEADING SOUNDS AND FEATURES
The included Command Drum Module features 74 drum kits (54 factory + 20 user) with over 600 sounds and 60 play-along tracks built-in.
To further sharpen your skills, there's a built-in metronome and 3.5mm (1/8″) AUX input for playing along with your mobile device to help ensure that you're prepared for the studio or stage.
There is also a stereo pair of 6.35mm (1/4″) outputs, a 3.5mm headphone output and a USB-MIDI output for triggering your favourite virtual instrument plugins.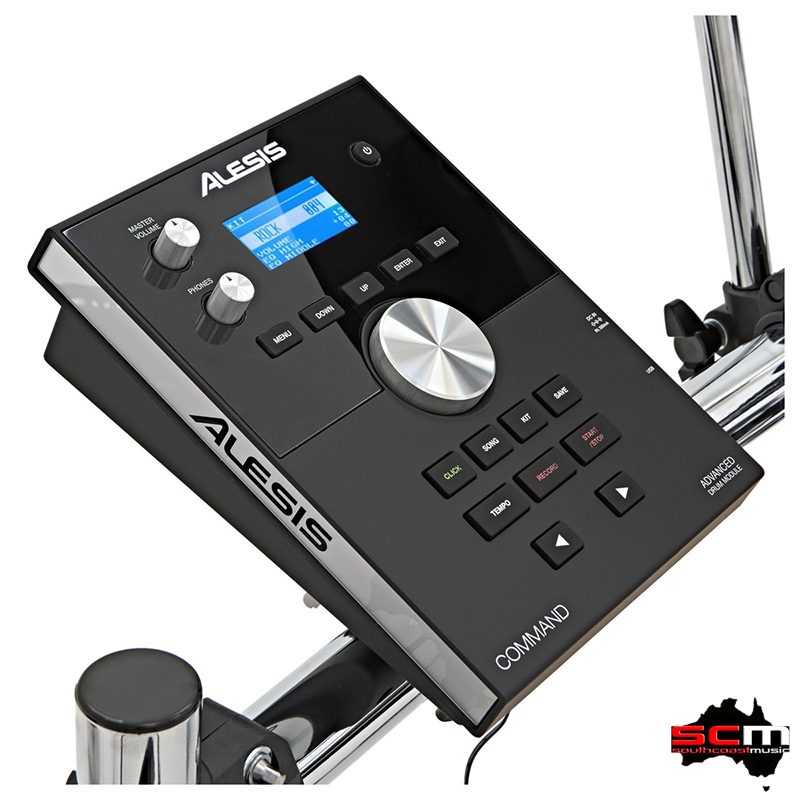 LOAD YOUR OWN SAMPLED SOUNDS
The Command Drum Module also features a USB memory stick input. You can use this input to load your own .WAV samples for the ultimate flexibility. Once the .WAV samples are loaded, you can easily assign these to any zone of any pad on the Command Kit. The sonic possibilities are endless! You can also load in .WAV files of play-along tracks using this input.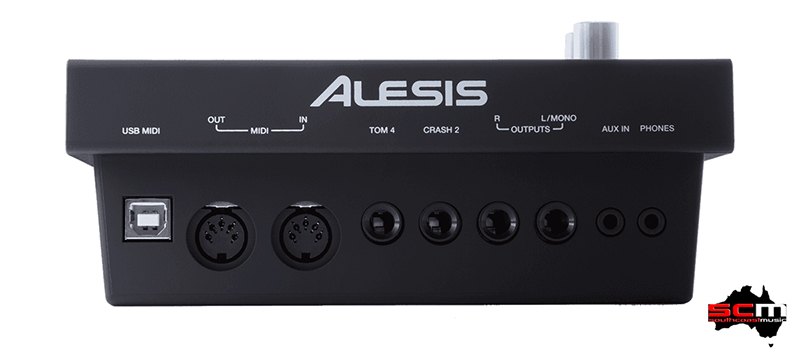 ALESIS COMMAND MESH ELECTRONIC DRUM KIT SPECIFICATIONS:
• Kit Configurations: Eight Piece
• Snare Drum: 1 x 10″ Dual Zone Mesh Snare Drum
• "Mounted" Toms: 2 x 8" Mesh Toms
• "Floor" Tom: 1 x 8″ Mesh Tom
• Hi-Hat Cymbal: 1 x 10″ Hi-Hat
• Ride Cymbal: 1 x 10″ Ride Cymbal with Choke
• Crash Cymbal: 1 x 10″ Crash Cymbal with Choke
• Number of Preset Kits: 74 drum kits (54 factory + 20 user)
• Play-a-long Tracks: 60
• Maximum Polyphony: 64
• Sequencer Patterns: 125 patterns (60 preset songs + 5 user songs)
• Sequencer Songs: Up to 99 user songs in 1 folder on USB flash drive
• Sequencer Ticks Per Beat: 192 ticks per beat
• Real-time Recording: Yes
• Sequencer Song Capacity: Approximately 6800 notes per user song
• Connectors: 1 x DB-25 25-pin cable snake/multicore
• Headphone Output: 1 x 3.5mm (1/8") TRS headphone output
• Main Outputs: 2 x 6.35mm (¼") TS main outputs (right and left/mono)
• AUX Input: 3.5mm (1/8″) TRS auxiliary input
• USB MIDI: Via USB Port
• 5 Pin MIDI Input/Outputs: Yes
• Expansion Tom 4: 1 x 6.35mm (¼") TS
• Expansion Crash 2: 1 x 6.35mm (¼") TS
• Power 9VDC, 500mA, centre pin-positive
• System Requirements – For USB-MIDI Performance:
• Mac: macOS 10.9 or later
• Windows: Windows 7 or later