YAMAHA DTX400K DIGITAL ELECTRONIC DRUMKIT
The YAMAHA DTX400 features dynamic acoustic drum and percussion sounds, plus modern rock drums and electronic tones combining Yamaha s expertise in acoustic drums and technology.
Drummers of all levels will enjoy the full size kit and steel rack system. Customize the kits to match your style and practice with interactive training functions featuring a Voice Guidance system – it s like having a talking drum teacher built-in Play along with the built-in songs or aux input and learn techniques that easily translate to acoustic drums.
With optional upgrades like 3-zone snare, extra crash and real pedal action your DTX400 kit can grow with your drumming.
YAMAHA DTX400K Configuration
o Snare: 7.5 inch pad
o Tom: 7.5 inch pad
o Floor Tom: 7.5 inch pad
o Bass Drum: KU100 silent kick unit
o Hi-Hat: 10 inch pad
o Hi-Hat controlling unit: Opened/Closed/Foot splash available, can even work as second bass drum.
o Crash Cymbal: 10 inch pad
o Ride Cymbal: 10 inch pad
YAMAHA DTX400K Ten Professional Drum Sets in One Compact Electronic Drum Kit
The DTX400K comes equipped with 10 professional drum kits made with world-famous sounds from throughout the history of drums including Yamaha's legendary acoustic series.
By utilising voices from Yamaha's professional DTX900/700/500 and DTX-MULTI 12, each kit has extremely high sound quality with "Accent Articulation" for dynamic instruments that change sound characteristics according to your hit strength.
You can freely also mix any of the 169 organic drum sounds to create customised kits to suit your style – even if your style is always changing. Try a heavy metal double bass kit one day then change into a dance kit the next, or keep your ten favorite kits of all time.
You get a world of choices inside including:
o 23 snares
o 21 kicks
o 36 toms
o 31 cymbals
o 42 percussion instruments
Getting a DTX400K is really like having ten professional drum sets in one compact electronic drum kit. The tribe is calling – hear the sounds of the DTX400K right now at the "Kits" tab.

YAMAHA DTX400K – BEST OF DTX SOUNDS

Create customised kits that suit your style and Become a Drum Hero with DTX400K!
It takes skills to survive in the tribe. The training functions of the DTX400K have been expanded for drummers and enthusiasts of all levels. There are 10 onboard routines including warm ups, groove tools, and drumming games designed with Yamaha's experience in Music Education to make practice fun and effective.
Even if you never played drums before, the intuitive "Groove Tracker" will help you pick up the beat. All drummers can improve their groove with "Rhythm Gate", or take on the rigorous "Fast Blast" challenge if you think you have the chops. There is even a "Voice Guidance" system that "speaks" the results of your sessions to encourage you on your rhythmic journey.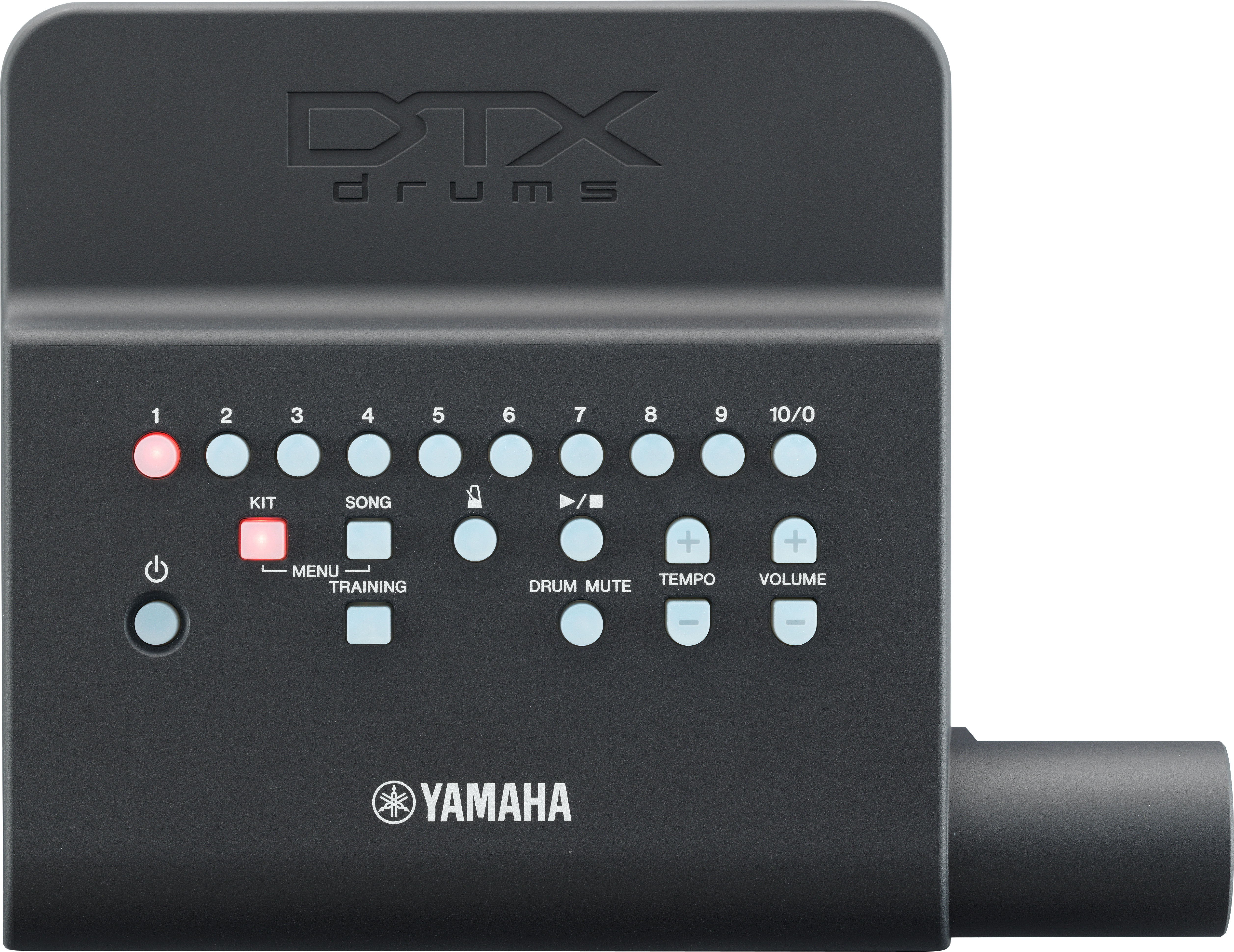 Practice at home, Play on the stage! Playability and Feel from a Drum Company
Yamaha has been making drums for over 45 years and they know that playability is important to all drummers. Using experience gained from developing the popular DTX-PAD Yamaha have redesigned the drum pads of the DTX400 series to provide a natural response, solid durability and excellent stick feel.
The new pads use a rubber surface so your sticks will not slide around on the head, and you can practice single, double and triple stroke techniques for use on a set of acoustic drums. And as an entry-level kit, the dimensions of the DTX400K give you a nice, comfortable area in which to play so you can really rock out.
The new KU100 Kick unit has superior silent characteristics without sacrificing playability. All of these features from a leading drum company are there to help you become a great drummer.

YAMAHA DTX400K – Upgrade and Expand Your Kit!
As you carve your path into the drummer tribe you can feel confident that your DTX kit can be upgraded and expanded to match your ambition. Upgrade to a 3-zone snare pad that allows you to play open and closed rim-shots with the TP70S or a 3-zone XP80 DTX-PAD*1. You can also add an extra cymbal with the PCY90AT that includes everything you need to play with dual crash cymbals.
Add a real bass drum pedal and KP65 kick pad for true kick drum play, and upgrade to the HH65 hi-hat controller for playing half-open hi-hat voices.
With the USB-MIDI jack you can connect the DTX400 to your computer to control VSTi drum sounds and enjoy recording into DAW software such as Cubase*2. You can also import new songs and beats to use in the training functions with the Musicsoft Downloader*3.
YAMAHA DTX400K – Many possibilities await you in the world of DTX.
*1 Requires TPCL500 ball joint mount and clamp, or set of RCL500 and CL940B sold separately.
*2 Cubase and VSTi software not included.
*3 Yamaha Musicsoft Downloader is available for free at http://download.yamaha.com/
YAMAHA DTX400K – Specifications
TONE GENERATOR/TRIGGER MODULE
Dimensions: w240 mm x H188 mm x D68 mm
Weight: 0.5 kg
Number of Voices: 169 (23 Snares, 21 Kicks, 36 Toms, 31 Cymbals, 16 Hi-Hats, 42 Percussions)
Number of Drum kits: 10 (all of which may be edited and overwritten)
Click Tempo: 30 to 300 BPM (Tap Tempo and Voice Guidance functions)
Beat: 1/4 to 9/4
Tone Generator Connectors: SNARE, TOM1, TOM2, TOM3, RIDE, CRASH, HI-HAT, HI-HAT CTL, KICK/PAD
Audio/MIDI connections: USB TO HOST / AUX IN (mini stereo audio) / PHONES – OUTPUT
Power Supply: PA-130 or equivalent
Power Consumption: 5 W