VOX TONE GARAGE STRAIGHT 6 DRIVE OVERDRIVE PEDAL
This VOX Tone Garage series stomp box effects pedal captures the pure essence of analogue in by the pairing of carefully selected components combined with a brand new design topology. Taking advantage of VOX's newly developed Hi-Volt technology, the TONE GARAGE STRAIGHT 6 DRIVE delivers the warmth expected from a tube as well as the all important feel and dynamics.
This overdrive overflows with the wide dynamic range of VOX's signature British-flavored distortion. Turning the bright switch on will give you a sparkling British sound with defined highs, even from a guitar equipped with humbucking pickups. This is an all-around overdrive that's a great choice for a wide range of styles.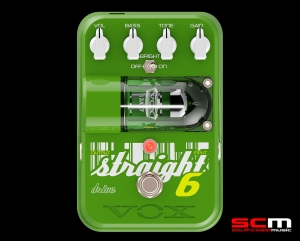 VOX TONE GARAGE NEWLY DEVELOPED HI-VOLT TECHNOLOGY
Hi-Volt technology enables the vacuum tube to operate at 200V while still running on a battery. This enables a true tube-driven sound that overturns your expectations for a compact effect unit.
VOX TONE GARAGE WHAT IS HI-VOLT TECHNOLOGY?
VOX has developed a new vacuum tube circuit technology called Hi-Volt. It delivers high voltage (200V) to a 12AX7 vacuum tube by using 6 x AA batteries or an (optional) DC9V power supply. The discrete circuit works at 20V, which is still considered high voltage operation compared to other general effects products. The result is a natural and dynamic tone which is similar to that of a vacuum tube amplifier. Even though vacuum tubes are considered big by modern component size standards, VOX's engineers were able to keep these pedals small, so you don't have to worry about them taking up too much space on your pedal board.
VOX TONE GARAGE GAIN CONTROL LETS YOU VARY THE CHARACTER OF YOUR SOUND
The solid-state amplification circuit has been designed so that when adjusting the gain control, its position does not simply change the amplitude, it also changes the tonal character of the signal. From zero to max, it yields an array of highly usable and natural overdrive tones.
VOX TONE GARAGE CAREFULLY DESIGNED POWER SUPPLY CIRCUIT TO EXTEND TUBE LIFESPAN
High current flows through a vacuum tube when the power is turned on so VOX Engineers incorporated a heater current slow start circuit that extends the lifespan of the vacuum tube and also avoids malfunctions if an (optional) AC adapter is used.
VOX TONE GARAGE STRAIGHT 6 DRIVE FEATURES:
o Discrete circuitry
o True bypass design provides tonal integrity
o Tough die-cast body that stands up to the rigors of the road
o Newly developed Hi-Volt technology allows the tube to operate at 200V, even on battery power
o Gain control lets you adjust the tonal character
o Heater current's slow start circuit ensures vacuum tube longevity
o Traditional British overdrive
o Bright Switch for added definition
o Input impedance: 1M Ω
o Output impedance: 2.2k Ω
o Vacuum tube: ECC83 (also known as 12AX7)
o Connections: INPUT jack (guitar input), OUTPUT jack (line output)
o Power: AA battery x 6
o AC adapter: DC 9V (Optional)
o Vacuum tube operating voltage: 200 V
o Consumption current: 240 mA
o Battery Life: Approximately 7 hours
o Dimensions: (W x D x H): 87 x 132 x 63mm (3.43 x 5.20 x 2.48inches)
o Weight: 420 g (14.81 oz) (excluding batteries)
o Accessories: 6 x AA alkaline battery (for verifying operation)
o Options: 240V AC Adapter