VOX MVX150H 150 watt Electric Guitar Amplifier Head

VOX is proud to announce the arrival of its new flagship amps equipped with Nutube, the most significant upgrade to the vacuum tube in fifty years.
While preserving the basic structure of a vacuum tube, Nutube has eliminated the problematic aspects of tubes and succeeded in creating a dream device that's compact, consumes little power, has a long lifespan and most importantly, sounds like a vacuum tube.

The newly designed power amp uses NuPower technology, attaining sound quality and stunning power that surpasses conventional tube amps. The two-channel design covers a wide range of sounds from clean to high-gain and as you would expect, everything in between.
The MVX150 also features useful functionality such as a WET ONLY output for the on-board reverb and effects send/return.
The MVX150 series represents a new frontier of amplifiers, one that challenges the established conceptions of large tube amps and costly boutique amps. There is a wealth of information and lots of reviews online about the Vox MVX range of amplifiers. Prepare to be amazed – not just at the sound quality and flexibility of these amps – but at our price! Buying a new amp shouldn't just be about price though, let's take a closer look at what is a truly remarkable product.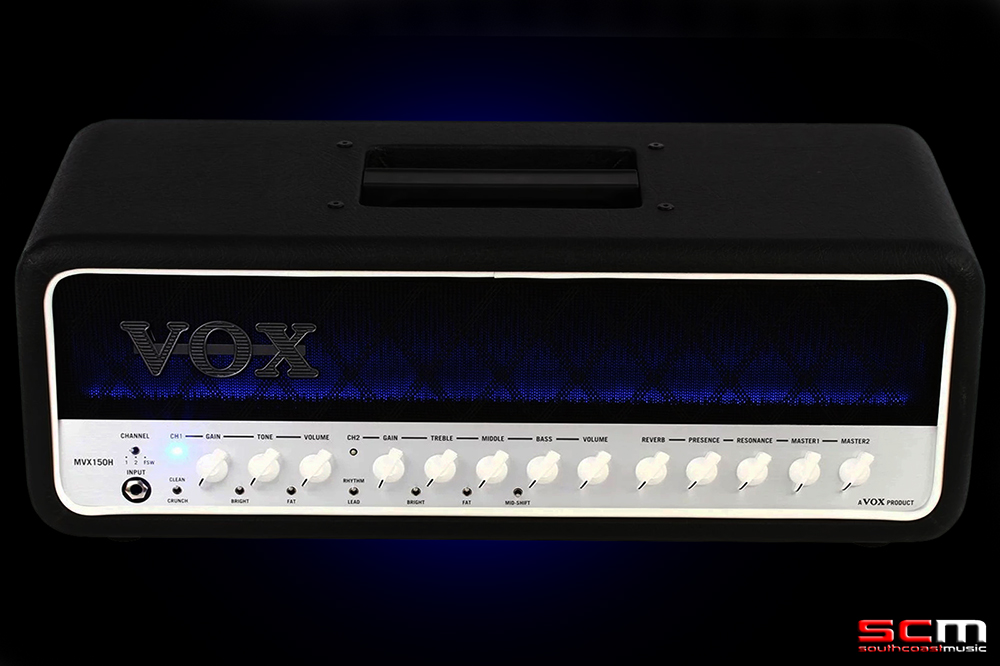 VOX MVX150H Main features
• 150W Nutube amp featuring the next-generation Nutube vacuum tube
• Newly developed NuPower power amp technology distills the advantages of conventional power amps
• Nutube vacuum tubes are used in both the preamp and power amp sections
• Two-channel design covers a wide range of tones, from pure clean sounds to modern hi-gain
• Each channel provides EQ as well as various modes that provide a wide variety of tones
• The preamp of each channel is equipped with a bias adjustment knob
• Studio-quality, Digital Reverb
• WET ONLY output lets you easily set up a wet/dry rig
• EMULATED LINE OUT delivers realistic tube amp tones for direct-line recording
• Contemporary minimalist "flat" design signals in a new era of large tube amps
• Lightest weight in its class with unparalleled portability
• No need for the bothersome maintenance that is often required for conventional tube amps
• Optional VFS2 footswitch allows you to switch channels and toggle Reverb, or FX, ON & OFF

The world's first large tube amp equipped with a Nutube in both the pre-amp and power amp sections
The MVX150 series challenges existing concepts of tube amps; it features a Nutube in both the pre-amp and power amp sections, delivering the fat and warm sound that is the characteristic of tubes. Careful attention has been paid not only to the Nutube, but also to every aspect of the analog design for the peripheral circuitry as well. Additionally, there's no need to worry about maintenance, such as tube replacement, that is inevitable for conventional tube amps.
What is the Nutube?
Nutube is a new vacuum tube that was developed by KORG Corporation in conjunction with Noritake Itron Corporation as an application of vacuum fluorescent display technology. Like a conventional vacuum tube, a Nutube has an anode grid filament structure and operates as a complete triode tube. It provides the same rich overtones and response that are distinctive of conventional vacuum tubes without the potential reliability issues.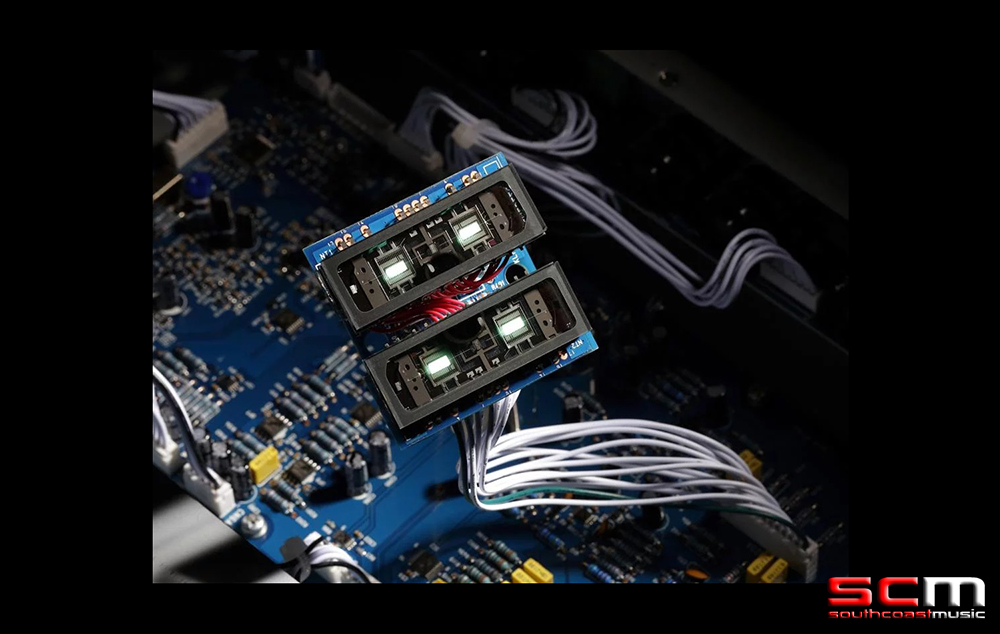 Power Amp section uses NuPower technology
The power amp section is one of the important factors that determine the distinctive response and playability of a tube amp. VOX has always paid careful attention to the design of the power amp section, notably in its Valve Reactor circuit. With the MVX150 series, VOX have begun using newly developed NuPower technology, which takes full advantage of the Nutube's sound potential and also delivers the advantages of conventional tubes and solid-state power. Tube power is the key to stunning dynamics, while solid state power has the advantage of stability, wide range, and high output. The NuPower design utilizes the advantages of both to create a powerful, yet nuanced power section that compliments your playing style.
What is NuPower?
NuPower is a power amp design that combines the Nutube with a high power solid-state amplifier, providing the advantages of both.
Like the power section of a conventional vacuum tube amp, the Nutube is used in a push-pull configuration and the dynamic response of the speaker is detected and fed back to the previous stage of the circuit.
This generates sag, power tube distortion and dynamic frequency response change, delivering true vacuum tube amp sound with its lively and dynamic response.
Additionally, since this amp possesses the wide frequency response that is characteristic of solid state amps, it can provide everything from wide-range clean sound with chiming clear highs to high-gain sound with thunderous lows.
Another major advantage of NuPower is that it ensures stable operation in any environment without requiring the maintenance that is needed by conventional vacuum tubes.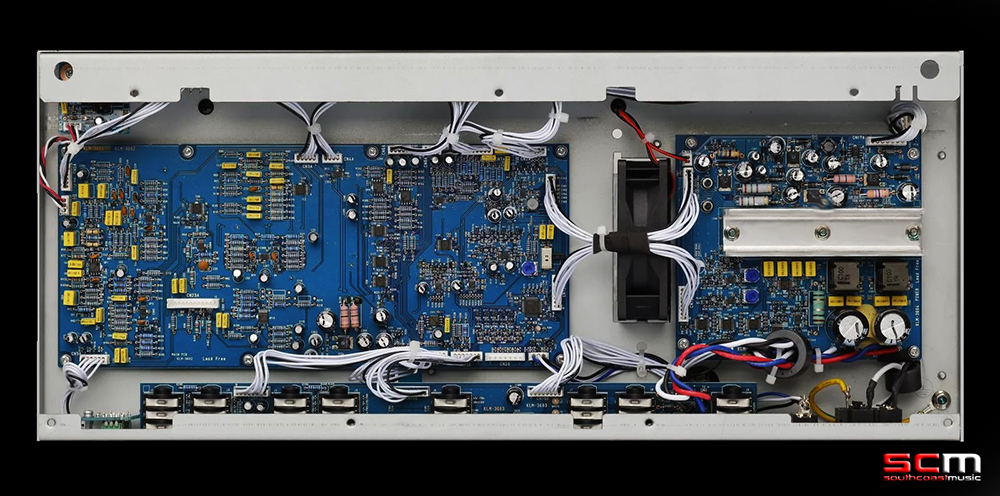 Controls that allows versatile sound-shaping from clean to high-gain, from vintage to the unknown
The MVX150 series features a two-channel design that covers a wide variety of sounds.
In addition to EQ, Channel 1 provides CLEAN/CRUNCH, BRIGHT, and FAT modes.
Channel 2 lets you switch between RHYTHM/LEAD, BRIGHT, FAT, and MID-SHIFT modes.
PRESENCE and RESONANCE controls are also provided, which let you adjust the ultra-high and ultra-low regions respectively. You can not only re-create iconic guitar sounds of the past, but also aggressively shape your tone in all-new ways.
The bias voltage of the Nutube used on each channel of the preamp can be also adjusted, allowing you to control the response and character of the sound, providing a dramatically expanded expressive scope from vintage to modern.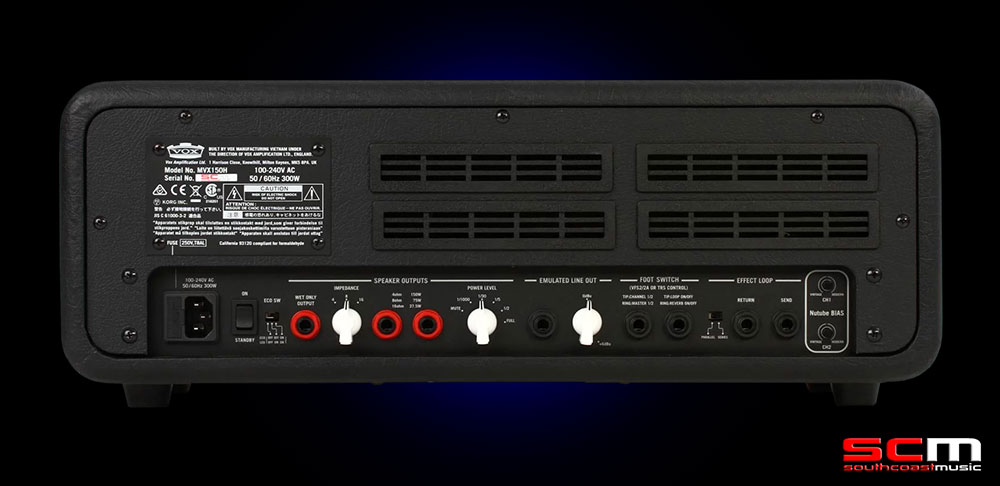 Includes practical functions such as effects send/return and WET ONLY output
The MVX150 series provides many extended features, such as effects send/return jacks that allow you switch between parallel and series.
As on the Valvetronix series, the power level control lets you adjust the level in six stages, all while maintaining the sense of loudness and distortion. There's also WET ONLY output that lets you easily set up a wet/dry rig simply by adding an additional speaker cabinet.
In this setup the MVX150 will output just the dry sound from the conventional speaker, while the WET ONLY output emits only the sound processed by a send/return connected effect unit or the internal reverb unit. By utilising this function, you can easily create the same dry/wet system as a professional stage setup using just this one unit, without using a separate power amp or complex connections.
The MVX150 also provides an EMULATED LINE OUT which is useful not only during live performances but also in the recording studio. This output emulates the sound of a mic'd speaker cabinet, making it easy to record with realistic amp sounds even when using a direct-line connection.

A contemporary design that foreshadows a new age in tube amps
The chic appearance of the MVX150 is complemented by graduated blue illumination glowing on the front, adding the finishing touch to this refined design that ushers in a new age for tube amps. The MVX150 is also equipped with a recessed handle on the top surface.
Use a foot switch to change channels or turn effects on/off
By using the VOX VFS2 footswitch (sold separately), you can easily change channels, turn the reverb on/off, or switch the send/return on/off. You can also use it to switch between MASTER 1 and MASTER 2 and instantly change the master volume level itself. Up to two VFS2 footswitches may be connected, allowing you to smoothly transition from a rhythm part to a solo, a real convenience during live performances or recording on the fly.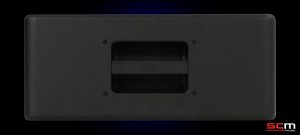 VOX MVX150 Specifications
• Speaker Output @ 4 Ohms: 150 Watts
• Speaker Output @ 8 Ohms: 75 Watts
• Speaker Output @ 16 Ohms: 32.5 Watts
• Instrument Input: 1 x 6.35mm (¼") Input Jack
• FX Return Input: 1 x 6.35mm (¼") FX Return Jack
• Footswitch Inputs: 2 x 6.35mm (¼") TRS Footswitch Jacks
• External Speaker Outputs: 1 x 6.35mm (¼") External Speaker Jack
• Wet Only Output:  1 x 6.35mm (¼") Wet Only Jack
• FX Output: 1 x 6.35mm (¼") FX Output Jack
• Emulated Line Output: 1 x 1 x 6.35mm (¼") Emulated Line Out Jack
• Overall Controls: Master 1, Master 2, Reverb, Presence, Resonance
• Channel 1 Controls: Volume, Gain, Tone
• Channel 2 Controls: Volume, Gain, Bass, Middle, Treble
• Vacuum Tubes: 2 x NuTube 6P1
• Dimensions: 520 x 219 x 194 mm | 20.47 x 8.62 x 7.64 inches
• Weight: 7kg | 15.65 lbs
• Warranty: One Year
• Accessories: VFS2 Foot Switch (sold separately)
THIS IS A STRICTLY LIMITED OFFER -WHILE STOCKS LAST!