VOX MV50 ROCK-SET
50 WATT COMPACT HALF STACK ELECTRIC GUITAR AMPLIFIER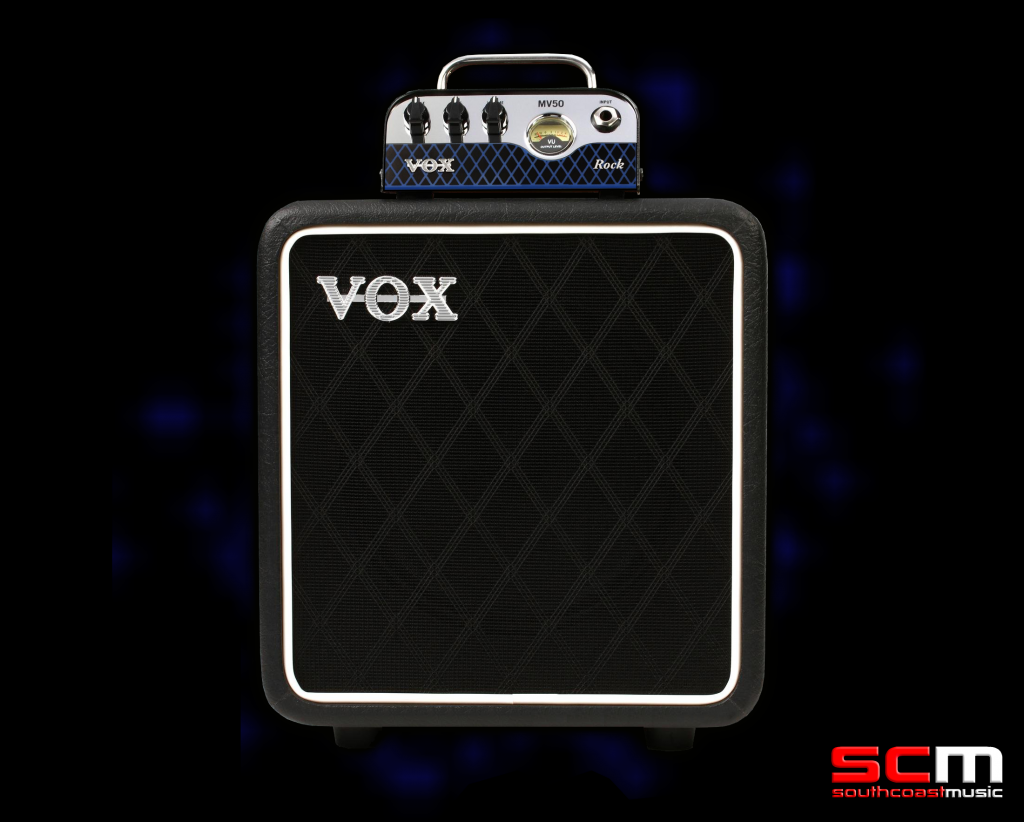 o VOX MV50 Half Stack
o Includes Vox MV50 ROCK Head and BC108 1×8″ Speaker Cabinet
o Nutube-Driven Preamp
o Class D Power Amp
o Experience the Tone of the Classic Valve Amps
o Speaker Output with Impedance Switch
o EQ Switch to Suit Different Cabinets
o Semi-Open Cabinet Design
o 1 x 8″ Speaker (8 Ohms)
o Daisy-Chain with Another BC108
The MV50 Series from VOX represents a truly innovative approach to guitar amplification. This little monster weighs in at only one pound but boasts a mighty 50 Watts of power and delivers serious guitar tones that rival the sound of your favourite tube amp. Equipped with Nutube, the revolutionary new vacuum tube, the all-analog preamp circuit preserves the richness and warmth of your guitar's natural sound, while an innovative Class D power amp provides enough volume for any environment.
From the old-school sound of a cranked British stack or the tight, modern tones of today's boutique metal amps, you will be surprised what lies within the Vox MV50 Rock.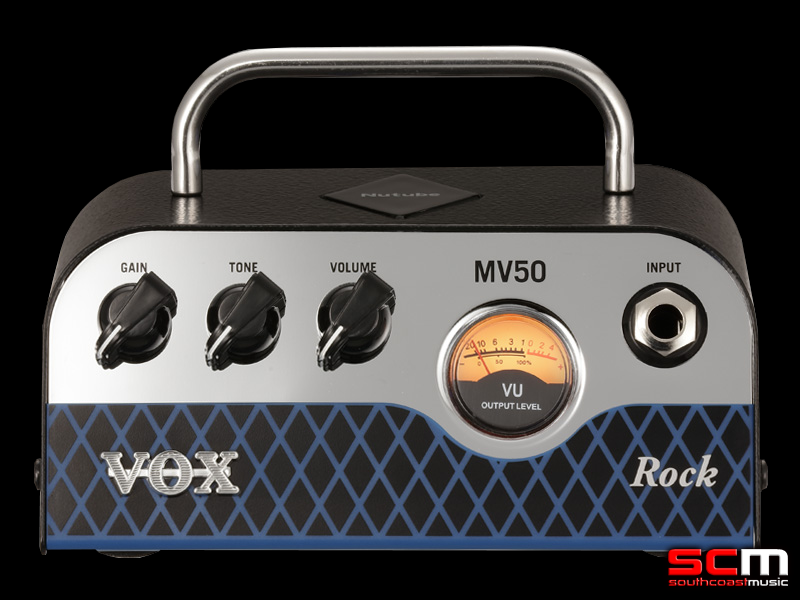 THE VOX MV50 ROCK HEAD
Designed with an emphasis on analog, VOX's MV50 combines classic amplifier design with new and innovative production techniques to produce a miniature amplifier with truly monstrous sound. Boasting an incredible 50 watts of power, this one-pound package serves up serious guitar tone that's reminiscent of your favorite old tube amps. With speaker & line/headphone outputs, the MV50 is perfect for the stage, at home, or in the studio for direct recording.
VOX have been at the forefront of Guitar Tone for more than half a century. Back in 1957 that first VOX guitar amplifier was considered state-of-the-art doing for Guitar what Sputnik did for communication. Today, Sputnik may be well and truly old hat but the great news is that the legendary VOX guitar tone is just as relevant as ever! Just as VOX was at the forefront of technology in 1957, with the incredible Nu-Tube technology they are leading the way again!
Ultimately it's all about tone and it's here in spades… plug your favourite axe into the VOX MV50 Rock mini electric guitar amplifier head and you'll be blown away by the power and punch that only a 50-watt VOX amp can deliver. The MV50 Rock's no fuss 3-control layout is very intuitive while being able to pull up vintage-style crunch and searing high gain tones with consumate ease. With the matching 1 x 8″ BC108 speaker cabinet in tow you can expect a much larger sound than its size would suggest.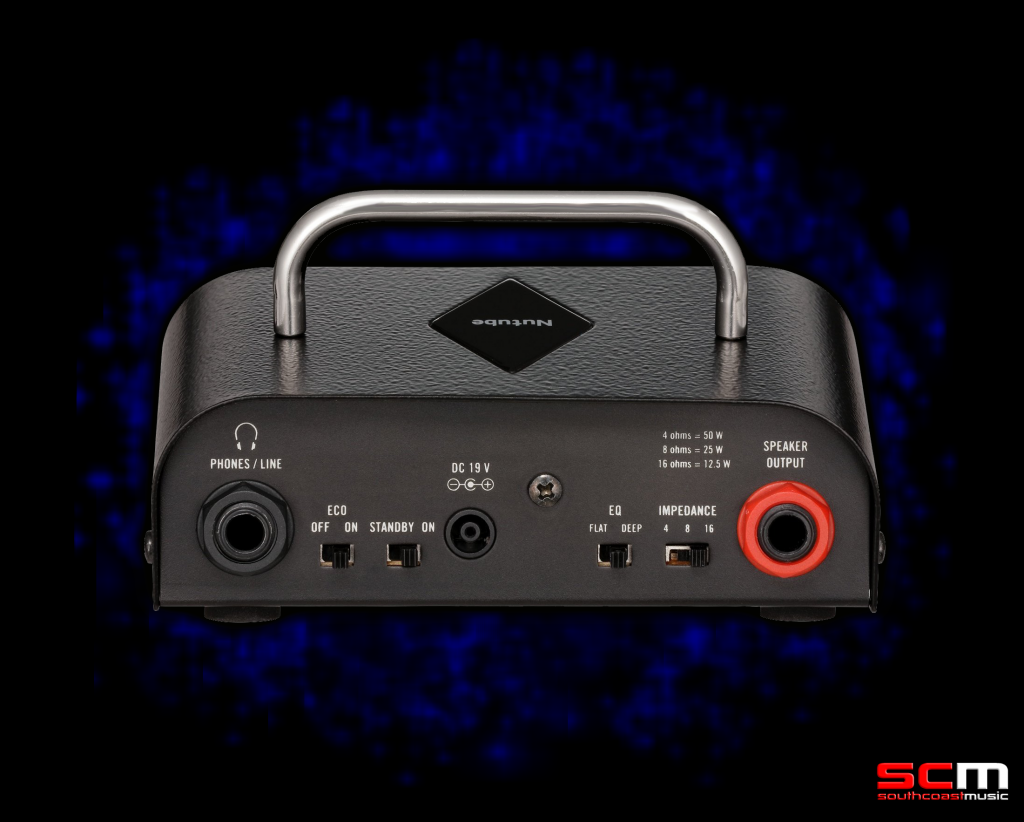 Though designed with the compact BC108 in mind, the MV50 is a perfect match for almost any speaker cabinet. The EQ switch on the back of the amplifier features two distinct settings, FLAT & DEEP. When connected to a small cabinet, such as the BC108, setting the amplifier to the DEEP mode will emphasize the rich low-frequency range and prevent the high frequencies from becoming too pronounced. When connected to a larger, more conventional speaker cabinet, setting the amplifier to the FLAT mode will allow you to take full advantage of the characteristics of the speaker cabinet, without emphasising or reducing any frequency range.
When it comes time to practice or record, the MV50's line/headphone out can be directly to a mixer, audio interface, or your favorite pair of headphones. VOX's design team consulted with highly experienced recording engineers and used only the finest microphones and vintage pre-amps to design the cabinet simulation circuit in the MV50. This cleverly designed circuit allows you to record or practice with serious studio sound anywhere or anytime.
o Input/Output Jacks: INPUT x 1, LINE/PHONES x 1, SPEAKER OUT x 1
o Preamp: Nutube 6P1
o Output Power:Max 50W RMS@4Ω, 25W RMS@8Ω, 12.5W RMS@16Ω
o Power Supply: AC adapter DC19V – included
o Current Consumption: 3.43A
o Dimensions: W135mm x D100mm x H75mm (5.31" x 3.94" x 2.95")
o Weight: 540g (1.19 lbs.)
o Warranty: One Year
THE VOX BC108 SPEAKER CABINET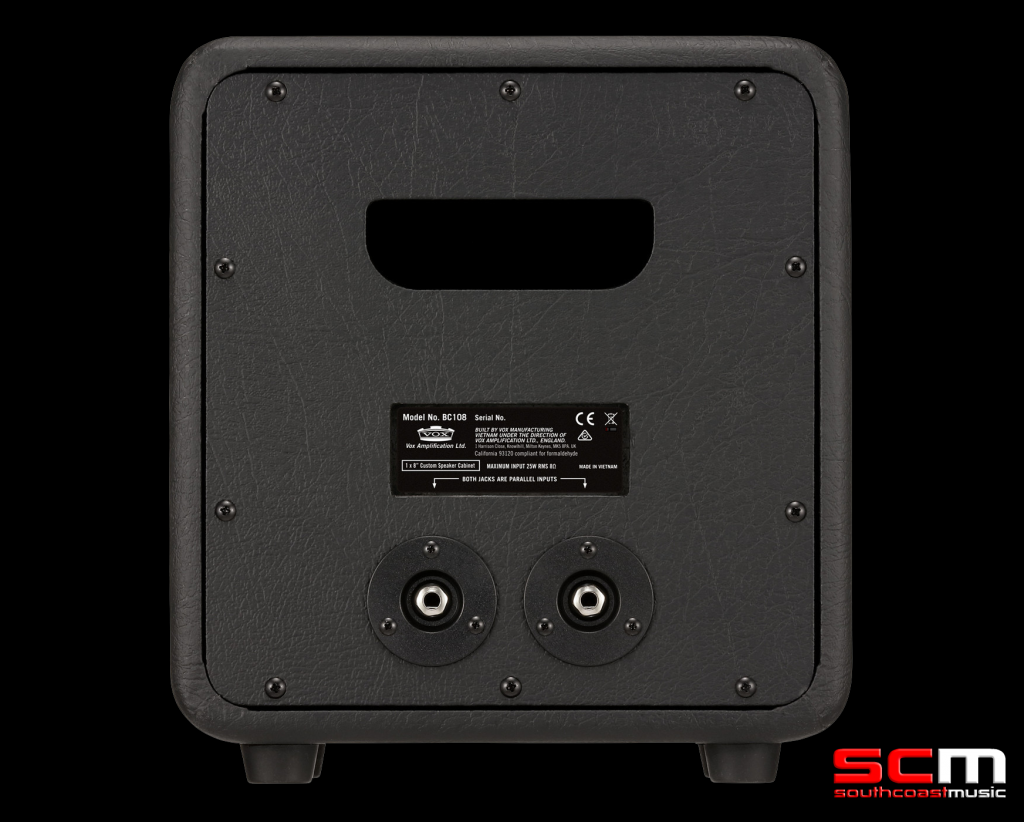 The ideal companion for the MV50, the VOX BC108 is a compact, portable cabinet that is designed to enhance the low-frequency range to ensure rich, full guitar tone at any volume. The specially designed 8" speaker is mounted from the front, allowing for clearer tone and a wider dispersion of sound.
Additionally, the cabinet has been designed with a semi-open back structure to ensure a tighter sound, especially in the low frequency range. While compact and lightweight, the BC108 still offers plenty of volume and is perfect for at-home practice.
o Speaker: 1 x 8″ VOX original 8ohm
o Input Jack: 2 x 6.3mm Input jacks
o Max Input: 25W rms
o Dimensions: W260 x D200 x H285 mm (10.24″ x 7.87″ x 11.2″)
o Weight: 3.9 kg/8.60 lbs.
o Included Items: Speaker cable