Washburn IDOL WI-SCM electric guitar package
BONUS!
Six Learn-to-Play Aussie Guitar Hits DVDs!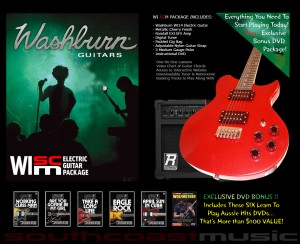 click on image to enlarge
At southcoastmusic we have smashed this deal for a six!
Its Back to School time and aspiring music students wanting to equip themselves with the best possible tools are looking around. Well, look no further! This exclusive package from southcoastmusic features a complete kit of great guitar equipment that provides all you need to get started or to take your musical journey to the next stage.
The  basis of our Washburn WI-SCM package is the sweet-sounding and easy playing Washburn WI14 Idol Electric Guitar with a cranking Randall EX15FX 15W Amplifier. Washburn has a long history of making great, affordable instruments, including the world's best-selling acoustic guitar. Randall have been designing and building great sounding and reliable guitar amps since the 1970s.
Washburn WI14 Idol Electric Guitar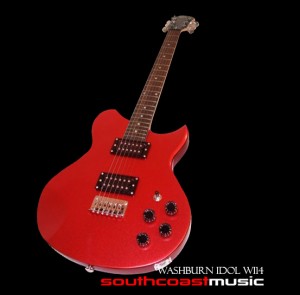 click on image to enlarge
The WI14 electric guitar in this package features many attributes that are normally only found on much more expensive guitars. As well as an extremely comfortable and contemporary body design that would look at home on stage as well as the class room, this WI14 features a classy metallic cherry finish, solid Basswood body, bolt-on Maple neck and a a pair of versatile Humbucking pickups.
The Washburn WI14 Idol Electric Guitar is the perfect guitar for beginners who are looking for a high-quality, easy-to-play and affordable instrument with great tone. You can also be sure that your new Washburn IDOL will be checked thoroughly and set-up in our purpose built workshop before it is packed and sent to you!
Randall EX15FX 15watt Guitar Amplifier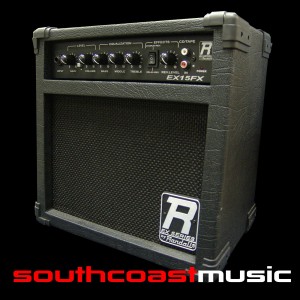 click on image to enlarge
The amplifier in this package is the Randall EXF 15FX Fifteen Watt Guitar Amplifier.
The EX15FX guitar amp punches well above its weight with 15 watts RMS of power. It cranks, big time and also sounds very cool thanks to built-in reverb, chorus and delay. Its also a weapon of mass distortion with seperate Gain and volume controls and overdrive switch as well as 3-band EQ. The CD input allows you to plug your CD or MP3 player in (with an optional cable – contact us for details) and Jam along with your favourite tracks.
Features
15Watts RMS output
6″ speaker
3-band EQ
Overdrive switch
Gain and volume
Reverb, chorus, and delay
CD input
Headphone output
Washburn Accessories
The Washburn WI-SCM Pack also includes everything else you need to get out and play — a padded gig bag, adjustable nylon guitar strap, three medium gauge picks, Guitar Cable and a guitar tuner.
Learn-To-Play DVD Package

click on image to enlarge
As well as a Learn-To-Play Guitar tutorial DVD, your brand new Washburn WI-SCM Pack also includes SIX Learn-to-Play DVDs. Five of the DVDs feature a single Aussie Hit song including Eagle Rock and Working Class Man. No other genuine online Music Store on the Planet can offer you this! Now there is no need to be tied to expensive Youtube downloads ( Did you know that whenever you play a Youtube clip it is charged as a download…everytime!)  Play these DVD lessons over and over until you are satisfied.
Your Private Teacher is guitarist extraordinaire, Dai Pritchard who currently plays with Rose Tattoo. Dai Pritchard's resume is impressive having been the guitarist of choice for Australian Legends such as Billy Thorpe, Jimmy Barnes, Glen Shorrock, Doug Parkinson, Olivia Newton-John and Marcia Hines, to name but a few! Additionally, Dai's arsenal of technical knowledge and experience has made him a sought after instructor for the Weekend Warrior program for all aspiring guitarists.
The Sixth DVD features a collection of Wolfmother's biggest hits. A Lick Library title, this DVD also takes you through each song step-by-step. Purchased seperately, you could expect to pay up to $120 for these DVDs. When you buy this exclusive package from southcoastmusic, we will include them for FREE!
The Washburn IDOL WI-SCM Package includes:
– Washburn IDOL WI14 electric guitar
– Metallic Cherry finish
– Randall EX15FX Fifteen watt Guitar Amplifier with Digital Efeects
– Washburn Padded Gig Bag
– Adjustable Guitar strap
– Digital Tuner
– Guitar Cable
– Guitar picks
– Learn-to-Play Guitar DVD
– Learn-to-Play Working Class Man DVD
– Learn-to-Play Eagle Rock DVD
– Learn-to-Play April Sun in Cuba DVD
– Learn-to-Play Are You Gonna Be My Girl DVD
– Learn-to-Play Take a Long Line DVD
– Lick Library Learn-to-Play Wolfmother DVD
– Professional set-up
– FREE DELIVERY to anywhere in Australia
SOLD OUT!