Fender Frontman® 10G Guitar Amplifier combo
o 10 watts RMS output
o 3.5mm stereo input for media players, smart phones, etc
o Specially designed 6″ speaker
o Closed back cabinet design for enhanced low end response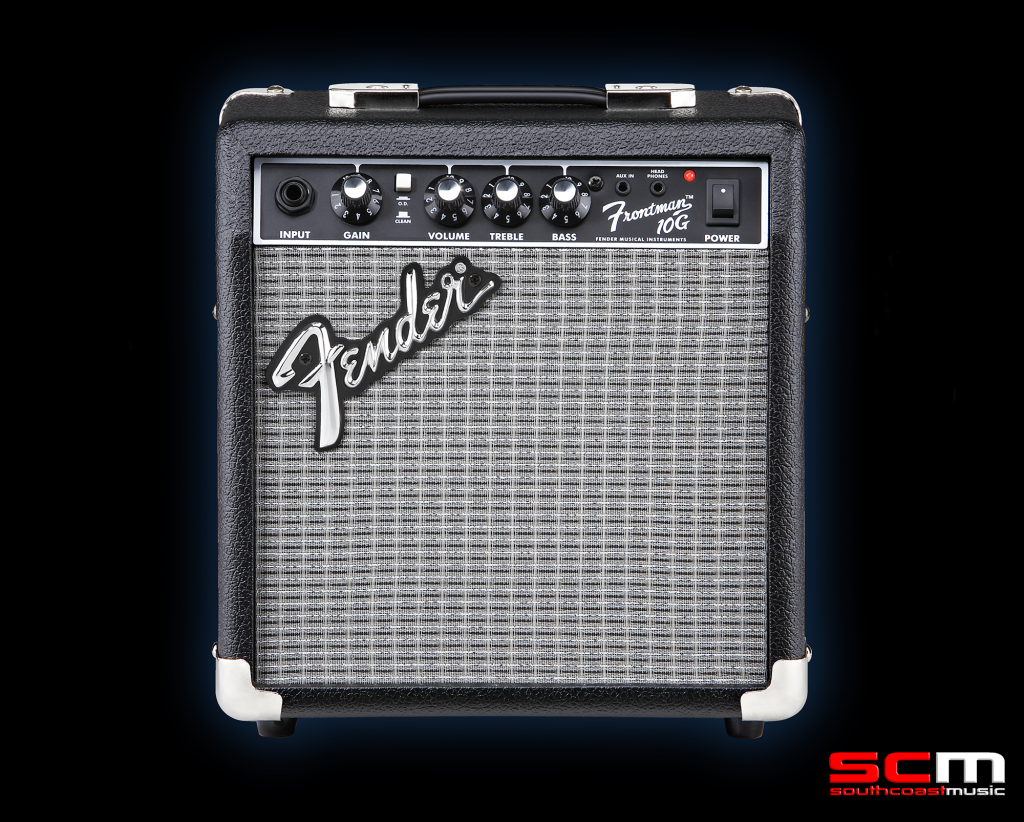 Fender's Frontman® Guitar Amps deliver that clean tone that fender are famous for along with custom-voiced built-in overdrive and the unmistakable Fender® Blackface™ look…and thanks to southcoastmusic, all at a great price.
The 10-watt Frontman 10G features a Specially Designed 6″ speaker and an adjustable gain control that delivers rock guitar tones from tube-emulated overdrive to ultra-saturated distortion – perfect for blues, metal and the famous Fender clean tone.

Fender Frontman 10G Control Panel:
1) Guitar Input 6.3mm (1/4″) phono
2) Gain Control (turn clockwise increases distortion with OD button depressed)
3) OD button – depress for Overdrive (control with Gain knob)
4) Volume Control – controls overall output
5) Treble Control – Turn left to cut and right to boost HIGH frequencies
6) Bass Control – Turn left to cut and right to boost LOW frequencies
7) AUX IN 3.5mm TRS stereo – plug your media player, smart phone, iPod etc and jam on!
8) Headphones 3.5mm TRS Stereo – plug in your favorite headphones for silent shredding
9) LED indicator – Lights up to show when the amp is ON
10) POWER switch – leave off for peace in the valley, turn on for maximum FUN!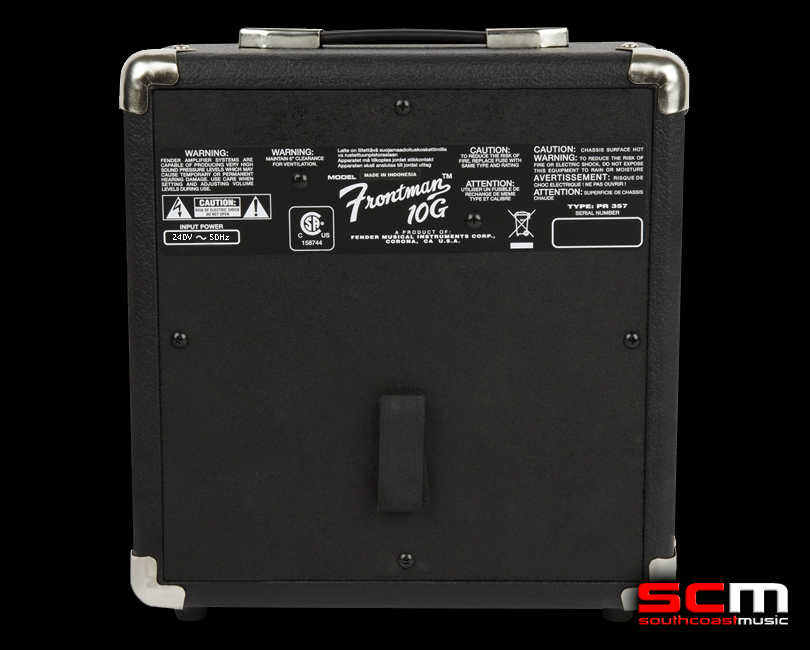 The Closed-back cabinet design provides a heavier bass response, while a 3.5mm (1/8") TRS stereo input lets you plug in your media player or smart phone to play along with your favourite bands. A 3.5mm (1/8") TRS stereo headphone output jack is also provided for silent practice.
Fender Frontman 10G Specifications:
Model Name: Frontman® 10G, 240V AUS
Model Number: 2311004900
Series: Frontman®
Amplifier Type: Solid State
Colour: Black and Silver
Controls: Gain, Over-Drive Select Switch, Volume, Treble, Bass
Main Input: 1 x 6.3mm (1/4″) Phono Type
Auxiliary Input: 1 x 3.5mm (1/8") TRS mini jack
Headphone Output: 1 x 3.5mm (1/8") TRS mini jack
Channels: One
Voltage: 240V AUS
Wattage: 10 Watts
Cabinet Material: 7 Ply 3/4″ Medium-Density Fibreboard
Handle: Moulded Plastic Strap with Nickel-Plated Caps
Front Panel: Blackface™ Style
Control Knobs: Vintage-Style Skirted Black Plastic
…remember, our price includes delivery!