southcoastmusic exceptional instruments at exceptional prices… everyday!
S T O C K T A K E   S A L E !

Yorkville
Yorkville XS400TCCE Bassmaster Series

400 WATT 2 x 10″ BASS COMBO AMPLIFIER  – URETHANE POLYMER FINISH
o Tube powered input and overdrive (12AX7A preamp tube)
o Footswitchable Tube Overdrive and Effects Loop
o Innovative Wet/Dry blend on Tube Overdrive
o Wet/Dry blend on the effects loop return
o Five band EQ featuring a semi-parametric sweepable mid
o Unique "Variable Contour" scoop function
o Pre/Post EQ selectable XLR balanced Tube DI output
o Speakon™ and 6.3mm (1/4″) extension cabinet outputs
o Front panel mute switch for silent tuning with 6.3mm (1/4″) tuner out jack
o Switchable Limiter at the output stageo Proprietary "Tweeter Auto Mute" function and bypass switch
o 2 x 10″ Eminence bass drivers and 70 watt HF tweeter
o Black Urethane Polymer (XS400TCCE) covering

Yorkville have been building superb Bass Guitar Amplifiers since 1963. Haven't heard of Yorkville? . . . we think you need to get out more!
Handmade in Canada, the Yorkville XS400TCCE is a powerful 400 watt Bass Combo Amplifier with a pair pf custom designed 10″ Eminence Speakers and a 70 watt Motorola Tweeter. Yorkville were one of the first companies to include a 12AX7A preamp tube at the input stage of their Bass Amps and the XS400TCCE features this innovation.
Also included is a separate parallel tube overdrive circuit and innovative "wet / dry" balance control that allows the player to set the perfect blend of overdriven signal to clean bass tone. In short you can add as much growl or as little 'tube warmth' to your overall bass sound as you need, while maintaining a clean tone underneath it all to maintain definition and clarity. A switchable limiter and a compressor circuit with user definable threshold control have been added to the tube input circuit as well.
A rotary five-band EQ and semi-parametric EQ with a user definable frequency offer exceptional and intuitive tonal control. The XS400TCCE also has a continuously variable 'Scoop' control rather than just a 'Contour" switch. The Scoop function sweeps from a flat frequency response to a mid-frequency dip at 300 Hz. As you increase beyond the  halfway point on the control you begin to boost both the top end and bottom end to your tone, in addition to further reducing the midrange level. The result is a tone that is tight, punchy and very musical.
Other cool features include a front panel wet/dry control for the effects return, footswitchable tube overdrive, footswitchable effects return and a pre/post selectable XLR balanced Tube DI output. Speakon™ and 6.3mm (1/4″) extension speaker outputs have been added for the addition of an external bass cabinet.
A feature unique to the XS400 Bassmaster Series  is the "Tweeter Auto Mute" switch located on the rear panel. Normally the tweeter will automatically shut off when the Tube Drive is activated. This removes the harshness in the higher frequency range typical of an overdriven sound going through a tweeter. If you prefer the tweeter to be active in the overdrive mode, simply press the switch to disengage the mute feature.
A front panel tuner/mute switch silences the signal to the amplifier (and DI output) for silent tuning with the front panel mounted 6.3mm (1/4″) tuner out jack.
The XS400TCCE is finished in a rugged and incredibly durable black Urethane Polymer finish.
YORKVILLE XS400TCCE SPECIFICATIONS
Cabinet Impedance: 8 ohms
Output Power: 400 watts RMS
Minimum Cabinet Impedance: 4 ohms
Burst Power – 2 cycle: 725 watts
Frequency Response (Hz +/-3dB): 20hz – 20khz
Hum and Noise (dB): -90 dB Unweighted/-94dB Weighted
Channel 1 – Inputs: 2x 6.3mm (1/4″), 0dB/-6dB
Channel 1 – Controls: 5 Band EQ with parametric sweepable mid, Tube Gain
Channel 1 – Switches: Limiter, Compressor, Tube Drive, Tuner Mute
Master Volume Control: Yes
Input Sensitivity: 40mV
Master Outputs: Speakon™, 2 x 6.3mm (1/4″)
Line Out (type/configuration): Pre/Post EQ-XLR, Balanced TRS
Line Out Sensitivity: 1Vrms
Effects Loop Location: Rear Panel
Effects Footswitch Function: Tube Drive/Effects Loop
Effects Return Sensitivity: 1Vrms
LED Indicators: Power, Tube Drive, Compressor, Mute, EFX Return
Protection: Thermal, Short Circuit
Limiter/Switchable: Yes/Yes
External speaker output/location: 2 x 6.3mm (1/4″), 1 x Speakon™
YORKVILLE XS400TCCE OTHER FEATURES
Parametric Mid EQ
Wet/Dry Blend on EFX Return
Wet/Dry Control on Drive mode
Adjustable Compressor
6.3mm (1/4″) tuner out jack
Tuner mute switch and 6.3mm (1/4″) tuner out jack
Dimensions: D40cm x W54cm x H57cm
Weight: 36kgs
Warranty: One Year
Single 15″ model shown below for illustrative purposes.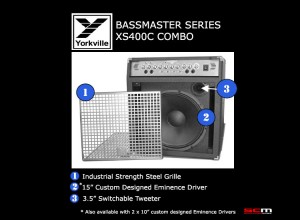 S T O C K T A K E   S A L E !
Yorkville XS400TCCE Bassmaster Series RRP $2195 buy now at $1295!