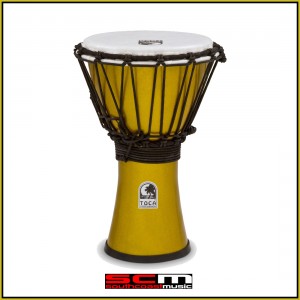 click on image to enlarge
TOCA 7″ FREESTYLE COLORSOUND DJEMBE – METALLIC YELLOW finish
As a Global leader in percussion instruments, Toca has designed and built some of the world's most popular hand drums.
Toca Percussion has just released this exciting new series of drums, the Freestyle Colorsound Djembes . The Colorsound range is the latest in the Freestyle line of Toca hand drums.
The Freestyle Colorsound Djembe series combines years of development and feedback from players and teachers to create a durable drum that's easy to play and sounds great.
Toca Freestyle Colorsound Djembes are just 31.75cm (12 ½") high with a durable 18cm (7") synthetic head. Its specially designed 18cm synthetic head helps produce deep, rich bass tones and intense high tones that you'll just love. Each Djembe is made from a lightweight seamless synthetic shell and feature a protective rubber rim on the bottom for worry-free portability.
These features make Toca Freestyle Colorsound Djembes ideal for touring clinicians, music educators and drum circle enthusiasts. They are also the perfect first drum for your Children!
"Toca's Freestyle Colorsound Djembes are colorful, fun to play and like all Toca drums, they sound great," said Victor Filonovich, Director of Product for Toca. "Lightweight, durable and moisture resistant, they are great for a classroom of students or any gathering."
Lightweight and durable construction
Seamless synthetic shell
Durable synthetic head
Protective rubber bottom
Deep bass tones and intense high tones
Nylon Rope Tuning system
beautifully vibrant colours
Height of Shell 30.48cm (12″)
Overall Height: 31.75cm (12 1/2″)
Diameter of Head: 18cm (7″)
Freestyle Colorsound Djembes are available individually in seven different colors.
This Djembe is in the popular METALLIC YELLOW  finish
REMEMBER! our price includes Australia-Wide Delivery and Handling!