TASCAM LF-S8 POWERED SUBWOOFER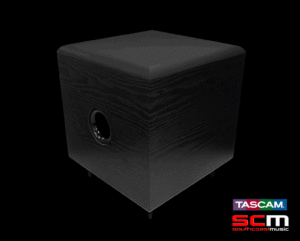 Tascam's LF-S8 active sub-woofer is the perfect complement to your nearfield powered studio monitors. Designed to integrate seamlesslessly with Tascam's VL-A Series studio monitors, The LF-S8 sub-woofer is the perfect partner for producers needing extended bottom end monitoring and a great match for powered monitors with around 100watts of output power.
The LF-S8 subwoofer is an 8″ ported design which extends the range of the monitor system for productions that demand deep bass response. Just as PortaStudio democratised recording for the home musician, the VL-A series brings precise monitoring performance and striking industrial design to the home studio.
This sub-woofer is ex-display and is sold as new with a one year warranty.
TASCAM LF-S8 FEATURES
o 8″ active subwoofer
o 50W active design
o Direct radiating bass reflex 8″ woofers with top air port
o Deep cabinet design for rich low frequency playback
o Low frequency cut control
o Cascade output for additional subwoofer
o Magnetic Shielding
o Frequency Response (1W @ 1m): 30Hz – 120Hz +/-3dB
o Dimension: W340mm x H340mm x D340mm (13.4″ x 13.4″ x 13.4″)