FOCAL JMlab – FENDER Passport Studio Portable Powered Studio Monitors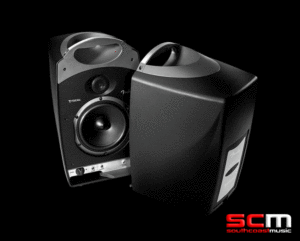 o Designed and Built in Collaboration with Focal-JMlab
o 150W, 2-way Powered and Portable Studio Monitors
o Two FOCAL 5 inch polyglass cone woofers for precise, powerful lows
o Two FOCAL aluminum/magnesium inverted dome tweeters for crystal-clear highs
o Speakers lock together for safe and easy transportation
o Integrated Carry Handle
o Intuitive Level, Bass & Treble Room Correction Control
o Lightweight, Portable Design
o Dual-Colour Power/Clip Indicator LED
o Rear Compartment for Power Cable Storage
o Magnetic Shielding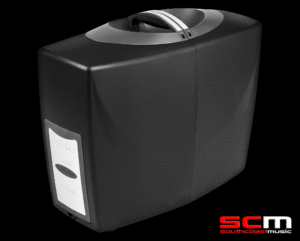 Born from a shared passion for music, Focal and Fender, two Giants in the Pro Audio world have come together and pooled their skills to provide the first truly portable world class studio monitors. Focal brings its revered speaker design and manufacturing technology to the table. Fender, one of the world's most respected manufacturers of musical instruments and well known for their Passport Portable PA systems, has contributed its expertise, experience and steadfast global reputation to deliver an exceptional professional audio solution in answer to the challenges of Audio Engineers on the move.
With this partnership, Fender has revolutionised the recording industry by empowering a new generation of mobile-minded producers and engineers with the world's first truly portable world-class studio monitoring system – Passport Studio.
Premium Studio Monitoring wherever you are
Audio Engineers and Producers know all to well that monitoring consistency is a key factor in producing mixes that translate properly from system to system. The advent of powerful portable recording workstations and the increasing convenience of fully "in the box" audio production has brought about the need for highly portable and accurate studio monitors which until now, simply didn't exist. Unless you had a purpose-built and cumbersome roadcase, there was no way to risk taking your prized studio monitors out of the studio and "into the field". Passport Studio represents a paradigm shift.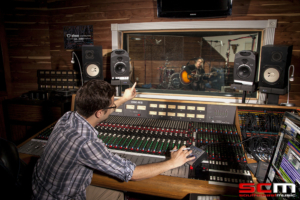 Fender Passport Studio portable monitors integrates Focal TNB tweeters and Polyglass cone speakers to ensure pristine reproduction and sound neutrality. Passport Studio houses world-renowned Focal drivers in a portable, protective and meticulously tuned enclosure, complemented by convenient front panel controls and connectivity.
Power-wise, each cabinet's woofers and tweeters are powered by 50W and 25W Class-D Digital Power Amplifiers.
The inverted dome aluminium/magnesium TNB tweeter is the same unit that is used in Focal's CMS range.
The 5″ woofer utilises exceptional technology with a Polyglass cone made by applying molten glass microballs onto a cellulose pulp cone to combine excellent paper damping with glass rigidity. The rigidity index exceeds even that of single-skin Kevlar and is almost ten times superior to polypropylene.
The back panel of the left speaker accommodates balanced inputs for left and right as well as the link output and power switch. Protected by a recess under the speaker baffle there's a volume control plus two mini jack sockets for auxillary input and headphone output and three-way switches for frequency adjustment and room control.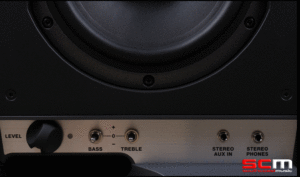 The phones socket mutes the speakers and the aux and left/right inputs can be used simultaneously. So you could split the output of a preamp and connect one side to the Passport Studio's aux input for zero-latency monitoring.
With the flat frequency and phase response demanded by the best audio engineers and producers, Fender Passport Studio monitors afford you the luxury of maintaining the integrity and consistency of your mix at any volume, without distortion or colouration. From outstanding imaging capability down to the system's lightweight front-ported enclosures, there is simply no more portable or more accurate way to replicate every note and nuance of your mix or recording during playback.
Now, for the first time you can travel from tracking to mixing sessions down the street or across the country, with complete confidence that your monitors will arrive unharmed.
Fender Passport Studio Portable Studio Monitors Specifications
o Amplifier Type: Class-D
o Controls: Level, Bass and Treble Room Correction
o Voltage: 240V 50Hz
o Output Power: 150 Watts
o Inputs: 2 x Balanced 6.3mm (1/4″) TRS Inputs
o Auxiliary Input: 3.5mm (1/8″) TRS Stereo
o Headphone Jack: 3.5mm (1/8″) TRS Stereo
o High Frequency Driver: 1 x FOCAL Aluminum/Magnesium Inverted Dome Tweeter (per cabinet)
o Low Frequency Driver: 1 x FOCAL 5″ Polyglass Cone Woofer (per cabinet)
o Cabinet Material: Protective, Injection-Molded Outer Housing
o Pilot Light Jewel: Dual-Color Power/Clip Indicator LED
o Dimensions: 45.7cm x 35.6cm x 21cm
o Weight: 8.4kg (18.5lbs)
"Fender and Focal have created a beautiful little box of magic here"…recordingmag
"they are serious little monitors and deserve to be treated as such, and have real advantages if you need something you can take around with you" soundonsound
"They sound much better than sceptics might think – they're good enough to use all the time, not just for hotels." musicradar
We encourage you to check the reviews on these remarkable studio monitors – but you had better hurry – our price is actually cheaper than the USA and that can only mean one thing – they won't last!