Steinberg AXR4T Thunderbolt 2 Audio Interface for Mac
Future-proofed professional sound quality

• Insanely good-sounding preamps and converters
• Two flavors of Rupert Neve Designs SILK offering nonlinear saturation to the input path
• Capable of 32-bit integer, 384 kHz operation
• 12 analog inputs including 4 mic preamps
• Comprehensive companion mixing application with Matrix Mixer window
• Capable of four simultaneous headphone mixes
• Four quality Yamaha plug-ins that can be used on input or with your DAW
• Well thoughtout and intuitive hardware interface
• Informative onboard display
• Built-in HPF
• MIDI I/O
With the AXR4, Steinberg have set a new standard in audio interfaces for studios, producers and professional musicians. Featuring facilities and connectivity aimed at professional-level recording, this Thunderbolt 2 audio interface significantly raises the bar, with 32-bit integer resolution and a sample rate of up to 384 kHz.
The hybrid mic preamps with Rupert Neve Designs SILK emulation offer pristine quality audio and add exceptional tonal control, while SSPLL guarantees ultra-low jitter.
The AXR4 ensures universal excellence for all recording applications.
The AXR4 is compatible with all audio editing, mastering and music production software that supports the Core Audio standard. Installing the TOOLS for AXR4 is simple and seamlessly integrates the interface with your favorite DAW, with full control of settings via the included dspMixFX AXR software.
Using Cubase, the AXR4 reaches its full potential, thanks to its ability to record and playback in 32-bit integer format. It seamlessly integrates with Cubase via the mixer's customer hardware panel, with users also benefitting from additional features like auto-setup, enabling the complete I/O setup to be handled directly from within the DAW.
The AXR4 comes with a free copy of Cubase AI, a basic but well-featured version of Steinberg's industry-leading DAW. The AI version offers a one-stop solution for studio-quality recording, with the same audio engine as the popular Pro version.

FULL DAW INTEGRATION WITH DSPMIXFX AXR
Seamlessly integrating with Cubase and most other DAWs, the AXR4 delivers latency-free monitoring with DSP-powered effects, via the onboard DSPX chip and latest dspMixFX technology. This provides a fully integrated, DSP-based monitoring setup in any situation, irrespective of the DAW you use.
The mixing application for the AXR4 makes the setup of the unit with your chosen audio production software very straightforward, with full access to all necessary routing and controls. A metering window also provides an excellent overview of all input and output levels.
Full control with a 28×24 matrix mixer
The dspMixFx AXR application allows for setup and control of the AXR4's DSP mixer and DSP effects. A full 28×24 matrix mixer has been incorporated to satisfy professional-level monitoring and system-related requirements, for example routing inputs and DAW or system audio to a mix bus.
Five different windows give comprehensive control over all settings: the mixer, the matrix mixer, the meter, show/hide channels and settings. This guarantees an excellent overview of all levels and routing at all times. These settings can be saved to the AXR4 to recall different scenes, depending on the chosen workflow.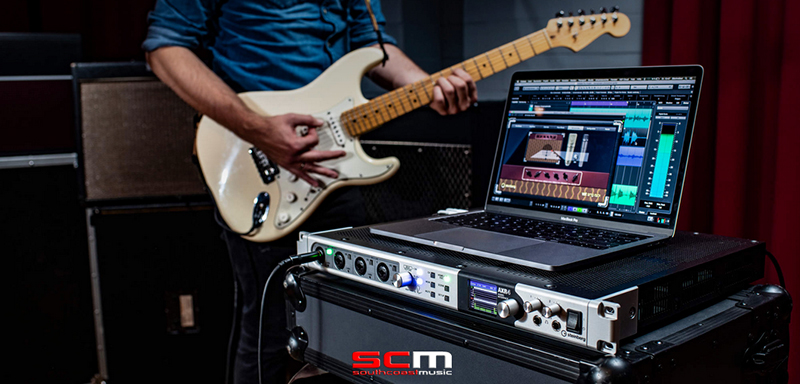 RAISING THE BAR FOR PROFESSIONAL-QUALITY SOUND
The AXR4 audio interface raises the bar for professional-quality sound to a new level. At the core of the interface is the high-speed data throughput necessary for professional-level recording, with a vast array of inputs and outputs providing all the connectivity that high-end audio set ups demand. Four combo inputs are equipped with digitally-controlled state-of-the-art hybrid mic preamps, each with switchable Rupert Neve Designs SILK technology for the most musical sound possible.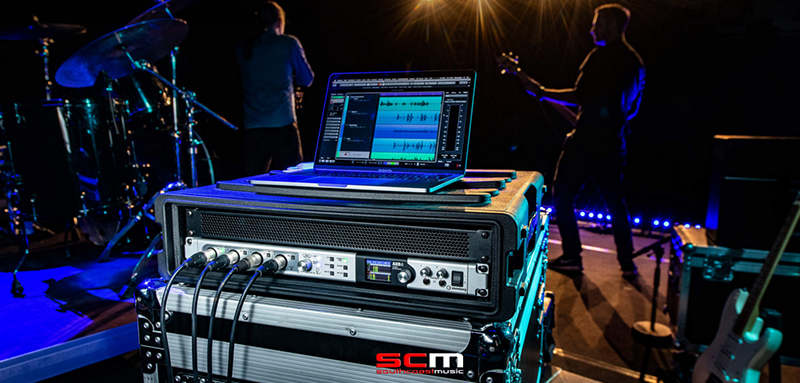 As well as the four combo inputs, the comprehensive range of 28 in, 24 out options include 8 TRS line inputs and 8 TRS line outputs, 2 x 8 channel ADAT/S/PDIF (or 1 x 8 ADAT and 1 x 8 AES/EBU) and a future-proof digital I/O card slot. Word clock, MIDI I/O ports and twin headphone sockets with independent volume controls are also provided. With 32-bit integer recording at up to 384 kHz, DSP-powered, latency-free monitoring, advanced SSPLL jitter suppression and a flexible 28×24 matrix mixer, the AXR4 is a truly exceptional audio interface for studios, producers and professional musicians.
FLAGSHIP HYBRID MICROPHONE PREAMPS WITH RUPERT NEVE DESIGNS SOUND
The microphone preamplifiers at the input stage of every audio interface provide the fundamental character of the overall sound. The AXR4 features extraordinarily natural-sounding hybrid microphone preamps, developed by Yamaha, which are available for use on all front input channels. Developed as part of Yamaha's "Natural Sound" philosophy, the choice of components, mechanical construction, circuit layout, power supply and grounding were all painstakingly evaluated and refined in the AXR4.
Final adjustments were made after extensive aural tests by both Yamaha experts and eminent outside engineers, resulting in a totally new design that is genuinely worthy of "flagship" status.
GET CONNECTED
As well as four combo inputs, the comprehensive 28-in, 24-out include eight TRS line-ins and eight line-outs will have you covered for a variety of studio setups. Of course, MIDI connections are included for complete control of parameters. Chain the AXR4T to three other units if you need to expand on your I/Os.
STEINBERG AXR4T SPECIFICATIONS
28 x 24 Thunderbolt 2 audio interface
32-bit integer / 384 kHz recording and playback
AXR hybrid mic preamps with Rupert Neve Designs SILK
28 x 24 full matrix mixer
Latency-free DSP-powered monitoring with REV-X reverb,
Channel Strip, VCM compressor 276 and EQ 601, including VST 3 plug-in versions
Plenty of I/O ports like 2 ADAT, S/PDIF, AES/EBU, MIDI and Word clock
SSPLL ultra-low jitter reduction
Stack support for up to 3 units
New custom panel for perfect integration into Cubase
Bundled Cubase AI fully supports 32-bit integer format
If you only plan to buy one additional piece of equipment for your recording studio this year, it should be the AXR4T!