southcoastmusic exceptional instruments at exceptional prices… everyday!
Behringer
X E N Y X  Q  series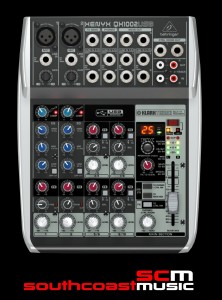 XENYX QX1002USB mixer and audio interface
Premium ultra-low noise, high headroom analog mixer
2 state-of-the-art XENYX Mic Preamps comparable to stand-alone boutique preamps
Studio-grade compressors with super-easy "one-knob" functionality and control LED for professional vocal and instrumental sound
Ultra-high quality KLARK TEKNIK FX processor with 100 presets including reverb, chorus, flanger, delay, pitch shifter and various multi-effects
Built-in stereo USB/Audio Interface to connect directly to your computer. Free audio recording, editing and podcasting software plus 150 instrument/effect plug-ins downloadable at behringer.com
Neo-classic "British" 3-band EQs for warm and musical sound
FX send control per channel for internal FX processor and/or as external send
Main mix outputs plus separate control room, phones and 2-Track outputs
2-Track inputs assignable to main mix or control room/phones outputs
High-quality components and exceptionally rugged construction ensure long life
Conceived and designed by BEHRINGER Germany
With millions of loyal and happy customers, BEHRINGER XENYX mixers stand alone at the top of their class.
Armed with premium microphone preamps and robust feature sets typically reserved for more expensive consoles, this next-generation XENYX QX1002USB mixer can handle your live gigs and provide the state-of-the-art tools to make stunning, professional-quality recordings.
Along with its built-in USB/audio interface, "one-knob" mono channel compressor and KLARK TEKNIK FX engine, this XENYX QX1002USB mixer comes supplied right out of the box with all the recording and editing software you'll need to turn your computer into a complete, high-performance recording studio.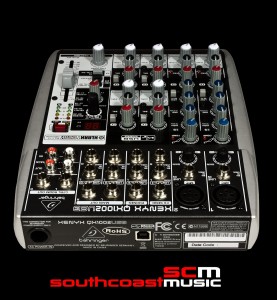 KLARK TEKNIK FX
Nothing adds the finishing touch to a live or recorded performance like really good effects. The XENYX QX1002USB features a brilliant FX-Processor designed by the world-renowned KLARK TEKNIK engineering team. This high-end FX processor offers 100 studio-grade presets including reverb, chorus, flanger, delay, pitch shifter and various multi-effects. Complete with its own dedicated level meter, these effects provide a wide range of enhancement options, from sweet and mild to absolutely wild!
This XENYX QX1002USB also includes one knob compression.
Ask professional sound engineers what their favorite piece of external processing gear is and the response will be virtually unanimous – dynamic compression.
What's compression you ask? Compression limits the dynamic range of a signal, lowering the level of loud sounds and turning up softer sounds to achieve sonic balance. But applying compression is a delicate art that many novice, and even intermediate sound techs have difficulty mastering. Behringer's "one-knob" compression is available on all mono channels and is easy to operate, even for entry-level users.
Now you can easily dial in the perfect amount of compression for instruments and vocals, creating powerful mixes with punch and clarity.
Sonically Superior Mic Preamps
All XENYX mixers have one thing in common; great-sounding, high headroom XENYX mic preamps. These state-of-the-art mic preamps are a tremendous step in the evolution of audio technology— and they can easily hold their own, even when compared to expensive, boutique-style mic preamps. XENYX preamps offer a staggering 130 dB of dynamic range with a bandwidth that extends from below 10 Hz to well above 200 kHz. As a result, XENYX mixers provide such transparent, crystal-clear performance that you just might think someone upgraded your microphones while you weren't looking.
Sweet British EQ
The British consoles of the 1960s and '70s changed the sound of rock and roll. Without them, the British Invasion might not have even happened. Those legendary mixing desks soon became the envy of engineers and producers all over the world. The channel EQ on your XENYX mixer is based on that very same circuitry, allowing you to imbue signals with incredible warmth and detailed musical character. Even when applied generously, these equalisers exhibit sweet forgiveness and superb audio quality.
Recording Ready
There was a time when the recording process called for lots of specialised gear, which meant the average musician had to buy time at a recording studio—and that time was expensive! Now modern technology has put personal recording well within the reach of virtually anyone with access to a computer. But how do you get all that music flying around your brain into a computer? That's where the XENYX QX1002USB comes in. Thanks to the built-in, bi-directional stereo USB audio interface, you can connect directly to your PC or Mac computer via a single USB cable. Now any signal source connected to the mixer can be recorded straight to your hard drive. Which brings us to software…
How About Some Free Software!
Because you'll want to take full advantage of your XENYX QX Series mixers' recording and podcasting potential, you will find a massive software download at www.behringer.com that includes Audacity (the most popular open source audio editor), Podifier, Juice, Podnova and Golden Ear (a great selection of podcasting software). You're ready to go live on your PC or Mac right out of the box! You also get more than 100 virtual instruments and 50 FX plug-ins, turning your computer into a complete home-based or mobile recording studio.
XENYX QX1002USB
From classical to classic rock, the XENYX Q1002USB will bring out the best in your intimate performance or podcast. Mono channels feature two premium, phantom-powered XENYX mic preamps, famous for their headroom and transparency, plus "one-knob" compressors and 3-band British-style EQ. You also get 4 stereo line channels and USB connectivity for your PC or Mac computer. The QX1002USB is light, easy to use and ready to make your next show legendary.
TRACKTION 4
TRACKTION 4 puts the fun back into the creative process, and it's included free of charge with the BEHRINGER XENYX QX1002USB. This powerful, yet easy-to-use music production software is unlike anything you've seen before, putting everything you'll need on your desktop, on a single-screen – without the sea of drop down and hidden menus common to most other DAWs. And TRACKTION doesn't limit the number of tracks you can record, or the number of effects you can use. In fact, the only limitation is your Mac or PC computer's processing power. Recording and editing couldn't be easier; simply drag, drop, cut, copy or paste. Once your magnum opus is finished, share it with other "Tracktioneers" so they can listen, collaborate and edit.
Here are just a few of TRACKTION 4's outstanding features:
Native FX plug-ins ranging from dynamics to modulation, reverb and more
Support for available third party AU, VST and VSTi plug-ins
Mix Automation
Safe Record
Loop Recording
64-bit, 192 kHz Mix Engine
Audio Clip manipulation
MIDI Editor
Filters – Volume / Pan, Level Meter, 4-Band EQ, Aux Send & Return and FX
Export to a variety of formats such as .wav, .aif, and .mp3
Behringer  X E N Y X  Q  S E R I E S – XENYX QX1002USB mixer and audio interface
Australia-wide Delivery is INCLUDED in our price…