SoundArt PWA65D Portable Wireless PA system –
Perfect for Marriage Celebrants, Schools and Clubs! – NOW WITH BLUETOOTH!

The SoundArt PWA65D 65 Watt PA System Features Include:
65 Watts Output Power
2 x Built-in dual wireless receivers
DVD/CD player
Bluetooth Connectivity
Dust Cover
Handheld Microphone
Body Pack Transmitter
Slimline Headset Microphone
Lavalier (Lapel) Microphone
2 Year Warranty
The SoundArt PWA65D is a compact yet powerful Portable PA System. It can be powered from 240V mains power or the onboard rechargeable battery.
The PWA65D packs a load of really useful features and reliability into a compact package that has made it a favourite among Marriage Celebrants, School Teachers, Service Clubs, Spruikers and more.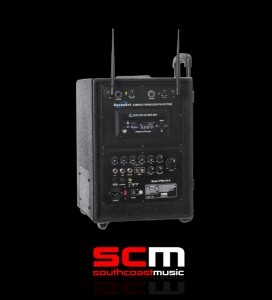 Featuring two UHF wireless receivers plus a DVD/CD player with a separate Video Output plus remote control (RCA and S-video out jacks), the SoundArt PWA65D is a reliable and affordable solution for a wide variety of applications including portable karaoke.
The SoundArt PWA65D comes complete with 1 x hand-held wireless microphone and 1 x wireless body-pack complete with a lapel and headset microphone!
There are also 2 x 6.3mm (1/4″) wired mic inputs with separate volume controls that may also be used as instrument inputs.  There  is also on-board Delay (Echo) effects with level and rate controls.
The SoundArt PWA65D includes a rugged, retractable trolley handle and wheels as well a speaker stand mount.
If extra sound coverage is required you have more than one option to consider.
Wireless daisy-chain option: multiple WPA systems can be linked for use in large events using the 2 x wireless channels on each unit. Provided each unit has the same wireless frequencies (pre-configured), up to 2 microphones/instruments can be broadcast simultaneously through all units, all without the need for cables.
Wired Extension Cabinet: The optional PWA65EXT is an extension cabinet with the same speaker configuration as the PWA65D – 1 x 8″ Woofer and 1 x HF driver. It also has a speaker stand mount, trolley with retractable handle and water-resistant cover.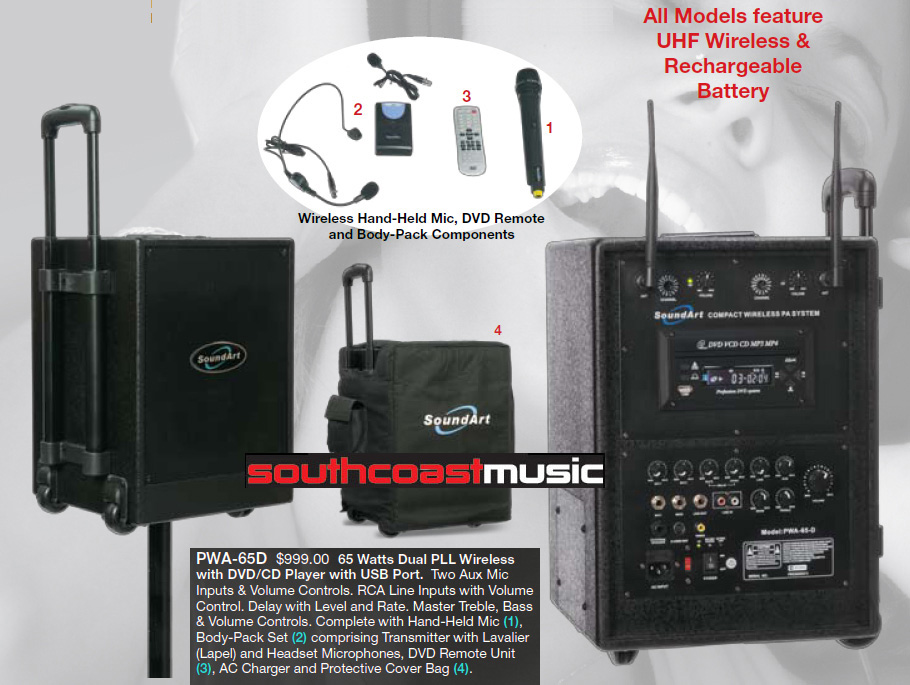 SoundArt PWA65D 65 Watt PA System Features:
65W output power
Loudspeaker: 1 x 8″ speaker + 1 x high frequency driver
Two Independent Wireless Receivers
Wireless effective range of 35m
Ergonomic design: 21kg, timber with black paint finish, trolley mechanism
All-in-one compact design: everything you need is in one place
2 x wireless + 2 x wired microphone inputs: provides maximum flexibility
Wireless daisy-chain option: multiple PA systems can be linked for use in large events using the 2 x wireless channels on each unit. Provided each unit has the same wireless frequencies (pre-configured), up to 2 microphones/instruments can be broadcast simultaneously through all units, all without the need for cables
Internal rechargeable battery: Allows the unit to be used indoors & outdoors on AC or DC power. The battery can be easily replaced if necessary
Modular multimedia components: a built-in 2 channel wireless receiver and multimedia input components (DVD + MP3) provides a flexible, modern input architectures capable of handling almost any task or situation
Ultra-portable: includes wheels and retractable handle for easy transport
Mounting options: unit is self-standing on wheels/feet or can be mounted directly on a speaker stand (not supplied)
Video outputs: RCA composite analogue video output and S-Video output for displaying video content on an external monitor (not supplied)
Built-in delay: adds depth to the sound of live vocals/instruments. Perfect for singing and karaoke
Line in/out: allows for an additional external input and output. The line-out may also be used for recording purposes
External speaker output: for use through an 8ohm extension speaker
Dimensions: 44cm x 33cm x 30cm