Samson AirLine 99m AH9 Fitness Headset wireless system
• Premium headset system with sweat resistant microphone
• 100 selectable channels with wide 24 MHz frequency bandwidth
• Up to 8 simultaneous systems per frequency band (region dependent)
• Up to 100m operating range*
• Low-profile DE10x headset microphone with miniature condenser capsule
• Up to eight hours of battery life using built-in rechargeable lithium-ion battery
• Sealed gold contact charging connector
• Low battery LED indicator
• Transmitter mounting in the headset, no additional bodypack needed
• USB port for charging the AH9 headset or your phone
• Pilot tone helps to prevent unwanted noise when the transmitter is off or out of range
*In ideal conditions, interference, line of sight and area of operation can affect the maximum operating range.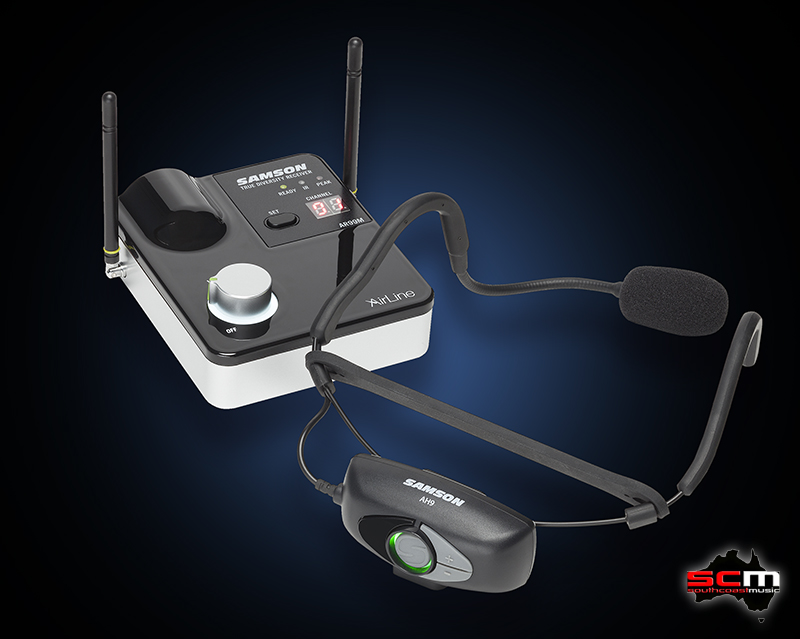 The Samson AirLine 99m AH9 Fitness Headset system is a unique wireless microphone solution designed to meet the specific demands of fitness instructors and other active performers. Along with a water/sweat-resistant Qe headset microphone, this frequency-agile UHF wireless system combines the AH9 micro transmitter and AR99m micro receiver for a highly-portable, rechargeable setup that offers high-definition sound completely free of cables and beltpacks.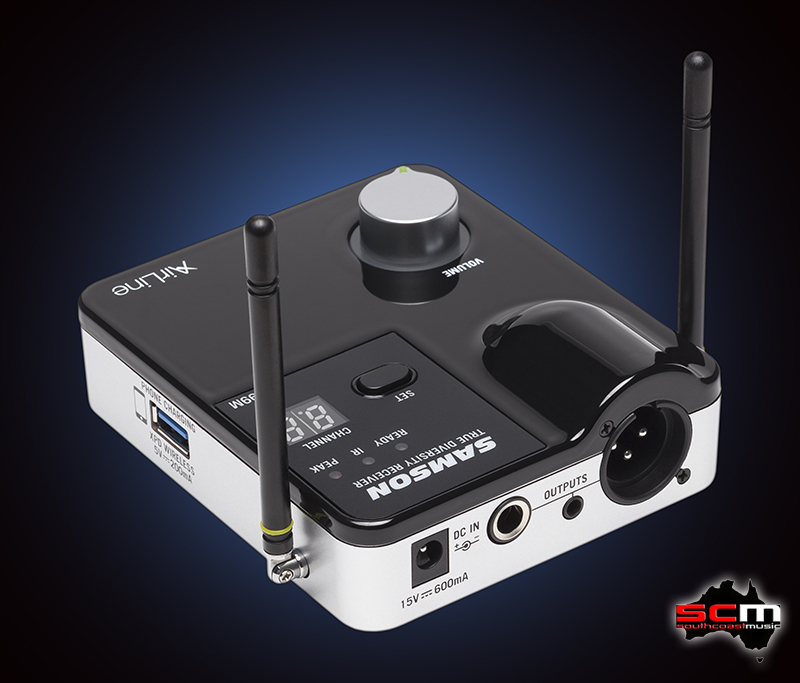 Samson AH9 Micro Transmitter
While Samson revolutionized wireless with the original AirLine transmitter, the AH9 is the exciting next chapter to the story. Thanks to its micro design, the AH9 transmitter is mounted directly on the included Qe headset, completely eliminating beltpacks and cables from the setup (ideal for active performers).
In addition to a 100m operating range, the AH9 offers easily accessible Gain and Mute controls, a battery life LED indicator and an 8-hour rechargeable lithium-ion battery.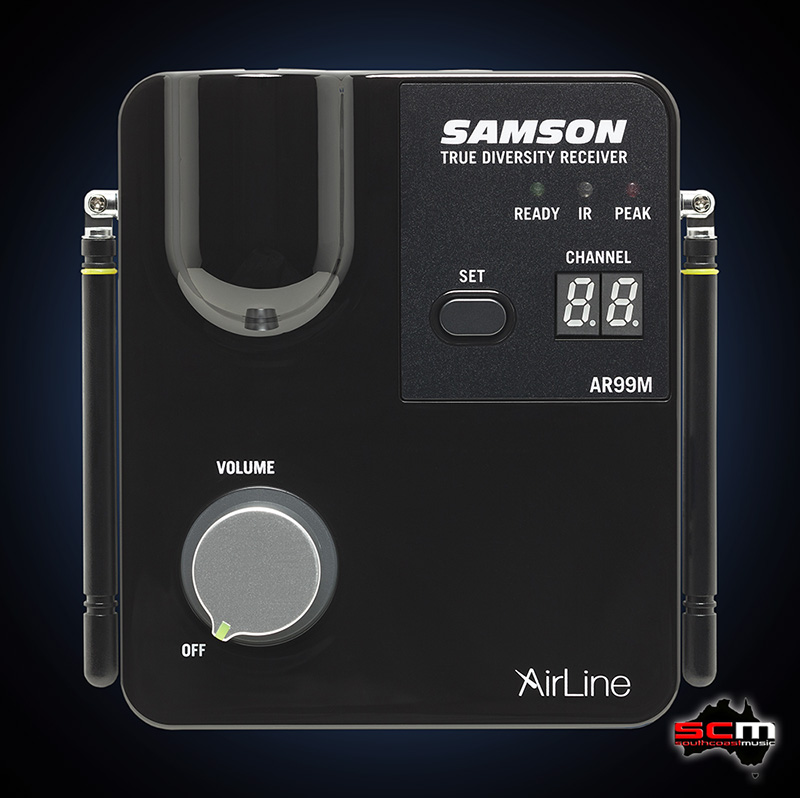 Samson AR99m Micro Receiver
Offering frequency-agile UHF operation, the micro-sized True RF Diversity AR99m receiver provides 100 available channels to secure reliable wireless performance. The receiver provides easy setup with one-touch scan which analyzes and selects the clearest operating channel, infrared set to pair the transmitter with the receiver, and versatile output connectors that include XLR, 6.35mm (1/4″) and 3.5mm (1/8″).
A USB port on the AR99m receiver can be used to charge the AH9 transmitter. The USB port may also be used to integrate a Samson XPD Series wireless system (sold separately) to make it a dual-receiver system.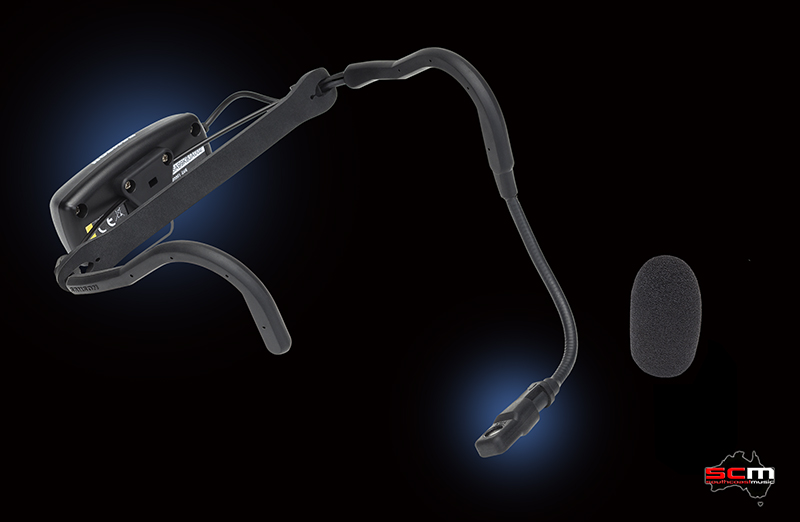 Samson Qe Headset Microphone
The AirLine 99m AH9 Fitness Headset system includes a Qe headset microphone, specifically designed for fitness instructors and high-energy performers.
The Qe features a lightweight, double ear headset design with an adjustable/removable strap for a more secure fit. At the end of an adjustable stainless steel metal gooseneck sits the bidirectional pickup pattern condenser microphone. The Qe's condenser capsule takes hold of stunning audio while reducing background noise, minimising feedback problems and effectively rejecting signals not originating directly in front of the mic.
Samson Sweat Resistant* Design
The Samson Qe capsule has been designed and engineered to be water and sweat-resistant to inhibit corrosion from the prolonged exposure to moisture that is to be expected in a fitness setting.
*For newbies, please be aware that water "resistant" does not mean "water-proof" and the life of your microphone will be determined by factors that include how often it's used, how many instructors are using it and their physiology – the pH – of their skin. Samson provide a one year warranty against manufacturing faults.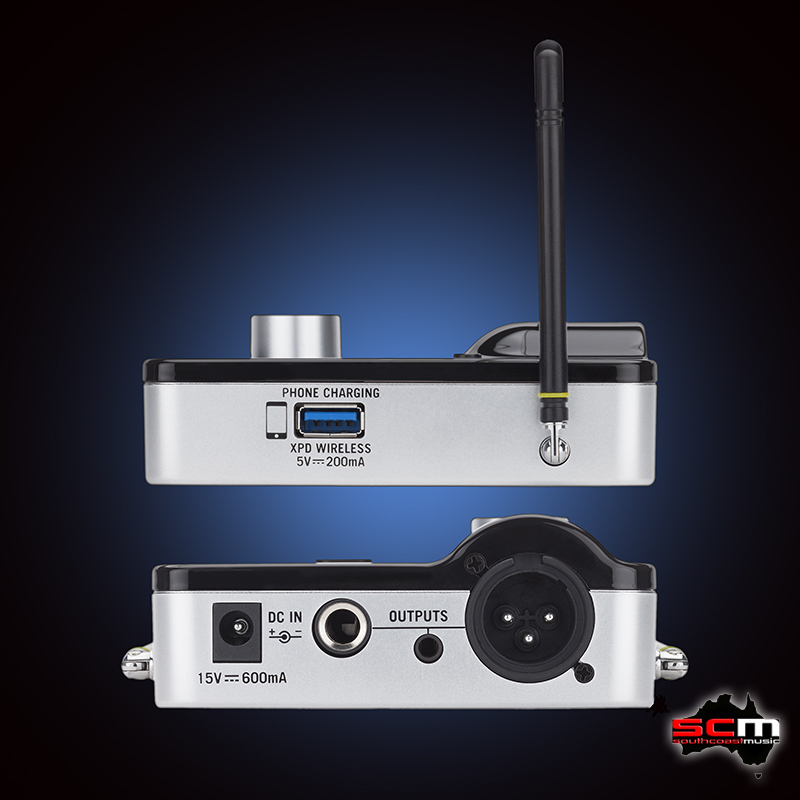 Samson AirLine 99m AH9 Fitness Headset Wireless System Specifications:
• Operating Range: 100m
• Audio Frequency Response: 50Hz–15kHz
• T.H.D. (Total Harmonic Distortion): <1% @ AF 1kHz, RF 46dBu • Operating Temperature: -10℃ to +60℃ • Tone Key Frequency: 35kHz • Headset Microphone: Samson Qe Bi-directional Condenser Capsule- • Headset Frame: Lightweight Double Ear Headset Design with Adjustable/Removable Strap • Gooseneck: Adjustable Stainless Steel Gooseneck • Warranty: One Year Samson AirLine AR99m Wireless Micro Receiver specifications: • Sensitivity: 100dBm/30dB • Image Rejection: >50dB
• Operating Voltage: 15VCC 600mA
• Product Dimensions: 110 x 95 x 39 mm
• Product Weight: 0.19 kg
• Warranty: One Year